Discover the beauty and unbeatable adventure in the Canadian Rocky Mountains during the winter
The spectacular Canadian Rocky Mountains attract visitors from around the world in the summer, but during the winter they become a beautiful snowy playground for skiers and adventurous travellers. The Winter Rockies Self-Drive Tour is a relaxed self-driving itinerary that offers longer stays in each stop, so you can fill each day with your favourite winter activities.
This tour spends two nights each in Banff and Jasper so that you can ski, hike, and enjoy the atmosphere of these mountain villages. Then you'll go for the drive of your life on the incredible Columbia Icefields Parkway. On your way to Yoho National Park, you can visit the incomparable Lake Louise and the unusual ice bubbles at Lake Abraham. On top of skiing and hiking, you'll have to chance to have unique winter experiences like dog sledding, heli-snowshoeing, and trekking to icefalls. This unique road trip is the perfect way to combine exciting outdoor adventures with incredible sightseeing through the famous Rocky Mountain national parks.
Highlights of the Winter Rockies Self-Drive Tour
Visit charming mountain towns and explore the endless frozen wilderness of the national parks.
Ski downhill or cross country as much or as little as you like on this flexible itinerary.
Enjoy fewer crowds and breathtaking winter scenery as you explore Jasper, Banff, Yoho, and Kananaskis.
Discover the beauty of frozen waterfalls, snow-capped mountains, and endless glaciers as you drive the famous Icefields Parkway.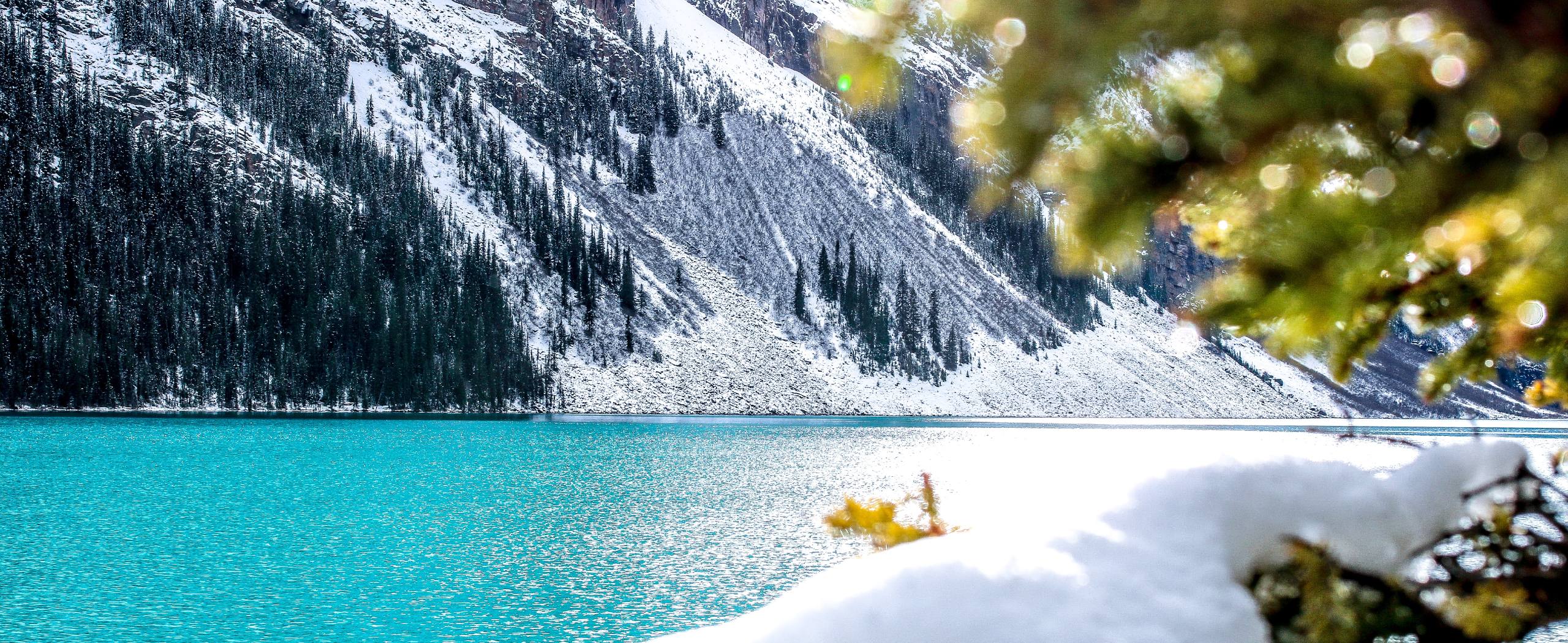 Winter Rockies Self-Drive Tour Itinerary
Day 1

Arrive in Calgary

Today your tour begins, and you can pick up your rental vehicle from the Calgary Airport when your flight arrives. Get settled at your hotel and then head out to explore the city.
Overnight Location: Hotel in Calgary
Distance: None
Meals: Breakfast, lunch, dinner
Day 2

Your Mountain Adventure Begins

In the morning, you'll drive towards the mountains that have already been calling to you since you arrived in Alberta. Enjoy the beautiful winter scenery as you drive into Banff.

Spend the afternoon exploring the charming mountain village and take the cable car to the top of Sulfur Mountain for a spectacular panoramic view. End the day with a relaxing soak as you take in the views from the hot springs.
Overnight Location: Hotel in Banff
Distance: 127km
Meals: None
Day 3

Skiing or Hiking in Banff

Ski enthusiasts are spoiled for choice in Banff and can spend the day on the slopes at Sunshine Village or Mount Norquay. You can also take an exciting guided excursion into Johnston Canyon and go for an ice walk to explore frozen waterfalls including the Johnston Canyon Upper Falls, known as the Cathedral of Ice during the winter months.
Overnight Location: Hotel in Banff
Distance: None
Meals: None
Day 4

Drive the Famous Icefields Parkway

Continue your journey through the mountains on the spectacular Columbia Icefields Parkway. You'll want to stop often to take in the incredible mountain views of peaks, glaciers, and frozen waterfalls on your way to Jasper. Tonight, you'll check in for the first of two nights in Jasper.

Please note, that Icefields Parkway route is not maintained during the winter, therefore in some cases the detour might be required.
Overnight Location: Hotel in Jasper
Distance: 288km
Meals: None
Day 5

Snow and Stars in Jasper

Today you have a full day to explore the mountain town of Jasper. You can go hiking or skiing on the nearby hills or take the optional winter wildlife tour to learn how to spot local animals during the winter.

The Jasper sky is part of the Dark Sky Preserve and is an excellent place to try to catch a glimpse of the northern lights. You can visit the planetarium in the evening and observe the aurora borealis from their outdoor telescope for a night of stargazing you'll never forget.
Overnight Location: Hotel in Jasper
Distance: None
Meals: None
Day 6

Frozen Lakes and Mountains Drive

You'll find yourself back on the magnificent Icefields Parkway today as your drive to Field. Stop at Lake Abraham to see its strange and beautiful frozen bubbles. You can opt to take a helicopter snowshoeing tour to see the area from another spectacular vantage point.

Your next stop will be at Lake Louise, where you can stop for lunch in the village and enjoy the iconic view of the lake and the mountains beyond. Then it's on to Yoho National Park where you'll find your lodge in Field at Emerald Lake.
Overnight Location: Hotel in Field
Distance: 263km
Meals: None
Day 7

Enjoy the Snow in Yoho National Park

The beauty of your surroundings may call you to stay at the lodge today to relax and enjoy the peaceful winter's day at the lake. However, whether you're in the mood for downhill skiing, xc skiing, or snowshoeing, you're sure to find that Yoho National Park has something wonderful in store for you today.
Overnight Location: Hotel in Field
Distance: None
Meals: None
Day 8

Discover the Kananaskis Valley

Drive through the snow-covered mountains to Kananaskis. On the way, you can make a final stop in Banff or visit the nearby mountain town of Canmore. When you arrive in Kananaskis, you can take a dog sledding excursion to explore the valley and look for wildlife. This is also a great ski area if you want to spend a final day on the slopes or the trails.
Overnight Location: Hotel in Kananaskis
Distance: 131km
Meals: None
Day 9

Tour Ends in Calgary

Today your tour officially concludes when you return your rental vehicle to the Calgary Airport in time to catch your flight.
Overnight Location: None
Distance: 117km
Meals: None

Book Now
Winter Rockies Self-Drive Tour Price and Dates
This self-guided winter tour of the Rockies is run as private tour for your group only, and the price per person depends on how many people are in your group.

Prices below are per person:
Self-Guided Groups of 2+: $1,150 USD per person
Book Now
Accommodation on the Winter Rockies Self-Drive Tour
This tour is based in hotels. Hotels on this trip are 3-star and offer modern conveniences and will welcome you with comfortable rooms.
In some cases, the accommodation listed below may need to be substituted for other comparable accommodations.
Single Rooms and Solo Travellers
Rooms are double occupancy. Single rooms, including those for solo travellers, are by request and may incur an additional fee.
Hotels on Standard Tour
Calgary is a metropolitan city with tons of restaurants and attractions to see, so you may not be spending much time in your room here!
Revel in this iconic mountain town that has graced many magazine covers. Wander the charming streets and admire the peaks around you.
Relax in a cozy 3-star standard hotel surrounded by immense mountains. Stroll the streets and take your pick of various top-notch restaurants and bars.
Rest up in Field in your welcoming hotel, which keeps you close to all that this little town offers.
Get a room in a comfortable 3-star standard hotel at the foothills of Kananaskis Country. Enjoy being surrounded by nature.
What's Included in the Winter Rockies Self-Drive Tour?
Meals
There are no meals included in this tour.
Accommodations
Accommodations for 8 nights are included. Accommodations before and after the tour in Calgary are not included but can be added as a supplement.
Transportation during the Tour
This is a self-drive tour, so you'll be provided with a rental vehicle for the duration of the itinerary.
Also Included
Standard vehicle rental, Category B
Canadian taxes
24/7 access to helpline
Not included
Flights
Guide
Travel insurance
Visas if required
Entrance fees to national parks
Admission to attractions, including the Banff Hot Springs and planetarium in Jasper
Meals, drinks, or snacks not previously mentioned
Gratuities for tour guides or other staff if desired
Personal expenses
Optional activities
Ski and equipment rental
Vehicle insurance
Fuel
Optional Extras
Additional nights before or after the tour
Single occupancy
Optional activities or excursions:

Sulfur Mountain cable car
Banff Upper Hot Springs entry
Ski/Snowboard equipment rental and lift tickets
Ice walk at Johnston Canyon
Entrance to the planetarium and telescope stargazing
Winter wildlife tour in Jasper
Helicopter and snowshoe tour at Abraham Lake
Dog sledding in Kananaskis
Frequently Asked Questions about Winter Rockies Self-Drive Tour
In the two decades since Toundra Voyages Inc. was founded in 1998, the company has become North America's go-to travel agency in customized independent and group tourism.
Tounda takes a flexible, responsive approach to developing adventure travel tours. By listening to the wants and wishes of travellers, they've been able to create memorable, affordable tours complemented by impeccable service.
Toundra's mission is to create and organize tailor-made travel. They select, adapt, and personalize travel experiences in North America for each and every guest, ensuring your adventure is one you'll never forget.
Meeting your expectations is just the beginning of what Toundra aims to accomplish. Exceeding them by providing exceptional experiences in beautiful North America is their standard, and their track record of knockout customer service and customized tour planning speaks for itself.
Learn More
Is this tour for me?
We rate this tour as a 2/5. This tour has a flexible itinerary that allows you to choose your hikes and ski activities so that you can tailor them to your fitness level. If you choose to ski, there are trails and runs appropriate for all skill levels, and the ski hills offer lessons that we recommend you book in advance.
Ask a Question
Got any questions regarding the tour? Interested in promotions for groups or want to customize this tour to fit your needs? We are here to help you!
Ask a question