Backpack to wild, remote areas of Yosemite National Park
Get ready for an unforgettable, rugged trekking experience of a lifetime on this epic 8-day Yosemite Grand Traverse Backpacking Tour. This 80-kilometre trek winds to a collage of remote natural wonders tucked into the corners of Yosemite National Park, including a challenging, but undeniably rewarding hike to the summit of Clouds Rest and an epic night of camping by Cathedral Lake.
This guided adventure requires some training before you lace up your boots as you'll be twisting between 400-800-plus metres of elevation and 9.5-16 km a day! National Geographic even dubs this guided backpacking tour as one of the "World's Top 15 Trails," so you know the momentary pain will all fade when you soak in the supernatural views!
Please check out this blog to find out more about the COVID-19 precautions during the tour.
Highlights of the Yosemite Grand Traverse Backpacking Tour
Explore remote, undiscovered areas nestled in the corners of Yosemite National Park on this 80-km backpacking expedition.
Enjoy camping in the thick of the wild, including spending a night at one of the most intoxicating views in Yosemite: Cathedral Lake.
Summit to Clouds Rest, where magnificent, otherworldly views of the dangerous Tenaya Canyon sprawled below enchant.
Hike a section of the famous, renowned John Muir Trail, and admire the alpine meadows and towering glaciated peaks as you walk.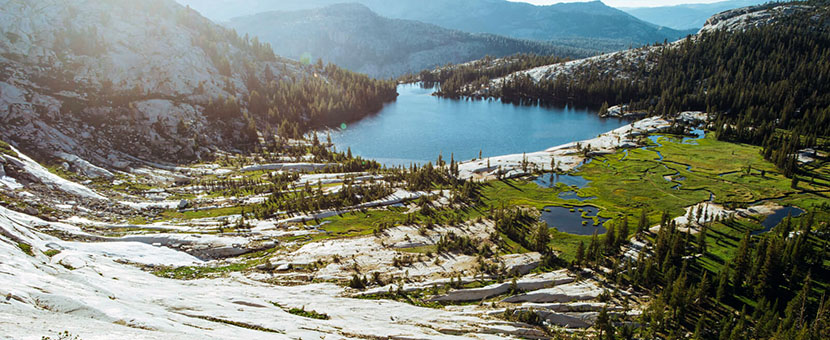 Yosemite Grand Traverse Backpacking Tour
Day 1

Travel to Fresno, CA

Begin your adventure in Fresno, California! Check into the hotel around 4 pm. Meet your guide at 6 pm for an orientation with the rest of your group. You'll double-check your gear and go over the details for the upcoming backpacking trip. Enjoy dinner on your own at the hotel.
Overnight Location: Hotel in Fresno
Distance: None
Meals: None
Day 2

Start your trek

Enjoy a complimentary breakfast before hopping in a shuttle and heading to the trailhead. You will hike around 7 km to Knoblock Meadow, where you will set up camp for the night. Spend some time exploring while the guide(s) concoct dinner. Cap off the day the starry night sky.
Overnight Location: Camping at Knoblock Meadow
Distance: 6 mi, 1800 ft ascent, 300 ft descent
Meals: Breakfast, Lunch, Dinner
Day 3

Ascend Isberg Pass

Wake up early and prepare for another epic day of hiking. Today's journey winds up to Isberg Pass. En route, you'll walk by a high lakes basin before ascending the pass. Spend the night surrounded by an amphitheatre of peaks as you camp lakeside at the source of the Merced River. Fall asleep to the lullabies of nature!
Overnight Location: Camping at Merced River
Distance: 8 mi, 2300 ft ascent, 800 ft descent
Meals: Breakfast, Lunch, Dinner
Day 4

Go down the Merced River

Today's route has you descending by a montage of intoxicating views of the Clark Range, waterfalls, meadows, and glistening spots to swim and cool off. Bask in the stars lighting up the sky and the soothing sounds of the Merced River at night.
Overnight Location: Camping at Merced River
Distance: 6.8 mi, 150 ft ascent, 2300 ft descent
Meals: Breakfast, Lunch, Dinner
Day 5

Head to Sunrise Creek

Get ready for another of winding to stunning views! Begin by hiking into Echo Valley before reconquering the elevation you just lost. Meander along massive granite ridges and marvel at the vistas of Little Yosemite Valley playing right before your eyes as you hike. Kick-off your boots and relax at Sunrise Creek.
Overnight Location: Camping at Sunrise Creek
Distance: 10.5 mi, 1565 ft ascent, 1385 ft descent
Meals: Breakfast, Lunch, Dinner
Day 6

Hike to Clouds Rest

Expect an unbelievably rewarding day today. Begin by summiting Clouds Rest. You'll reach the pinnacle late in the morning, giving you a moment to catch your breath and admire the Tenaya Canyon sprawled below. You'll then drop your backpack and head up to the peak on a 5.7-km round trip. After this, you'll continue hiking to Sunrise Lakes. Spend the rest of the day basking in nature and chilling out.
Overnight Location: Camping at Sunrise Lakes
Distance: 8-8.5mi, 2746 ft ascent, 1591 ft descent
Meals: Breakfast, Lunch, Dinner
Day 7

Walk the John Muir Trail

Today's route takes you to a section of the famous John Muir Trail. Walk by charming alpine meadows and soaring pyramidal peaks as you make your way to one of the most incredible, electrifying views in Yosemite: Cathedral Lake. Upon arrival, opt to explore one of the off-trails or splash around in the refreshing water. Revel in the calming whispers and roars of the wild as you spend one last night in nature.
Overnight Location: Camping at Cathedral Lake
Distance: 6 mi, 1322 ft ascent, 896 ft descent
Meals: Breakfast, Lunch, Dinner
Day 8

Leave the backcountry

Pack up your gear and wind to Tuolumne Meadows in Northern Yosemite. Your shuttle will pick you up from the trailhead. But the tour doesn't end here! A scenic drive awaits. Enjoy relaxing as you watch the breathtaking vistas of the park play like a movie before your eyes as you snake back to Fresno. Expect to get back to town between 5-6 pm.
Overnight Location: None
Distance: 3.7 mi, 230 ft ascent, 1293 ft descent
Meals: Breakfast, Lunch

Book Now
Yosemite Grand Traverse Backpacking Tour Price and Dates
This guided tour in the Sierra Nevada is always run as a fixed-departure tour where you would be joining a group, therefore the price is fixed and only depends on the number of people sharing the room or a tent.

The prices below are per person:
Accommodation on Yosemite Grand Traverse Backpacking Tour
This backpacking adventure will have you staying in a cozy hotel one night. The hotel has modern necessities that will keep you comfy and relaxed. Keep in mind that rooms are double occupancy, but you can always upgrade to single occupancy for an additional fee. Single travellers are also required to pay a supplement. You will spend the remaining 6 nights backcountry camping.
In some cases, the accommodation listed below may be swapped for other similar accommodations.
Single Rooms and Solo Travelers
You can pay a supplement of $110 USD to have a private room in a hotel. Contact us and we can try and match single travelers up, where possible. However, if there are no options, solo travellers will pay a supplement of $55 USD.
Hotels on Standard Tour
Wyndham Garden Hotel in Fresno ★★★
Enjoy this newly renovated and sparkling clean hotel in Fresno. Relax by the indoor and outdoor pools or admire the courtyard from your balcony.
Camping in Yosemite National Park
Revel in the mountainscapes as you camp at lakefront and riverside spots below a blanket of stars.
What's included in the Yosemite Grand Traverse Backpacking Tour?
Meals
7 breakfasts, 7 lunches, 6 dinners, and trail snacks along the route are included.
Accommodations
Accommodations for 1 night in the hotel in Fresno, and for 6 nights of wilderness camping.
Transportation during the Tour
Receive a free private shuttle ride from Fresno to the trailhead, and from the ending trailhead back to Fresno.
Also Included
Guide
Personal backpacking gear (per request), such as sleeping bags, backpack, sleeping pads, tents, trekking poles
Group gear, such as stoves, group first aid kit, cooking items, water filters, etc.
Hot coffee and tea in the mornings
Not included
Flights to get to and from Fresno
Personal clothing and shoes
Accommodations before and after the adventure tour in Fresno
Personal expenses + gratuities (recommended 10-20% for excellent service)
Evacuations
Insurance
Optional Extras
You can upgrade to a single occupancy in the hotel for an additional fee
Extra night in Fresno before or after the tour
Frequently Asked Questions about Yosemite Grand Traverse Backpacking Tour
SYMG was started in 1991 by three friends offering hiking trips into California's mountains in hopes of more closely meshing lifestyle with work. The combination proved successful and SYMG has become a leader in the active travel and mountain guiding world, providing carefully planned and executed trips in the most spectacular wilderness areas of California and beyond. Now, 30 years later, we've shown thousands of people the beauty of Yosemite and the High Sierra and have been named one of the "Best Outfitters on Earth" by National Geographic Adventure Magazine.
Learn More
Is this tour for me?
This tour is rated as 4 / 5, as it has you hiking moderate to challenging routes every day. You also need to be comfortable with camping in the wild for 6 nights.
Ask a Question
Got any questions regarding the tour? Interested in promotions for groups or want to customize this tour to fit your needs? We are here to help you!
Ask a question