Machu Picchu Tours
Machu Picchu Tours are an unforgettable experience that showcase the rich culture of Peru, the dramatic landscape of the Andes Mountains, and the mysterious history of the ancient Inca civilization. Whether you plan to set out on a multi-day trek like the world famous Inca Trail or want to take part in a multi-sport adventure, there are plenty of incredible Machu Picchu Tours waiting to be experienced!
Trek to Machu Picchu
When it comes to bucket list adventures, a trek to Machu Picchu is at the top of the list for many travellers. While the most well-known of these long distance treks is the Inca Trail, over the years there have been several alternatives that have popped up and offer just as amazing of an experience, namely the Lares, Salkantay, and Choquequirao treks. If you've been searching for an adventure that combines the physicality of a long distance trek with unique cultural elements and rich history, then Machu Picchu tours - and a trek to Machu Picchu in particular - are the way to go.
A trek to Machu Picchu is certainly the most popular activity for those looking to visit this historic part of Peru; however, it is not the only way to experience Machu Picchu! There are plenty of other Machu Picchu tours, such as multi-sport adventures, bike tours, and family-focussed trips that all present unique ways to explore the region.
When is the Best Time to Visit Machu Picchu?
Machu Picchu is open year-round, so the best time to visit Machu Picchu comes down to whether you have a high tolerance for poor weather and large volumes of tourists. The most popular time of year to visit Machu Picchu is during the period from July to August, as weather conditions during this time are most favourable. For those who want to avoid the crowds, try planning a trip for the October to April window - the weather will be less ideal, but at least you won't have to fight other travellers for the best photo opportunities!
Machu Picchu Map
With so many different trekking routes to Machu Picchu, it can be difficult to visualize and compare each of the journeys. We've put together this Machu Picchu map to provide you with a bit of an overview and see the different approach that each Machu Picchu tour takes: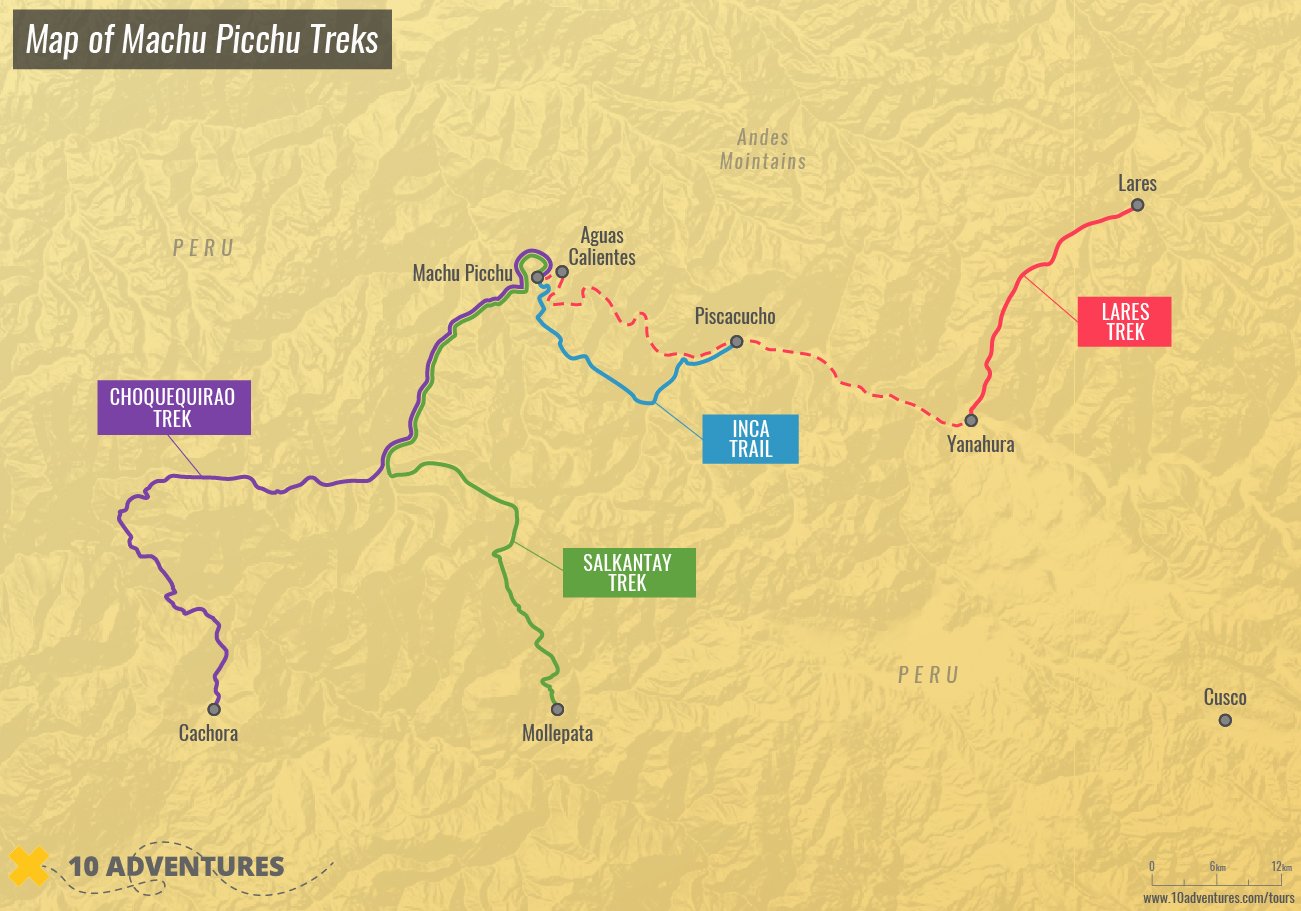 The Best Machu Picchu Tours
Inca Trail Trek
The Inca Trail Trek is an iconic adventure that follows the ancient route that the Inca people themselves used to access Machu Picchu. Due to permit limitations this trail needs to be booked well in advance, but it is an amazing experience that shouldn't be overlooked if you are looking at booking Machu Picchu tours.
Lares Trek
If you are looking for an alternative route to the Inca Trail, the Lares Trek is a great option to explore. Travelling through charming villages set high in the Andes, the Lares TRek is an amazing Machu Picchu tour that should certainly be on your list!
Salkantay Trek
Another great alternative to the world famous Inca Trail, the Salkantay Trek is a longer route that climbs through some of the most picturesque landscapes in Peru. If you are after a rugged experience in the Andes that holds its own against the other Machu Picchu tours, then the Salkantay Trek is the adventure for you.
Choquequirao Trek
For those who want to experience even more incredible Inca ruins, the Choquequirao Trek is the ideal Machu Picchu Tour. In addition to visiting Machu Picchu itself, trekkers will pass through Quechua villages and the site of Choquequirao, making for a trek that is filled with culture and history!
Book a Machu Picchu Tour
Want to experience the history and mystery of Machu Picchu, but don't want to plan the entire trip yourself? Leave the hassle of planning to the professionals and book one of our incredible Machu Picchu Tours. Choosing a Machu Picchu tour removes any guesswork on the logistical side of your next trip, allowing you to focus on the unforgettable journey ahead and the memories you will make!
Frequently Asked Questions About Machu Picchu Tours
What is Machu Picchu?
Machu Picchu is believed to be an estate constructed for the Inca Emperor Pachacuti and the other members of the royal elite.
Where is Machu Picchu?
Machu Picchu can be found 80.0 km northwest of Cusco.
When was Machu Picchu Built?
The best estimate of when Machu Picchu was built puts the date at around 1450CE.
Who Discovered Machu Picchu?
Although locals knew of Machu Picchu for centuries, the site was 'discovered' by Hiram Bingham III in 1911.
How to Get to Machu Picchu?
In order to get to Machu Picchu, visitors will need to either complete a multi-day trek or take one of the public transit options to the town of Aguas Calientes, before hiking or taking a bus up to Machu Picchu itself.
How Long is the Hike to Machu Picchu?
The hike to Machu Picchu from Aguas Calientes is 8km and will take you approximately 2-3 hours; however, longer treks (such as the Inca Trail, Lares, and Salkantay) will take days to complete and cover anywhere from 31-50 kilometers!
Machu Picchu Elevation
Machu Picchu is situated at an elevation of 2,430m above sea level.
Machu Picchu Tour Highlights
Machu Picchu
The Incan citadel of Machu Picchu, while once shrouded in mystery, is now believed to have been constructed around 1450 CE as a royal estate for both the emperor Pachacuti and other elites. Exact numbers for how many people lived at Machu Picchu are unknown, but it is estimated that around 750 people resided at Machu Picchu, most of them working in a religious capacity or serving to accommodate the influx of royal visitors that would have visited for extended periods of time.
The site was constructed in a meticulous way by the Inca people in order to withstand the seismic activity in the region; however it was unable to weather the arrival of Europeans and was ultimately abandoned shortly after the Spanish conquest. In the following centuries the site of Machu Picchu was known only to locals, before finally being 'discovered' by American historian Hiram Bingham III in 1911.
Much of the site has now been excavated and restored, allowing tourists the opportunity to look through a window into the past to discover the sacred temples, terrace farms, and fascinating architecture of a civilization that was, at one point, lost in time.
Aguas Calientes
Agues Calientes (also known as Machu Picchu Pueblo) is a town in the Urubamba Province of Peru and is the closest hub to the site of Machu Picchu itself. The name of the town comes from the fact that there are natural hot springs located nearby, which are a popular amenity for weary travellers trekking along the long-distance trails to Machu Picchu. Aguas Calientes serves as a train terminal for tourists coming from Cusco, and features many hotels, restaurants, and other elements of tourist infrastructure.
Find Other Amazing Adventure Tours in Peru
Subscribe to our newsletter
Get a weekly dose of discounts and inspiration for adventure lovers
Showing 1 to 18 of 18 adventure tours
What travellers say
Book your next Adventure on 10Adventures
Hassle-free Adventure Travel

Sit back, relax, and enjoy! Let us take care of all the travel planning details, so you don't have to.

Don't Just Take A Trip, Take YOUR Trip

Let us help you get exactly what YOU want with a customizable adventure tour centred around your active interests and passions.

No Hidden Fees

We don't believe in hidden fees like credit card fees, booking fees or more. Even better, most people can pay in their local currency!

Happiness Guarantee

We want your journey to meet your expectations, and we will work with you to solve any issues you've encountered.

Personal Adventure Travel Concierge

Our dedicated adventure travel concierge will curate the perfect itinerary to make your travel dreams a reality.

Vetted Local Guides

Book with confidence, knowing that our team has carefully hand-picked each tour operator and they use local, experienced guides.