Kilimanjaro Tours
Mount Kilimanjaro, Tanzania
Mount Kilimanjaro Tours are the focus of many travellers who visit Tanzania, thanks largely to the mountain's position as one of the Seven Summits and the comparative ease at which it can be climbed. The mountain is often referred to as the roof of Africa, due to its impressive height of 5,895m above sea level and status as the highest free-standing mountain in the world, so it only makes sense that countless intrepid adventurers flock to Tanzania every year with the hopes of summiting Mount Kilimanjaro.
The summit of Mount Kilimanjaro, known as Uhuru, can be reached via a number of different routes leading up the mountainside from all directions; however, these vary in terms of difficulty, length, and terrain. While many people look at Kilimanjaro as being one of the easiest of the Seven Summits, the elevation and acclimatization period needed to combat altitude sickness should not be underestimated.
If you plan on trekking up to the summit of Mount Kilimanjaro, be sure to plan your trip out in advance and prepare yourself for the rigors of the trail, as only 65-70% of attempts result in a successful summit. Even still, the stunning views that stretch out across the African landscape and the feeling of being on top of the world are an unforgettable experience that will make you wonder why you didn't set out on your Mount Kilimanjaro tour sooner!
When is the Best Time to Visit Mount Kilimanjaro?
The best time to visit Kilimanjaro is in the January to March window, as temperatures at this time are fairly mild with little rain. With that being said, it is actually possible to climb Mount Kilimanjaro at any time of year, as its location near the equator means that temperatures don't fluctuate drastically from season to season.
If you need a more detailed month-to-month breakdown, be sure to check out our article to discover the best time to climb Mount Kilimanjaro.
What are the different Kilimanjaro Routes?
While there are a number of different routes you can take when hiking Mount Kilimanjaro, there are 7 main trails leading to the summit. Take some time to explore the links below to discover which Kilimanjaro Route is right for you:
The most popular route leading to the summit of Kilimanjaro, the Machame Route - also known as the Whiskey Route - features beautiful scenery and challenging terrain.
One of the newer routes leading up Kilimanajaro, the Lemosho Route is lightly travelled - for now - but has some incredible views!
One of the older routes up the mountain, the Shira Route starts at a higher position on Kilimanjaro, making acclimatization a bit more difficult.
The only route to approach the summit of Kilimanajaro from the north, the Rongai Route has a more secluded atmosphere.
The longest and newest of the Kilimanjaro trails, the Northern Circuit Route utilizes parts of the Lemosho Route and some secluded areas on the mountain's north slope.
Swapping out tents for permanent huts, the Marangu Route earned its nickname "the Coca-Cola Route" thanks to an increased level of comfort on the trail.
Due to the challenging nature of traversing the Western Breach Route, it is only available to experienced alpinists.
Mount Kilimanjaro Map
With all of the different routes on Kilimanjaro, it can be a bit difficult to visualize exactly how you are going to make your way up the mountain. With this in mind, we've put together a Mount Kilimanjaro map that highlights all of the main routes leading up to the summit of this iconic peak.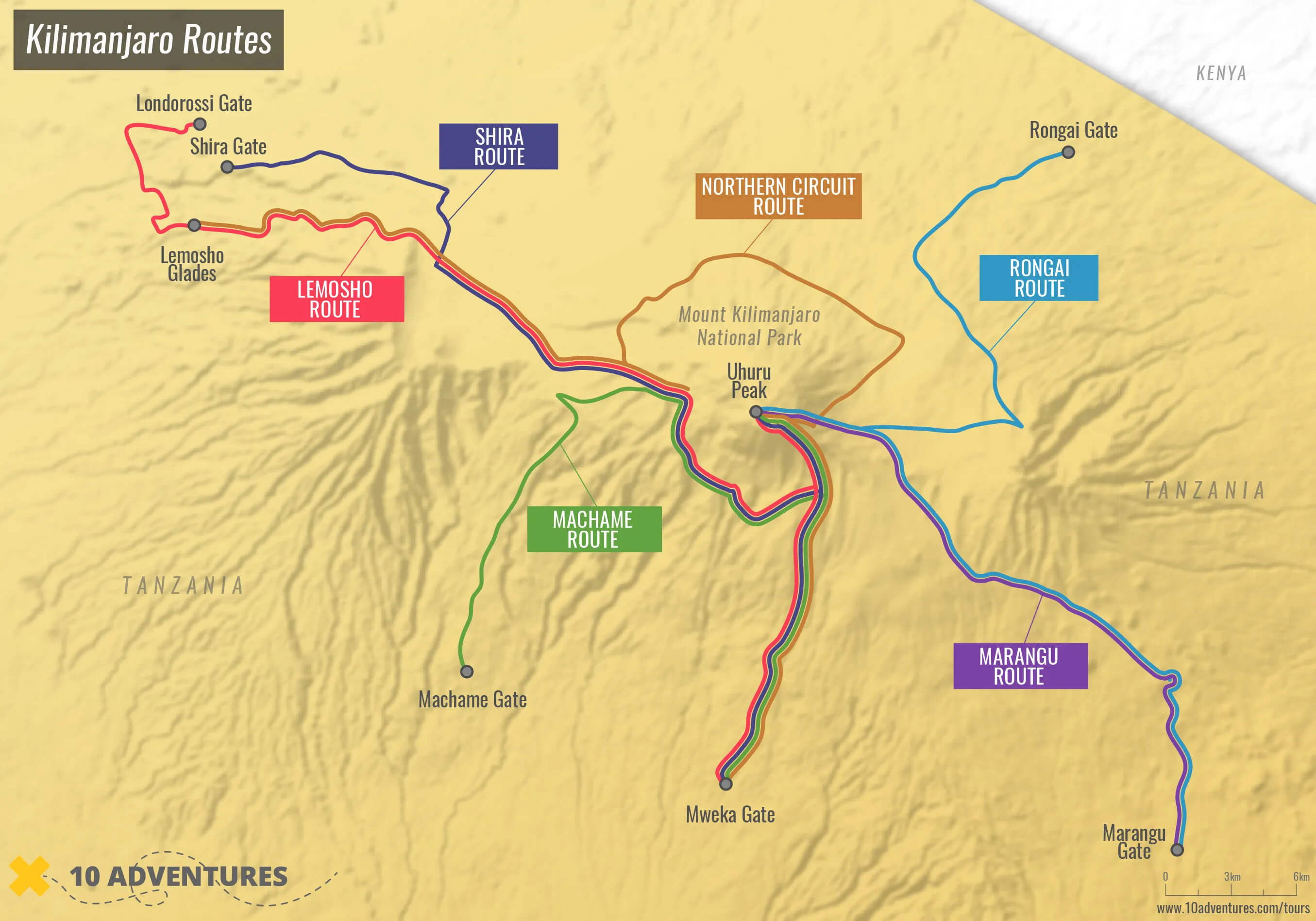 Booking a Kilimanjaro Tour
Let's face it. Sometimes you want all of the thrill of setting out on an incredible adventure without the hassle of planning every last detail, so why not leave all the fuss to the professionals? Booking a guided Mount Kilimanjaro tour with 10Adventures removes the guesswork that comes with planning a trip in another country, allowing you to focus on making unforgettable memories on the life changing journey ahead.
Frequently Asked Questions About Kilimanjaro
Who was the first person to climb Kilimanjaro?
The first people to successfully climb Mount Kilimanjaro were Ludwid Purtscheller and Hans Meyer in 1889.
How many people climb Kilimanjaro each year?
Approximately 35,000 to 50,000 people are estimated to climb Kilimanjaro each year.
Do I need to book a tour when climbing Kilimanajaro?
While you can certainly spend the time making arrangements yourself, booking a tour is by far the easiest and most time effective way to climb Kilimanjaro.
Where should I stay when visiting Kilimanjaro?
When visiting Mount Kilimanjaro, the best place to stay is Moshi, which has earned the nickname "the gateway to Mount Kilimanjaro National Park".
Where is Mount Kilimanjaro?
Mount Kilimanjaro is located in the African country of Tanzania.
How long does it take to climb Kilimanajaro?
While it ultimately depends on which route you choose, it generally takes about 6-8 days to climb Mount Kilimanjaro.
Highlights in Tanzania
Mount Kilimanjaro
Referred to as the "roof of Africa", Mount Kilimanjaro is the tallest peak on the African continent at 5,895m above sea level and the tallest free-standing peak in the world. Situated in the country of Tanzania, it is a dormant volcano that is made up of three different cones known as Kibo, Shira, and Mawenzi. As the tallest peak in Africa, Mount Kilimanjaro falls into the list of the Seven Summits; however, it is often seen as one of the easiest to conquer due to its gradual ascent and non-technical terrain.
Mount Meru
Located just west of Mount Kilimanjaro, Mount Meru is another dormant volcano in Tanzania that is popular with outdoor enthusiasts. While it is a more technical climb, it can be completed in a shorter time frame of 3-4 days, making Mount Meru a great alternative for those who don't have the extra time to climb Kilimanjaro. Despite losing much of its mass in a summit collapse roughly 7,800 years ago, it is still the fifth-tallest peak in Africa. The area surrounding Mount Meru and its fertile slopes support a wide range of plant and animal species, including large mammals like leopards and over 400 species of birds.
Moshi, Tanzania
Situated in the Kilimanjaro Region of Tanzania, Moshi is an urban center with a population of just over 200,000. It is known as the "gateway to Kilimanjaro National Park," as it is the main hub from which travellers set out to conquer Africa's tallest peak, Mount Kilimanjaro. Outside of its connection to Mount Kilimanjaro, Moshi is also known as one of the major coffee producers in Tanzania, with plenty of coffee producing farms nearby. If you ever plan on trekking up Mount Kilimanjaro, you will almost certainly be spending at least a few nights in Moshi.
Other Adventure Tours Near Kilimanjaro
While Mount Kilimanjaro tours are certainly one of the main attractions for visitors to Tanzania - many of whom have their eye on reaching the summit - there are plenty of other exciting adventures to be experienced in this beautiful corner of Africa. Tanzania's second-highest peak, Mount Meru, is another incredible trekking destination, and you can never go wrong with heading out on a safari to experience the Great Migration. No matter what dreams you can conjure up for your unforgettable African adventure, you can rest assured that there are plenty of adventure tours in Tanzania that are waiting to be experienced!
Mount Kilimanjaro Guide
Looking for more in-depth information on Mount Kilimanjaro? Whether you are interested in making a guided summit attempt of the tallest peak on the African continent or simply want to plan ahead for an excursion in the not-so-distant future, our Ultimate Guide to Mount Kilimanjaro will provide all of the critical information that you need.
Find Other Amazing Adventure Tours in Africa
Join our newsletter
Get a weekly dose of discounts and inspiration for adventure lovers
Showing 1 to 20 of 21 adventure tours
What travellers say
Why
book

with 10 Adventures?
Your trip. Your way.
Make lifelong memories with the people you care about most. We specialize in custom & private active travel experiences.
Travel made easy.
Spend your time making memories, not planning them. Enjoy a stress-free vacation and leave the trip logistics to us.
You matter to us.
No bots here. A real human is always a click or a call away to ensure you get the adventure of your dreams.
Travel authentically.
Immerse yourself in the destination with highly-vetted, local tour operators who love to showcase where they live.