Discover hidden corners of the Canadian Rocky Mountains on this 12-day hiking tour
Explore the best of the Canadian Rockies on this guided tour. Leave the tourist sites behind as you get to know the valleys, peaks, cliffs and waterfalls of Yoho, Jasper and Banff National Parks. From the glaciers of the Icefields Parkway to the canyons of Jasper and emerald waters of the alpine lakes, this 12-Day Rockies Hiking and Camping adventure is an outdoor lover's delight.
Your friendly local guides will safely guide you through spectacular mountain trails, teaching you about the history, culture, and biodiversity of the Canadian wilderness. They know the mountains like the back of their hands and will bring you to the most isolated and breathtaking camping spots that most tourists will never get the chance to see.
The hikes will be adapted for the needs and preferences of every small group and you will have some free time to go horseback riding or river rafting if you want to squeeze in a couple of extra adventures.
Highlights of the 12-Day Rockies Hiking and Camping Tour
Unearth the hidden gems of the Rocky Mountains as you hike right into the heart of a stunning waterfall cave.
Learn about the plants, minerals, and animals of Canada's wilderness as you delve into its alpine forests and craggy mountain ridges.
Soak in the soothing waters of the natural hot springs after a long day exploring the waterfalls and valleys of the trail.
Spend your free time riding horses, tasting local delicacies, or even taking a helicopter tour of magnificent ancient canyons.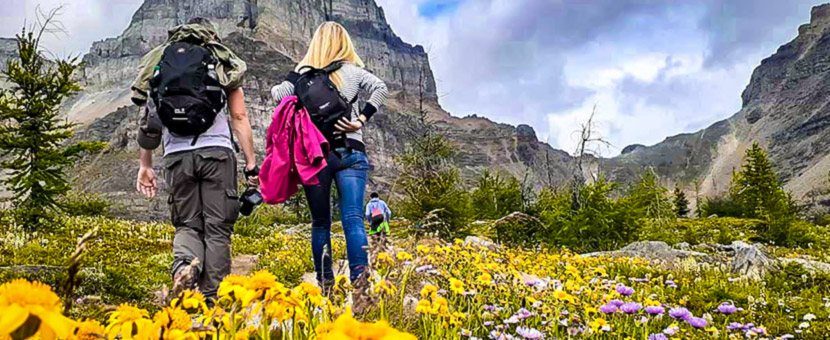 12-Day Rockies Hiking and Camping Tour Itinerary
Day 1

Welcome to Calgary

Today you will meet your like-minded group members and friendly local guides. You will be picked up at your hotel in Calgary in the afternoon, before being driven a couple of hours West to the majestic Rocky Mountains. You will make camp in Banff National Park tonight, with as much support and guidance that you could possibly need! Enjoy the first of many homecooked meals before taking a leisurely moonlit walk to a local waterfall or lake.
Overnight Location: Camp in Banff National Park
Distance: None
Meals: Dinner
Day 2

Hiking in Banff

Breathe in deeply as you soak up the revitalising fresh air of the mountains. After a hearty breakfast around the campfire, you will set out to hike a stunning trail right from your campsite. Your luggage will be taken care of, so you can enjoy the breathtaking scenery without carrying a heavy load. After enjoying the panoramic views from the mountain ridges, you will take a relaxing walking tour in the lovely town of Banff. Uncover the remarkable history of the settlement as you explore Banff Avenue, Bow Falls, and the Hoodoo rock formations.
Overnight Location: Camp in Banff National Park
Distance: 3-8 hours
Meals: Breakfast, Lunch, Dinner
Day 3

Glacial Lakes and Secluded Beaches

Indulge in another freshly cooked breakfast before packing up camp and heading out to Lake Louise. Be mesmerised by the glowing water of the glacial lakes and lofty heights of the mountain peaks along the way. On reaching Lake Louise you will set out to hike the trails of the hanging valley. Inhale the comforting smell of ancient pine with panoramic views of the pristine Victoria Glacier. Your expert guides will lead you to a hidden corner of the Rockies, only know to the locals. Camping on the isolated beach of an alpine lake, you will eat your dinner by a crackling campfire and beneath the starry sky.
Overnight Location: Camp near Icefields Parkway
Distance: 3-8 hours
Meals: Breakfast, Lunch, Dinner
Day 4

Explore Gems of the Rockies

Wake up in your stunning camping spot, kept secret from the average tourist. There are more trails than you could ever explore here, but luckily your guides have been camping in these mountains for years and know which sections cannot be missed. You will hike amongst the waterfalls, alpine lakes, and mountain ridges of this wonderful corner of the Rockies. Unwind with a wild swim in the crystal-clear waters of the lake and enjoy a rich and comforting meal around the dancing flames of the campfire.
Overnight Location: Camp near Icefields Parkway
Distance: 3-5 hours
Meals: Breakfast, Lunch, Dinner
Day 5

Hiking and Hot Springs

Say goodbye to your magical hidden camping spot as you head North towards Jasper National Park. You will enjoy a truly extraordinary hike today as you uncover panoramic views of the Saskatchewan Glacier and walk into a hidden cave behind a magnificent waterfall. Watch the powerful water thunder down in front of you before heading on to your camping spot on the shores of the Athabasca River. Deep in the heart of nature, do not be surprised if a family of elk stumbles upon the camp. This evening you will visit the Miette Hot Springs where you can ease your tired hiking muscles with delight.
Overnight Location: Camp in Jasper National Park
Distance: 3-5 hours
Meals: Breakfast, Lunch, Dinner
Day 6

Kicking Back in Jasper

Enjoy a restful morning after all the incredible hiking of the last few days. You can spend the morning exploring the artisan shops, museums and coffee spots of Jasper or rent a bicycle to check out the local area at your own pace. Horse lovers will have the chance to take a guided trail ride, experiencing the rugged landscapes of Jasper National Park in style. You will meet up with your group again for lunch before checking out a local canyon and taking a gondola to the stunning mountain ridge that looms high above the lovely town.
Overnight Location: Camp in Jasper National Park
Distance: 1-3 hours
Meals: Breakfast, Lunch, Dinner
Day 7

Moving through the Icefields Parkway

Get ready to witness one of the most scenic drives in the entire world. The Icefields Parkway is an extraordinary road that winds past countless waterfalls, mountain peaks and ancient glaciers. Soak up the sights of the alpine lakes and valleys before taking a hike beneath one of the tallest waterfalls in Canada. You will have the opportunity to check out both the Athabasca Glacier and Columbia Icefields area. Afterwards you will cross into British Columbia where you will camp by the rushing waters of Kicking Horse River, at Yoho National Park.
Overnight Location: Camp near Kicking Horse River
Distance: 2-4 hours
Meals: Breakfast, Lunch, Dinner
Day 8

Rafting on Kicking Horse River

After a peaceful breakfast by the shores of Kicking Horse River, prepare to get your adrenaline pumping on a rafting tour of the powerful river. This optional activity comes highly recommended as you can discover up close the stunning rock formations of Yoho National Park, formed by the ruthless power of the ancient glaciers. If you would rather not take a rafting tour, you can opt to take a guided tour of the local area on foot, with amazing views over the glaciers available either way. This evening you can choose to take a night walk to another waterfall, or just unwind at your campsite with good food and even better company
Overnight Location: Camp near Kicking Horse River
Distance: Optional Rafting
Meals: Breakfast, Lunch, Dinner
Day 9

Exploring Yoho National Park

After filling up on a delicious breakfast feast, you will take an early morning hike around Emerald Lake. If you are feeling adventurous you can dive into the glowing waters of this gorgeous lake and take a refreshing morning swim. After drying off you will take a hot cup of coffee in Field where elk are known to cross the river and magnificent mountain peaks loom high above you. Heading back into Banff, you will have some free time to explore the town at your own pace before settling down for another night of food, fire, and laughter at your camp.
Overnight Location: Camp near Banff
Distance: 3-5 hours
Meals: Breakfast, Lunch, Dinner
Day 10

Free day in Banff

Banff is a true adventure town, with so much to see and do. With that in mind, you will be given a free day to spend the time here however you see fit. Your guides will give you lots of suggestions and advice as you pick between hiking, horseback riding, mountain biking, indulging in local delicacies or even taking a helicopter tour of the stunning local area. You are welcome to choose another hiking day with your guides, who will be delighted to take you up to a breathtaking mountain pass. Afterwards you will have stories to share with the rest of your group as you take a dip in the lake by your camp and dry off by the crackling campfire.
Overnight Location: Camp near Banff
Distance: 2-5 hours
Meals: Breakfast, Lunch, Dinner
Day 11

Reconnecting with nature

Today is your last day of exploring the stunning Canadian Rocky Mountain trails. Do not forget to take some pictures as you visit more of the untouched wilderness that abounds in this gorgeous corner of the world. Your guides will happily teach you about the plants and minerals of the trail as you forage for delicious berries and learn about the abundant biodiversity that surrounds you. Enjoy one last feast around the campfire as you prepare to say goodbye to all your newfound friends.
Overnight Location: Camp near Banff
Distance: 3-5 hours
Meals: Breakfast, Lunch, Dinner
Day 12

Soaking in Banff Upper Hot Springs

It is time to say goodbye to your guides, but first, you can sneak in one more visit to the soothing waters of Banff Upper Hot Springs. Let the aches and pains of all that breathtaking hiking get swept away by the natural spring waters, a treasured place to the first nations people for over a thousand years. After enjoying a lovely relaxing morning, you will be dropped off to your next destination by your guides, who will take you to Banff or Calgary depending on your preference.
Overnight Location: None
Distance: None
Meals: Breakfast

Book Now
12-Day Rockies Hiking and Camping Tour Price and Dates
Pricing for this guided hiking tour in the Canadian Rocky Mountains depends on whether you choose to join an existing group on a specific date or if you prefer a custom tour for your group only.
The best time to travel to the Rocky Mountains for this hiking tour is from July to September.
Prices of Private Guided 12-Day Rockies Hiking and Camping Tour
Book Now
Have your own private tour with just your group! Please contact us with your preferred date and the number of people in your group and we will create the itinerary just for you.
Prices to Join a Group Tour on 12-Day Rockies Hiking and Camping Adventure
Make new friends and join a group on a 12-Day Rocky Mountain Adventure Tour. Prices below are per person:
Accommodation on 12-Day Rockies Hiking and Camping Tour
This tour is based in good quality tents with comfortable camping pads. Your camping spots are carefully chosen to offer the most beautiful spots of the Rocky Mountains. A hot shower is available nearly every day and all diets can be catered for.
Prices are based on 2 people sharing a 3-4-person tent, but it is possible to upgrade to a private tent if you prefer. You can either bring your own sleeping bag or rent one for an extra fee.
Single Rooms and Solo Travelers
You can pay a supplement of $325 USD to have a private tent. Contact us and we can try and match single travelers up, where possible.
Hotels on Standard Tour
Camping in the Canadian Rockies
Immerse yourself in the stunning mountain landscapes as you camp out beneath the stars. High quality equipment and expert guides make camping fun!
What's included in the 12-Day Rockies Hiking and Camping Tour?
Meals
11 breakfasts, 10 lunches, 11 dinners are included.
Accommodations
Camping accommodations for 11 nights along the tour are included.
Transportation during the Tour
Transportation for you and your luggage is included.
Also Included
Park passes and entry fees
Hot Spring entry fees
Expert local guides
Gondola Pass
Use of our quality camping gear (Tent and sleeping pad)
Hiking activities
Not included
Alcoholic drinks
Optional personal transportation around town during free time
Getting to and from Calgary
Insurance
Personal expenses
Anything not stated as 'included'
GST (5%)
Optional Extras
Sleeping bag rental - $50 USD
Additional night in Calgary before or after the tour - $175 USD
Kicking horse river rafting (prices upon request)
Optional activities in free time like helicopter tours and horseback riding (prices upon request)
Frequently Asked Questions about 12-Day Rockies Hiking and Camping Tour
Fresh Adventures is an outdoor tour company that navigates explorations through the rugged, stunning terrain spanning western Canada. With an emphasis on customer care, Fresh Adventures promises to depart on an expedition, with a highly skilled guide, no matter how many people have signed up, while also ensuring tour participants have top-notch equipment.
Learn More
Is this tour for me?
We rate this tour as a 3 / 5, and you should be comfortable hiking. These fixed-departure tours are accompanied by two guides, and typically the groups split into a group that does longer hikes and another group that does shorter hikes.
Ask a Question
Got any questions regarding the tour? Interested in promotions for groups or want to customize this tour to fit your needs? We are here to help you!
Ask a question
SALE! Well, not yet.
Let me know when this trip goes on sale.
Notify me