Explore coastal Morocco and the Atlas Mountains on road bike
Encompassing the best of Morocco, the Atlas Mountains to Atlantic Coast Road Biking Tour will take you through the scenic foothills of Mt Toubkal, Berber Villages, Argan Land, impressive gorges and the long sandy beach of Essaouira. This spectacular route follows smooth tarmac roads and climbs over high mountain passes that reward you with spectacular vistas of the High Atlas Mountains. A real highlight is riding through Paradise Valley, close to Imouzzer, where a palm-filled valley leads to a high pass with views down to the ocean below. After exhilarating days on your road bike, you'll receive a warm welcome from a range of superb hotels including a traditional Riad.
Highlights of the Atlas Mountains to Atlantic Coast Road Biking Tour
Experience the cultural wonders of Marrakech as you visit the Medina mosques and palaces of this fascinating city.
Ride to the coastal city of Essaouira taking in its charming Medina and historical sights.
Enjoy the breeze of the Atlantic Coast as you ride through Morocco's rugged Atlas Mountains.
Stay in converted palace with roaming peacocks and pick fresh fruits for breakfast from a choice of exotic trees.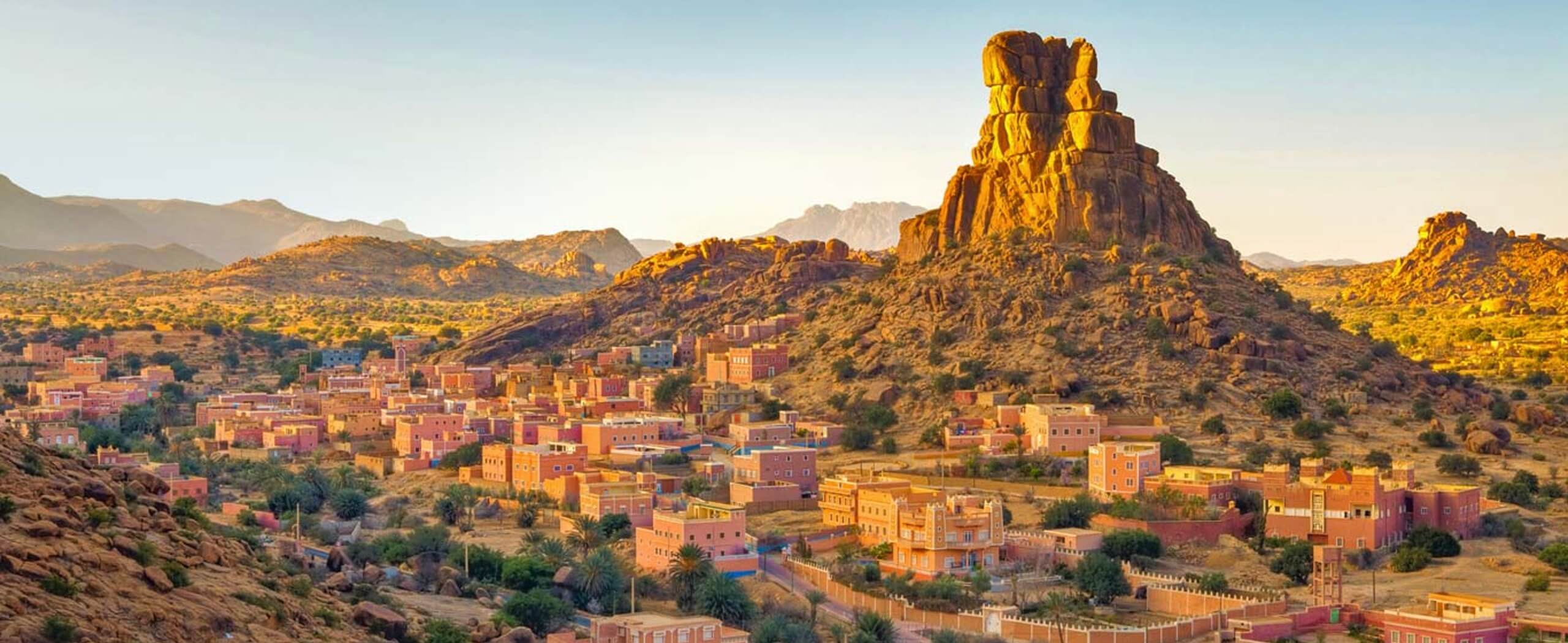 Atlas Mountains to Atlantic Coast Road Biking Tour Itinerary
Day 1

Arrive in Marrakech

Meet your guide at the airport in Marrakech and transfer to the hotel found in old Medina.
Overnight Location: Hotel in Marrakech
Distance: None
Meals: None
Day 2

Transfer to Tadmamt and Ride Through the Foothills of Mt Toubkal

This morning following breakfast you'll transfer from Marrakech to Tadmamt and begin your cycling journey into the foothills of Mt Toubkal. After a nice warm-up on a wonderful undulating road, you'll enjoy a long descent into the Asni Valley with beautiful views. You'll then follow the river and cross over a number of bridges before arriving at your hotel in Asni.
Overnight Location: Hotel in Asni
Distance: 112km
Meals: Breakfast, lunch, dinner
Day 3

Tizi N Test Pass and Ride to Oulad Berhil

The day begins with a challenging climb to the dramatic Tizi n'Test Pass (2100m). After lunch, you'll descend into the Souss Valley, which exports most of their crops thanks to the rich and fertile plateau. Today is completed with your arrival at Oulad Berhil where you'll enjoy a warm reception, wonderful food and a relaxing evening at a beautiful Riad. This converted palace is a wonderful addition to the end of the day with roaming peacocks and the chance to pick your own fruit straight off the tree.
Overnight Location: Guesthouse in Oulad Berhil
Distance: 117km
Meals: Breakfast, lunch, dinner
Day 4

Ait Baha and Tafraoute

After a morning transfer, you'll head towards the Anti Atlas Mountains to discover the real southern Morocco. You'll travel through Argan country trying to spot the incredible tree-climbing goats which are famously found here, where an attractive mosque is perfectly set against the rocky cliffs behind. From Irherm, you'll find yourself surrounded by almond trees as you pedal an undulating passing many farms and Berber villages. When you arrive in Tafraoute, there is the option to visit the famous Blue Rocks, designed by Belgian artist Jean Verame, which are only 6km away (cycle or drive).
Overnight Location: Guesthouse in Tafraoute
Distance: 111km
Meals: Breakfast, lunch, dinner
Day 5

Cycle Tafraoute to Agadir

Today you'll learn how important the colour pink is in Morocco, as you pass several pink houses through various Berber villages. A beautiful ride on a quiet road will introduce you to the magical scenery of the area as you come out of the Anti Atlas Mountains. After a short photo stop at a golden Kasbah, you'll cycle to Ait Baha Lake and then transfer to Agadir or Tamraght.
Overnight Location: Guesthouse in Agadir
Distance: 111km
Meals: Breakfast, lunch, dinner
Day 6

Paradise Valley and Imouzzar

Today you'll enjoy truly spectacular cycling through the Paradise Valley to Imouzzer Ida Outanane, one of the most dramatic rides on our route. Originally the home of the Ida Outanane Berber tribe, Imouzzer reflects a strong cultural identity. You'll spend the night in a very comfortable hotel here.
Overnight Location: Guesthouse in Imouzzar
Distance: 32km
Meals: Breakfast, lunch, dinner
Day 7

Imouzzar to Essaouira

This morning your cycling begins from your hotel; this could be another of your favourite days of riding as you cycle a quiet road from the mountains to the sea, another spectacular day biking through contrasting landscapes. You'll ride by some unexpected waterfalls and through the Targant Valley; where you will likely spot local Berbers grazing peacefully with herds of goats and camels. This route reveals a very different landscape today, as you take on a challenging climb to a beautiful view point across the Atlantic Ocean before continuing to the destination for the evening, Essaouira.

This charming old Portuguese fishing port dates back to the 15th Century, but the present town was constructed around 1760 by Sidi Mohammed ben Abdullah, who needed a base from which to suppress a revolt from Agadir. Today, Essaouira is extremely relaxed and its whitewashed houses with painted shutters, artisan's workshops, boat yards and fishermen provide a marked contrast to Marrakech. There are also many pleasant cafes and some outstanding seafood restaurants to sample before staying overnight in a traditional Riad Hotel here.
Overnight Location: Hotel in Essaouira
Distance: Flexible
Meals: Breakfast, lunch, dinner
Day 8

Essaouira to Marrakech

After a free morning to explore lovely Essaouira, you'll transfer back to the vibrant city of Marrakech. Enjoy a freshly squeezed orange juice in one of the many rooftop coffees overlooking the Djemma El Fna, or perhaps take a calèche (a bright green horse-drawn carriage) ride to the peaceful Majorelle Gardens. These small but tranquil gardens are decorated throughout in Indigo Blue and house the small Museum of Islamic Art on the grounds. A final treat would be to go for a hammam, a traditional Moroccan steam bath. A visit to Djemma el Fna Square this evening is the ultimate reward for your week's cycling - with snake charmers, storytellers, smoky food stalls and souks; there is no better way to experience the exciting atmosphere of Marrakech.
Overnight Location: Hotel in Marrakech
Distance: None
Meals: Breakfast
Day 9

Airport

According to your flight times, you will be transferred to the airport by your guide, who will also assist you with the paperwork formalities before you board your flight out. Fly back to your destination with sweet memories of Morocco!
Overnight Location: None
Distance: None
Meals: Breakfast

Book Now
Atlas Mountains to Atlantic Coast Road Biking Tour Price and Dates
This guided mountain biking tour in Morocco is run as a private tour for your group and the price depends on the number of participants.

The prices below are per person sharing a double or a triple room:

Guided Groups of 2-3: $1,350 USD per person
Guided Groups of 4-5: $1,250 USD per person
Guided Groups of 6: $1,175 USD per person
Guided groups of 7+: on request
Book Now
Accommodation on Atlas Mountains to Atlantic Coast Road Biking Tour
This tour is based in the guesthouses and hotels. The hotels on this tour offer modern conveniences to make your stay comfortable. The guesthouses are rustic but full of local character. The guesthouse rooms are either double occupancy or dormitory-style and offer shared facilities.
In some cases, the accommodation listed below may need to be substituted for other comparable accommodations.
Single Rooms and Solo Travelers
Rooms are double occupancy. You can pay a supplement of $275 USD to have a private room in a hotel where possible. Solo travellers may be required to pay a supplement.
Hotels on Standard Tour
Enjoy a night in Morocco's capital city and head out to explore its vibrant souqs, historic palaces, and impressive mosques.
Stay nestled in the foothills of the High Atlas Mountains at this comfortable hotel in Asni.
Guesthouse in Oulad Berhil
Find yourself surrounded by the beauty of the Sous River Valley at this cozy guesthouse in Oulad Berhil.
Soak up the beauty of the Anti-Atlas Mountains at this charming guesthouse in Tafraoute.
Enjoy the Atlantic breeze at this guesthouse stay in the foothills of the Anti-Atlas mountains.
Guesthouse in Imouzzar Ida Outanane
Soak up local culture at this guesthouse stay in a rural, small town in the region of Souss-Massa.
Enjoy the cool ocean breeze at this comfortable hotel in Essaouira, a vibrant port city and Atlantic coast resort town.
Enjoy a night in Morocco's capital city and head out to explore its vibrant souqs, historic palaces, and impressive mosques.
What's Included in the Atlas Mountains to Atlantic Coast Road Biking Tour?
Meals
8 breakfasts, 6 lunches, and 6 dinners are included.
Accommodations
Accommodations for 8 nights are included. Accommodations before and after the tour in Marrakech are not included.
Transportation during the Tour
Transportation for you and your luggage is provided throughout the tour, including airport transfers in Marrakech. An assistance car will follow the group during the tour to transfer you, your luggage, and the bikes to the trailheads and the guesthouses each day.
Also Included
English/French speaking guide
Cook services
Assistance car
Not included
Flights to and from Marrakech
Travel insurance
Visas
Meals, drinks, or snacks not previously mentioned
Gratuities for tour guides or other staff
Bike rental
Optional Extras
Bike rental: $50 USD per day
Extra nights in Marrakech or Essaouira
Frequently Asked Questions about Atlas Mountains to Atlantic Coast Road Biking Tour
Mountain Bike Morocco Company is based in the Atlas Mountains near Marrakech. This incredible adventure tour operator is founded and run by a passionate group of cyclists and avid mountaineers who have been hitting the trails of Morocco for over 30 years. Mountain Bike Morocco offers unique and high-quality mountain biking tours & road cycling holidays in Morocco, with the option to also tailor made itineraries with the guidance of their expert team.
While Mountain Bike Morocco is a small company, their passion and expertise are unmatched. Guests can reap the benefits of travelling with a team of people who absolutely love what they do and are eager to share the best adventures in Morocco with the world. Each and every guide knows the area they work in intimately and are also trained in both bike maintenance and first aid.
The tours offered by Mountain Bike Morocco are unparalleled, combining the very best trails with incredibly unique cultural experiences. Cyclists of all levels are welcome, from entry-level to the pros!
Amazing food and superb accommodations ensure guests stay energized and well rested on their trip and responsible tourism is also at the forefront of operations. Group sizes are small and led by only local staff and expert local guides who aim to protect the cultural integrity of the places they visit.
At the heart of Mountain Bike Morocco Company is the idea that cycling can and should be enjoyed by all! Young or old, rich or poor, everyone should reap the benefits of exploring Morocco in this unique way.
Experience:  
Mountain Bike Morocco brings over 30 years of experience to their guests. Their passionate team is constantly evolving to develop new mountain bike tours and unique culture experiences.
Professional guides:
Mountain Bike Morocco guides are highly professional, humble and sociable. Their area of guiding expertise includes day tours, multi-day tours, bike rental, workshops, and even coaching. High quality service and integrity are at the forefront of all operations as well as an emphasis on responsible eco-tourism.
Tours : 
Mountains Bike Morocco features tour packages that are suitable for all age groups. Guests can choose from a selection of existing guided road cycling our mountain bike tours and can also customize these to suit individual needs and requests. Competitive pricing and top-rated guides with a world of experience ensure each and every tour is of great value to guests.
Learn More
Is this tour for me?
We rate this tour as a 4 / 5. Some of the days are over 100km long.
Local Guide
Ask a Question
Got any questions regarding the tour? Interested in promotions for groups or want to customize this tour to fit your needs? We are here to help you!
Ask a question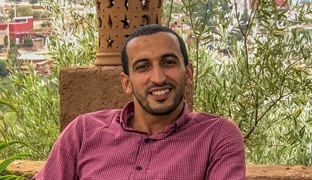 Houssain
Marrakech - Morocco
Q&A
Q: What is the best part of guiding tourists in Morocco?
A: I love showing guests the High Atlas Mountains as this area is remarkably beautiful and our guests are constantly left in absolute awe.
Q: What is your favourite trip to do and why?
A: My favourite trip to guide is the Mountain Bike Tour of the Atlas Mountains and Berber Villages. I love introducing guests to the unique local culture, traditions, lifestyle, and of course, the mouth-watering food!
Q: What are guests most surprised about in visiting your country?
A: I think guests are most often surprised by the diversity in our culture, the richness of our history and traditions. They always expect the food will be good, but I think their expectations are often far exceeded in this area!
Q: What is one experience anybody visiting your country should do?
A: I would recommend that guests choose to explore Morocco in a variety of ways to see the best our country has to offer. This can include travelling by bike, by camel or on foot. The activities guests can enjoy here are endless, from cultural sightseeing to incredible trekking, and evening surfing!
Q: What is one local dish or drink that tourists must try on a visit to your country and why?
A: I love our local food, well the first dish fritada with tortillas that is fried pork with potato patties then empanadas.
Q: What is one local dish or drink that tourists must try on a visit to your country and why?
A: Hands down, this is Tagine! Guests may have tried Tagine elsewhere around the world,
but one must try Tagine in its birthplace for the true experience! To top this off, a traditional Min Tea is the perfect follow-up.
Q: Where would you want to go on holiday?
A: My ideal holiday destination is the beach. I really like Essaouira and Agadir.
Q: What is the most challenging adventure you've ever done?
A: The most challenging adventure I've ever done is exploring might Mount Toubkal by bike.
Q: What do your guests say is best about the trips you lead?
A: Our guests often tell us that their experience was excellent and that the trip they've completed with us is one they'll never forget.