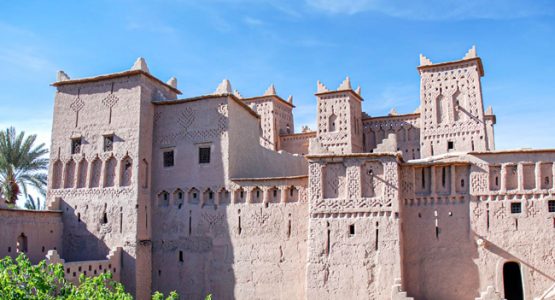 Booking one of these adventurous Morocco tours is by far the best way to see this enchanting country, which sits at the confluence of Europe, Africa and the Arab world. Morocco is a land of breathtaking kasbahs, graceful sand dunes, mountains and gorges, and ancient cities. Whether you want to see Morocco by bicycle, on foot, or atop a camel, these tours will give you the Moroccan adventure that travelers dream about.
Read More
Guided Morocco Tours
Guided Morocco tours are ideal for first-time travelers who may feel a little uneasy traveling to North Africa by themselves. Moroccan tour guides are charming, full of local knowledge you won't find anywhere else and take care of all of the planning and logistics for you. From the moment you get to Morocco to the time you leave, your guides will be by your side and leading the way. It'll take all of the stress away from planning an adventure holiday in a foreign country. Leave it up to the professionals so that you can enjoy yourself!
Self-Guided Morocco Tours
For travelers who have a little extra confidence, a self-guided Morocco tour is the next best thing to having a guide with you. You'll get the benefit of having local professional guides plan your trip for you, setting up an itinerary, taking care of logistics, and providing you with the kind of local knowledge you'd only get if you had a guide by your side. But you're on your own, free to deviate from the plan if you wish, giving you a more private, intimate experience. Additionally, self-guided Morocco tours are generally cheaper than guided tours because you're not paying for the service of a guide during your entire holiday.
Private Morocco Tours
Private Morocco tours are the ultimate in guided tours. Guided group tours have the advantage of being cheaper because costs are split amongst all participants, but you're in a group. And who wants to be in a large group, where everyone wants to do something different and at a different pace? When booking a private Morocco tour, it's just you and your guide. You won't be bound by the wishes of other members in a group.
Morocco Trekking Tours
A variety of beautiful and challenging terrain makes Morocco trekking tours a must-do for every traveler who loves to see the world on foot. One of the most popular locations for Morocco trekking tours is the Atlas Valley, part of the Atlas Mountains in central Morocco. These trekking tours will introduce you to the Berber way of life, take you inside centuries-old kasbahs that once served as military forts, and provide you with inspiring views of Mount Toubkal. Ouirgane National Park is a common fixture on these trekking itineraries, where you'll see soil with colors that only a painter could produce.
Morocco Bike Tours
Cycling enthusiasts won't want to miss out on Morocco bike tours. This is a spectacular way to see the country while earning your exercise points. If you want to stay on the blacktop the entire time, you'll enjoy a road tour that starts high up in the Atlas Mountains and ends at the Atlantic Ocean. Or if dirt roads are more of your thing, several cross-country bike tours take you on rural roads through Morocco's deserts, mountain villages, and picturesque date palm orchards.
Morocco Camel Tours
Morocco camel tours offer a unique, genuine experience for your tour of the Sahara. Erg Chebbi and Erg Chigaga are often where many adventure travelers go, exploring the dunes by camel. The camel trekking tours in Erg Chigaga, in southern Morocco near the border with Algeria, are some of the finest in Morocco. You'll spend nearly a week riding through the Sahara, staying in small villages and camps every night, living like a nomad. Each stop highlights specific dunes, which you can climb and explore and photograph to your heart's content.
Mount Toubkal Tours
There are numerous itineraries for different Mount Toubkal tours, the highest mountain in North Africa, located in the Atlas Mountains of central Morocco. Because of the altitude, these tours do include acclimation time so that you'll have an easier time getting to the summit. While you're adapting, you can learn about Berber culture in small villages on the mountain, enjoy local cuisine, and complete other hikes that will take you to waterfalls and lakes. Views from the summit are incredible in every direction, and on a clear day, you can see all the way into the Sahara.
Erg Chebbi Tours
Erg Chebbi tours are one of Morocco's most famous Sahara dunes tours, particularly known for its outstanding desert camps. Tours of different lengths will lead you around the perimeter of these dunes, introducing you to the local nomads, and eventually taking you into the dunes on a camel. Once at your camp, the unending ridges of dunes in every direction will make you feel like you're in the middle of nowhere, especially when the stars come out and appear to be the most brilliant you've likely ever seen.
Dades Valley Tours
Dades Valley tours will take you along the "road of a thousand kasbahs," so named for the massive mud and brick fortresses that will greet you at every turn. These fortresses, some victims of time and others immaculately kept, sit against a backdrop of red cliffs and brilliant green palm groves. This valley is also home to hiking trails, archaeological sites, and highly-talented artisans selling their goods. On your way into or out of the valley, you'll drive the famous winding road of Dades Gorge, one of the most photographed locations in Morocco.
Best tours in Morocco
Read More
Destinations