Spend 4-days trekking and camping on the Inca Trail with a guide
The classic Inca Trail trek to Machu Picchu is one of the most famous treks in South America, and for good reason. Mixing history and wildlife and spectacular scenery, this four-day, three-night adventure is an unforgettable experience, with a final destination -- Machu Picchu itself -- that ranks among the world's most impressive archaeological sites.
The classic Inca Trail is only about 42 km (26 miles) long, but it goes up and down and along mountains, rising up through three mountain passes, and generally takes a circuitous route through the tricky terrain in this part of Peru. That makes it a more strenuous 42 km than most, but also one with spectacular scenery, passing through various Andean environments including cloud forest and alpine tundra.
Along the trail, you'll be trekking through an area of great biodiversity. At any moment you could come across orchids, foxes, cocks-of -the-rock (Peru's national bird), spectacled bears, deer and many more species of flora and fauna. As you trek the Inca Trail to Machu Picchu, you'll also pass by other impressive Inca ruins, such as Wiñay Wayña and Phuyupatamarca. It's an incredibly rich trekking experience, and that's before you even reach your destination: the sublime mountaintop Inca citadel of Machu Picchu.
It's impossible to overstate the beauty of Machu Picchu, from its incredible architecture to the surrounding mountains and mist-filled gorges. But we won't describe it all here. Far better if you come with us on the classic Inca Trail, with our professional guides, porters and talented cooks, and discover this magical trek for yourself.
Highlights of the Classic Inca Trail
Find yourself surrounded as you trek among the cloud forests, alpine tundra, and misty gorges of the Peruvian Andes.
Marvel at the biodiversity of the Inca Trail, spotting wildlife and unique flora and fauna each step of the way.
Reach the mountain top citadel of Machu Picchu and discover one of the world's most impressive archeological sites.
Visit the fascinating ruins of Wiñay Wayña and Phuyupatamarca and learn about their history from your expert local guide.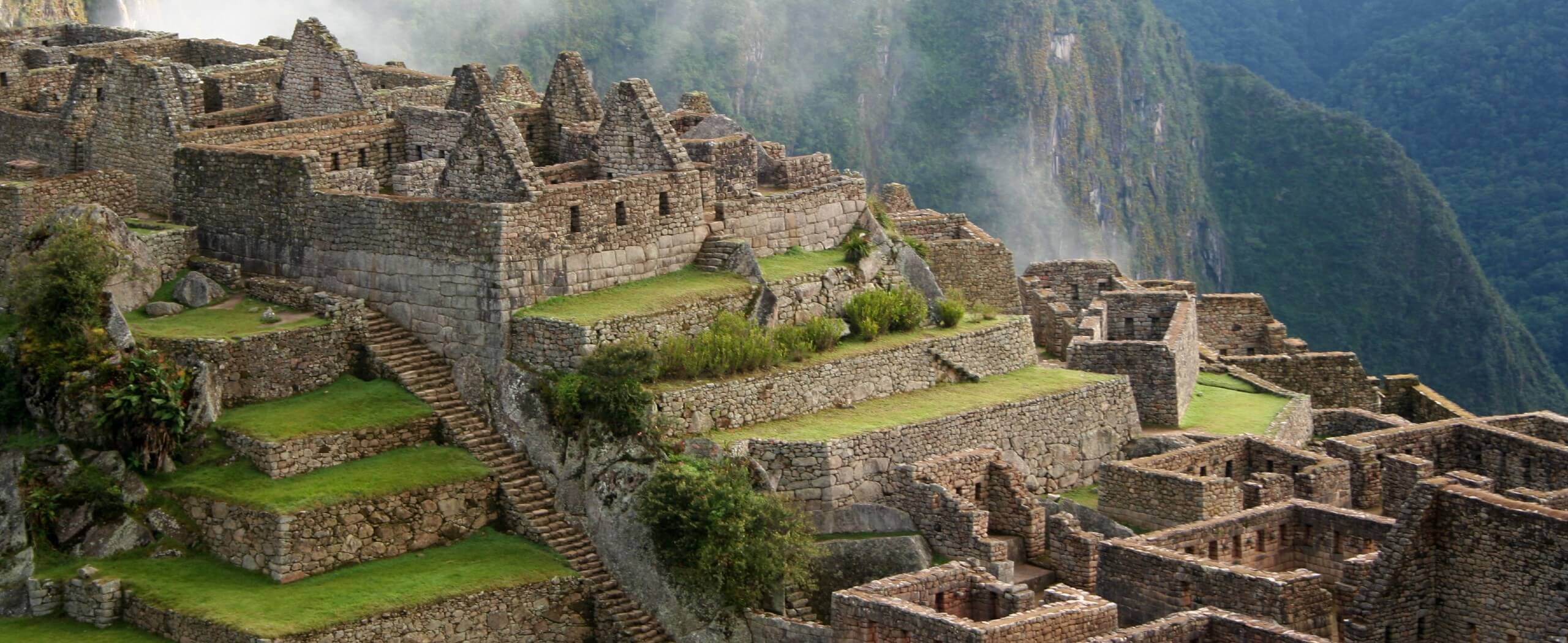 Classic Inca Trail Itinerary
Day 1

Transfer to Piscacucho and trek to Ayapata Camp

Today's itinerary begins very early, please make sure to have your breakfast packed with you as it's not included. Transfer to Piscacucho and check in. Access to the Inca Trail is limited, so at this control point you will need to show your passport, permits, etc. Ahead of you lie the incredible Inca Valley and the path used by great Inca masters and the royal court on the sacred journey to Machu Picchu. You have the privilege of retracing their steps.

From the trailhead (2,720 m / 8,923 ft) cross the Vilcanota River and follow the trail as it enters the cloud forest. Continue walking until you see the remains of Inca sites such as the Huillca Raccay fortress and Patallacta. Notice how the Urubamba mountains divide the jungle as you walk through the Andes and admire the W'akay Willca peak (5,860 m / 19,225 ft). This majestic snow-capped peak is also known as Veronica. This day full of new impressions and beautiful scenery ends at the Ayapata campsite near the village of Wayllabamba (3,000 m / 9,842 ft). Depending on the season, expect overnight temperatures around +5°C (41°F).
Overnight Location: Ayapata Camp (3,000m / 9,842')
Distance: 6 hours, 11km
Meals: Lunch, Dinner
Day 2

Trek over Dead Woman's Pass to Chaquicocha Camp

Today's hike starts early, and begins with a steep climb that will take several hours. The Inca believed this was part of their sacred pilgrimage, that they would become one with the gods that protect the Andes. Your challenging climb brings you to the tour's highest pass, Dead Woman's Pass (Abra de Warrmihuañusca) (4,200 m / 13,779 ft). Take a well-deserved rest and feel a sense of accomplishment for completing this ascent. Begin to descend again to your lunch stop at Pacaymayu (3,550 m / 11,646 ft). As you walk, watch for a variety of birds and hummingbirds, as well as the polylepis trees that are only found in this cloud forest area.

After lunch there is another 2 hours of steep climbing awaits reach the Runkurakay Pass (4,000 m / 13,123 ft) then descend again to make camp at Chaquicocha Camp (3,350 m / 10,991 ft) before dark. Depending on the season, expect overnight temperatures around +4°C (39°F).
Overnight Location: Chaquicocha Camp (3,350m / 10,991')
Distance: 6-7 hours, 12km
Meals: Breakfast, Lunch, Dinner
Day 3

Trek to Wiñay Wayña Camp

Today begins with a gentler climb to a fascinating archaeological site at Phuyupatamarca or "Town in the Clouds" (3,680 m / 12,073 ft). Stop here to enjoy the incredible view of the surrounding area, including mountains and canyons. Continuing from here, walk the 3,000 steps that lead through a cloud forest to reach another impressive Incan agricultural site called Intipata. From here, the next stop is the Wiñay Wayña campsite (2,680 m / 8,792 ft) where you will spend the night. You should reach this campsite by lunchtime, which leaves time in the afternoon to visit the nearby Wiñay Wayña ("Forever Young") Inca site. Depending on the season, expect overnight temperatures around +12°C (54°F).
Overnight Location: Wiñay Wayña Camp (2,680 m / 8,792')
Distance: 8 hours, 16km
Meals: Breakfast, Lunch, Dinner
Day 4

Trek to Machu Picchu, then transfer to Cusco

Join the ranks of Inca royalty today as you complete your journey through the mountains along the Inca Trail and reach the royal house of Machu Picchu. Get an early start to reach the Initpunku or Sun Gate (2,730 m / 8,957 ft) by sunrise. Enjoy your first memorable view of Machu Picchu as the sun rises over it. Descend to the incredible ancient city of Machu Picchu (2,400 m / 7,873 ft) for a guided tour of the area. Spend 2 more hours here, either exploring the city further on your own, or hiking the nearby mountains of Machu Picchu or Huayna (Wayna) Picchu. After this time, take the bus (or walk if you have time) to Aguas Calientes for lunch, then journey by train and bus back to Cusco.

You can also book a hike to Wayna Picchu (peak that can be seen in the pictures right behind the complex), and due to required permits, reservations must be made well in advance. Many people consider hiking this mountain to be a highlight of their visit to Machu Picchu. Along the climb, see steps that the Incas cut into the rocks. As the trail winds its way around the mountain, you gain different perspectives on the city of Machu Picchu. After exploring the complex, your guide will then give you your tickets for the train back to Poroy, from where you can jump on the bus back to Cusco.

And that marks the end of our unforgettable classic Inca Trail trek to Machu Picchu!
Overnight Location: None
Distance: 2 hours, 6km
Meals: Breakfast

Book Now
Classic Inca Trail Price and Dates
Pricing for this guided trekking tour to Machu Picchu depends on whether you choose to join an existing group on a specific date or if you prefer a custom tour for your group only.

Prices below are per person, sharing a double tent.

Trek the Classic Inca Trail in a Private Group
Guided Groups of 2-3: $1,195 USD per person
Guided Groups of 4-5: $850 USD per person
Guided Groups of 6: $725 USD per person
Guided Groups of 7+: on request
Join a Group Tour on Classic Inca Trail
Make new friends and join a group on trekking to Machu Picchu. Prices below are per person and the departures are available several times per week throughout the year. Please note that there are no departures available on February:
Accommodation on Classic Inca Trail
This tour includes the accommodation for three nights along the Inca Trail that are spent in camps.
In some cases, the accommodation listed below may need to be substituted for other comparable accommodations.
Single Rooms and Solo Travelers
Tents are of double occupancy and staying in a single tent would require and extra charge and, in some cases, due to limited availability, might not be available (please enquire for more info).
Hotels on Standard Tour
Camping in campsites along the Inca Trail ★
Sleep under the starry sky in comfortable tents in the campsites along the Inca Trail. Spend your nights in Ayapata, Chaquicocha and Wiñay Wayña camps surrounded by stunning peaks of Peruvian Andes.
What's Included in the Classic Inca Trail?
Meals
3 breakfasts, 3 lunches, 3 afternoon snacks, 3 dinners and various snacks to be eaten throughout the day are included.
Accommodations
This tour includes camping for 3 nights, where camping equipment is also included for camping along the trek. Equipment included: 1 tent for every 2 people (private tent available for an additional charge), dining tent with tables and chairs, kitchen equipment and utensils.
Transportation during the Tour
Transportation for you and your luggage are included throughout the tour, starting and ending in Cusco.
Also Included
Tour briefing on the day before your trek starts
Professional, English-speaking guide (+ assistant guide for groups larger than 9 people)
A chef trained for cooking on trekking routes and an assistant cook
Porters to carry all gear
Entrance fees and permits for the Inca Trail and Machu Picchu
First Aid kit
24/7 support and emergency line available throughout the tour
Not included
Meals and drinks, other than those mentioned in the itinerary (extra meals can be arranged upon request).
Optional tours and excursions
Personal items such as souvenirs or telephone calls
Personal camping and trekking equipment, such as sleeping bags or walking sticks (many of these items can be rented for an additional fee)
Extra personal porter (available for an additional fee)
Travel insurance
Personal camping and trekking equipment, such as sleeping bags or walking sticks (many of these items can be rented for an additional fee)
Evacuation in the event of a serious medical issue or injury
Optional Extras
Equipment rental:

Sleeping bag: $44 USD
Walking sticks: $32 USD

Personal porter for belongings up to 7 kg: $87 USD
Personal porter for belongings up to 14 kg: $175 USD
Climb to Wayna Picchu: $90 USD
Accommodation in Cusco before and after the tour
Frequently Asked Questions about Classic Inca Trail
Valencia Travel Cusco has been providing incredible trekking and cultural tours around Cusco since 2009. Owned and operated in Cusco, Valencia Travel know the Cusco and Macchu Picchu region well, and provide great active holidays for their guests.
Valencia Travel is recognized as Best Tour Operator in Peru 2021 by the International Travel Awards by KSA!
Learn More
Is this tour for me?
We rate this tour as a 3 / 5. The trek is moderate but hikers unaccustomed to hiking at higher altitudes will notice the additional strain caused by the elevations. We strongly recommend arriving to Cusco a few days before your trek to get acclimatized to the higher elevation.
Ask a Question
Got any questions regarding the tour? Interested in promotions for groups or want to customize this tour to fit your needs? We are here to help you!
Ask a question