Road-trip off the beaten path to discover some of the hidden delights of Quebec
The Discover Gaspésie and the St. Lawrence Self-Drive Tour is a 14-day self-drive exploration of some of Quebec's hidden gems. This itinerary is full of wildlife viewing opportunities and has plenty of time for you to hike and explore some of the most beautiful scenery in the province.
From artisanal local produce in the islands to quiet wilderness walks and whale watching along the spectacular rugged coast, this tour has it all. You'll also enjoy spending the night in some truly unique spots, including a wildlife park, ready-to-camp sites, mountain inns, and a lighthouse. Since this is a self-guided road trip, you get to set the pace and decide if you want to be out in the parks hiking all day or if you'd rather take an easy stroll through charming villages. This tour is the perfect way to discover the incredible wild beauty of la belle province.
Highlights of the Discover Gaspésie and the St. Lawrence Self-Drive Tour
Enjoy the artisanal produce as you explore the St. Lawrence Island villages.
Look for whales, seals, and seabirds during your tour and from your lighthouse accommodations.
Hike, bike, and play at a natural resort in the Chic-Choc Mountains.
Listen to the wolves howl from your prospector tent in a wildlife park and meet the animals up close with a naturalist.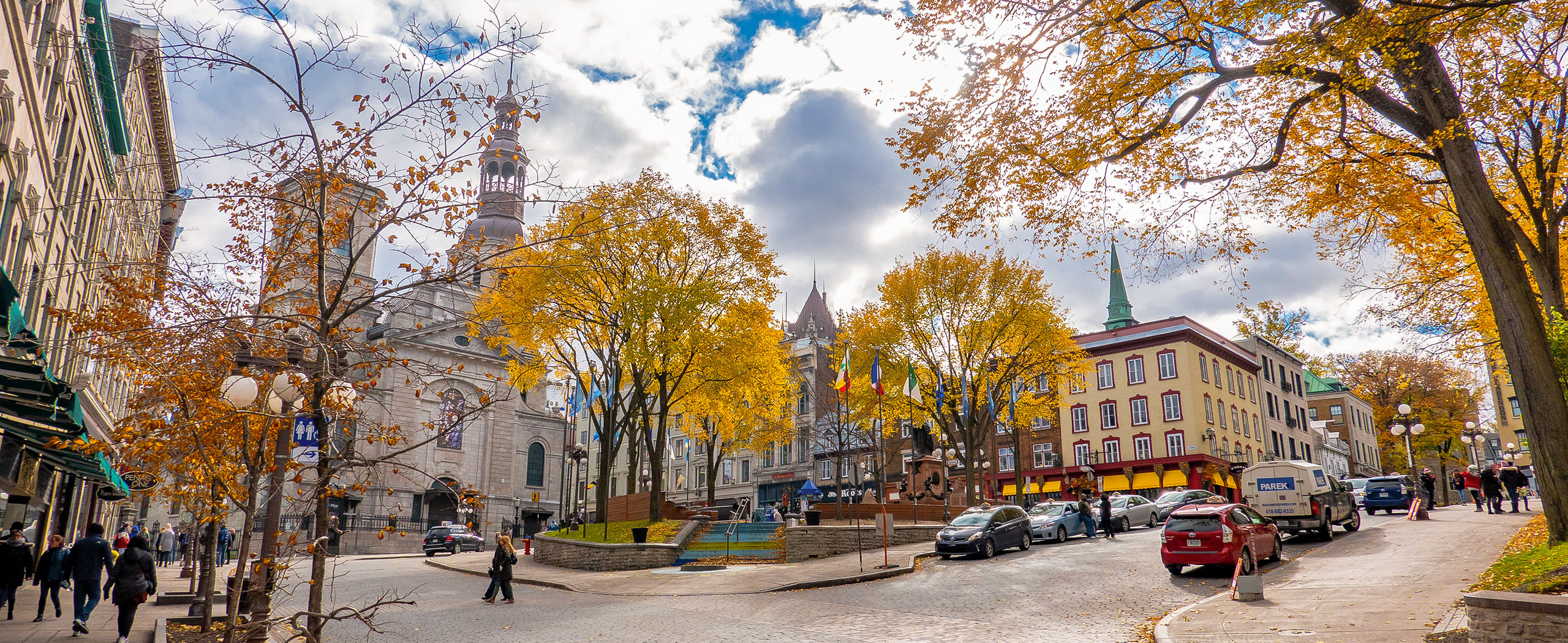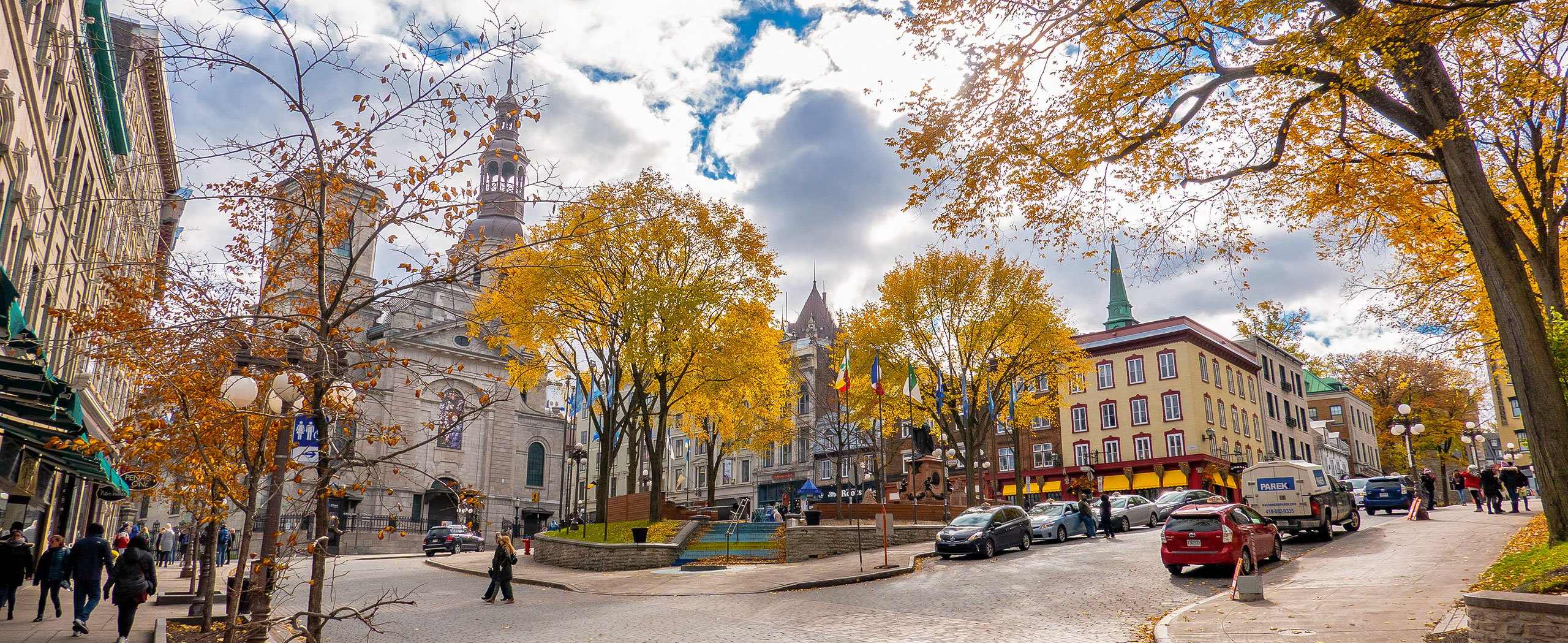 Discover Gaspésie and the St. Lawrence Self-Drive Tour Itinerary
Day 1

Arrive in Montreal

Your tour officially begins when you collect your car rental from the airport. Settle into the hotel, and then head out to explore the city. Wander the cobblestone streets of Old Montreal and take advantage of its ample restaurants.
Overnight Location: Hotel in Montreal
Distance: None
Meals: None
Day 2

Explore Île d'Orleans

Depart Montreal in the morning and begin your drive to the Island of Orleans. Here, you'll find a beautiful island full of history and amazing local gastronomy. Explore the small villages along the coast on an electric bike. Collect a picnic as you discover all the fresh produce and artisanal products, including cheeses, chocolates, cider, beer, and maple syrup!
Overnight Location: Hotel in Île d'Orleans
Distance: 274km
Meals: None
Day 3

Enjoy the Hospitality on Iles aux Coudres

Today, you'll visit another charming island. Travel to the Charlevoix region and take the ferry to Iles aux Coudres. Explore this tiny island on foot, by bike, or in the car—it won't take you long to see all 23 kilometres of the coastline. Visit Pedneault orchard to try some of the apples, pears, plums, or ciders they produce. If you're feeling active, you might also want to take a paddleboard out into the river. Finish your day with a lively evening with the locals in Fascine.
Overnight Location: Hotel in Iles aux Coudres
Distance: 121km
Meals: None
Day 4

Whale Watching in Tadoussac

Continue your drive along the coast of the St. Lawrence River to Tadoussac. Watch the water from this picturesque village, and you're likely to see beluga whales. You can choose to take a kayaking excursion to see the Belugas and other whales from the water.
Overnight Location: Hotel in Les Escoumins
Distance: 155km
Meals: None
Day 5

Wildlife Experience at Bioparc de la Gaspésie

Check the schedule for the ferry departures and see if you have time to take a stroll along the river from your hotel. On your way to the Bay of Chaleurs, you can make a stop at the Matapédia Valley to visit the winding river. In the evening, you'll visit the Bioparc de la Gaspésie for an up-close meeting of some animal residents and to learn about the region's species. Spend the night in a prospector tent listening to the wolves howl from within the park.
** Night with the wolves is only available between late July and mid-August on specific days.
Overnight Location: Camping in Bonaventure
Distance: 375km
Meals: None
Day 6

More Animal Adventures and Percé Rock

This morning, your guide will take you on a private tour before park hours to visit some more animals. Afterward, you'll have time to explore on your own before you start your drive to Percé. The best view of the natural rock arch over the water at Percé is from the end of Mont-Joli Road. Take the hike to the glass platform that soars 200 metres in the air and offers another view of the arch. End the day with some fresh seafood at the Fisherman's House.
Overnight Location: Camping in Percé
Distance: 130km
Meals: None
Day 7

Visit the Seabirds of Bonaventure Island

You have the choice to book an optional fishing excursion this morning, where you'll learn all the secrets of a traditional fisherman from the source. A boat will also take you to Percé Rock for another viewing and then drop you off at Bonaventure Island National Park. Here, you'll find a colony of gannets, and you can learn more about this seabird and the history of the island at the interpretive centre.
Overnight Location: Camping in Percé
Distance: None
Meals: None
Day 8

History, Hikes, and Wildlife in Gaspé

This morning, you'll drive along the Gulf of St. Lawrence to Gaspé. This is the historical site where Jacques Cartier landed and claimed the land for France. The city has an even older Indigenous heritage as well, which you can learn about the Micmac First Nations at the interpretation centre in Gaspé. You'll also want to visit Forillon National Park, where the mountains meet the sea, making for some beautiful hiking and breathtaking views. Finish your day with a kayak trip to enjoy the scenery and look for the adorable seals who call these waters home.
Overnight Location: Hotel in Gaspé
Distance: 61km
Meals: None
Day 9

Travel the Scenic Lighthouse Route

Start your drive early so that you can enjoy the incredible scenic views on the lighthouse route as you travel from sea to sky on your way to the Chic-Choc Mountains. A shuttle will take you the final stretch to your hotel that sits nestled in the mountains, in the Matane Wildlife Reserve. Your stay at the hotel includes your meals and a customized program of nature activities.
Overnight Location: Hotel in Matane Wildlife Reserve
Distance: 120km
Meals: Dinner
Day 10

Enjoy the Chic-Choc Mountains

You have the whole day to enjoy the idyllic mountain setting with an endless list of activities to choose from. You can spend the day exploring the over 100 kilometres of trails, take a wildlife viewing tour, go mountain biking, try cruising around on a stand-up paddleboard, or relax at the hotel and enjoy the fresh mountain air.
Overnight Location: Hotel in Matane Wildlife Reserve
Distance: None
Meals: Breakfast, Lunch, Dinner
Day 11

Coastal Walk in Bic National Park

This morning, the shuttle will return you to your vehicle in St. Anne des Mont to start your journey to Bic National Park. This park isn't large, but it contains beautiful trails for you to follow the spectacular coast and watch the sunbathing seals. End another amazing day by watching the sun go down over the water—the sunsets here are unbelievable.
Overnight Location: Hotel in Bic National Park
Distance: 198km
Meals: Breakfast
Day 12

Lighthouse Living on Pot du Phare Island

Today is sure to be a highlight of your trip as you'll go on a unique boating adventure. Meet the boat and captain on the Wolf River and enjoy the trip to Pot du Phare Island, part of the Pot-à-l'Eau-de-Vie Archipelago. This seabird sanctuary is graced by a lovely historic lighthouse, which is where you'll spend the night. Watch for birds, whales, and seals from your lighthouse sanctuary on this quiet island.
Overnight Location: Hotel in Île du Pot à l'Eau de Vie
Distance: None
Meals: Dinner
Day 13

Discover Historic Quebec City

Wake up with a walk in the fresh salty air to say goodbye to your island before returning to the mainland. Drive to Quebec City and spend the day exploring this historic fortified city. Visit the battlegrounds at the Plains of Abraham, the beautiful Château Frontenac, and the charming shops and restaurants along the cobbled streets of Old Quebec. Celebrate a successful trip by watching the sunset over the beautiful Quebec skyline from Lévis.
Overnight Location: Hotel in Quebec City
Distance: 87km
Meals: None
Day 14

Tour Concludes in Montreal

Enjoy your coffee and a pastry from a local boulangerie before you begin your drive back to Montreal. Return your rental vehicle to the airport and begin your onward journey.
Overnight Location: None
Distance: 209km
Meals: None

Book Now
Discover Gaspésie and the St. Lawrence Self-Drive Tour Price and Dates
This partially-guided tour in Quebec is run as private tour for your group only, and the price per person depends on how many people are in your group.

Prices below are per person:
Groups of 2+: $2,295 USD per person
Book Now
Accommodation on the Discover Gaspésie and the St. Lawrence Self-Drive Tour
This tour includes a variety of unique accommodations. The hotels on this trip are standard 3-star. You will also find yourself at inns, mountain lodges, a lighthouse, and camping in the wilderness. All campsites are at ready-to-camp facilities that offer fully-equipped permanent tents, offering a more comfortable camping experience.
In some cases, the accommodation listed below may need to be substituted for other comparable accommodations.
Single Rooms and Solo Travellers
Rooms are double occupancy. Single rooms, including those for solo travellers, are by request.
Hotels on Standard Tour
Stay in a standard 3-star hotel in a great location. Walk around downtown, Old Montreal, Mile End, and Plateau Mont-Royal to peek into city life in different areas.
Spend the day and night on this pastoral island in the middle of the St. Lawrence River. You'll feel like you've stepped into Pleasantville!
Hotel in Iles aux Coudres
Enjoy a quiet night on this island. Walk on sandy beaches and stroll through the many farmlands making up this small plot of land.
A hot spot for marine enthusiasts, Les Escoumins welcomes sea-lovers from all over. This charming town might just steal your heart!
Camp in Bioparc de la Gaspésie
Spend a night in the wildlife park listening to the call of the wolves. Enjoy special after-hours park access and programs, including animal encounters.
Sleep in a permanent tent at a ready-to-camp site in the Geopark. All the necessary equipment will be provided for an easy camping experience.
At the tip of the Gaspé Peninsula, this adorable city is home to the famous Percé rock. Walk around this colourful town to your heart's content.
Chic-Choc Mountain Lodge (Auberge de Montagne des Chic-Choc) ★★★★
Enjoy the impressive mountain views at this remote mountain lodge. You'll love the cozy rooms and the variety of outdoor equipment available to use.
Camp in Bic National Park
Sleep in a permanent tent at a ready-to-camp site in the National Park. All the necessary equipment will be provided for an easy camping experience.
Spend the night in a historic lighthouse on the tiny island of Pot du Phare. Watch for whales and seals as you visit the island's seabird colony.
The only fortified city in Canada! The historic district is a UNESCO World Heritage Site. Stroll the streets to admire the cobblestone roads and European architecture.
What's Included in the Discover Gaspésie and the St. Lawrence Self-Drive Tour?
Meals
2 breakfasts, 1 lunch, and 3 dinners are included. No other meals are included in this tour.
Accommodations
Accommodations for 13 nights are included. Accommodations before and after the tour in Montreal are not included but can be added as a supplement.
Transportation during the Tour
This is a self-drive tour, and you'll be provided with a rental vehicle for the duration of the itinerary.
Also Included
Standard vehicle rental (B)
Electric bike rental on Orleans Island
24/7 access to helpline
Cruise to Percé Rock with Bonaventure Island Visit
Sunset sea kayak trip at Forillon Park
Canadian taxes
Not included
Travel insurance
Flights to and from Montreal
Personal expenses
Optional activities
Meals, drinks, or snacks not previously mentioned
Entrance fees to National Parks
Gratuities for tour guides or other staff if desired
Vehicle insurance
Fuel
Optional Extras
Additional nights before or after the tour in Montreal
Single occupancy upgrades
Optional activities or excursions:

Paddleboard rental on Coudres Island
Sea kayaking trip in Escoumins
Gaspésie Geopark entrance in Percé
Mackerel Fishing Trip in Percé
Night with the wolves in Bioparc de la Gaspésie
Frequently Asked Questions about Discover Gaspésie and the St. Lawrence Self-Drive Tour
In the two decades since Toundra Voyages Inc. was founded in 1998, the company has become North America's go-to travel agency in customized independent and group tourism.
Tounda takes a flexible, responsive approach to developing adventure travel tours. By listening to the wants and wishes of travellers, they've been able to create memorable, affordable tours complemented by impeccable service.
Toundra's mission is to create and organize tailor-made travel. They select, adapt, and personalize travel experiences in North America for each and every guest, ensuring your adventure is one you'll never forget.
Meeting your expectations is just the beginning of what Toundra aims to accomplish. Exceeding them by providing exceptional experiences in beautiful North America is their standard, and their track record of knockout customer service and customized tour planning speaks for itself.
Learn More
Is this tour for me?
We rate this tour as a 1 / 5. The difficulty rating of this tour is completely flexible as you can tailor the hikes and activities to your liking.
Ask a Question
Got any questions regarding the tour? Interested in promotions for groups or want to customize this tour to fit your needs? We are here to help you!
Ask a question