Experience the majesty of Russia's Altai Mountains on this 8-day guided trekking tour
Be immersed in nature at its most pure on this trekking tour to Russia's Altai Mountains. This guided hiking adventure introduces you to the highlights of one of Russia's most pristine and beautiful regions, which is sometimes called 'Siberian Switzerland' because of its alpine beauty.
Hike through pristine mountain scenery, to lakes, rivers, and flower meadows. Discover how the glacial landscape was formed and has transformed over time. Learn about the indigenous Altai people, who have lived here for hundreds of years.
Keep your camera at the ready on this trekking tour in Russia, as you'll see a breath-taking range of snow-covered glacial peaks. At the end of the day, soothe your aching muscles in a traditional Russian steam bath.
Highlights of the Golden Ring of Altai Tour
Trek among glaciers to hidden lakes, waterfalls and alpine meadows.
See the world-renowned tombs of the Pazyryk civilization, which are more than 2000 years old.
Take in the view from the spectacular Katu-Yaryk pass, one of the most dangerous roads to drive along in the world.
Spend the day at Lake Teletskoye, one of Russia's deepest lakes.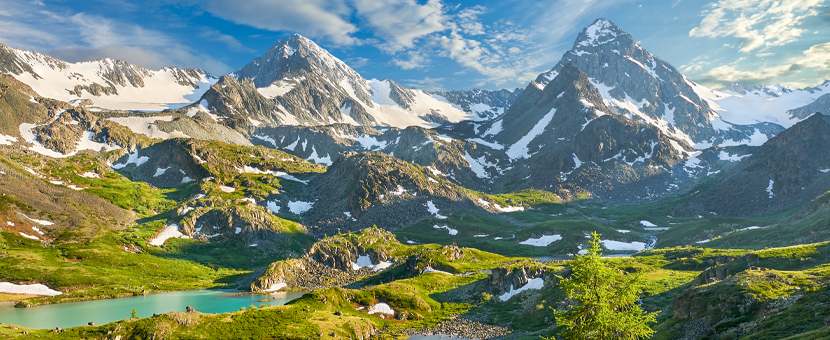 Golden Ring of Altai Tour Itinerary
Day 1

Transfer to Uch-Enmek

Today you'll depart from the city of Barnaul for the five-hundred-kilometer drive south towards the Chuya River. On the way, prepare for your first views of the Altai Mountains, with their majestic snow-covered peaks. Make sure to have your camera ready to capture the view as you cross two high mountain passes. You'll set up camp at Uch Enmek, a protected area of land where the native people of the Altai lived for hundreds of years. After dinner cooked on the open fire, you'll spend your first night in the mountains.
Overnight Location: Camping
Distance: N/A
Meals: Lunch, Dinner
Day 2

Aktru Valley

After breakfast, you'll travel to the tiny village of Kuray, and head off-road to find a spot for lunch. The scenery here is glorious, with fast-flowing glacier-fed rivers and ancient cedar forests. After lunch, you'll hike along the banks of the Aktru River to reach your camp for the night. This alpine camp is located in a breath-taking spot at the foot of the Aktru glaciers, at an altitude of almost 3,000m.
Overnight Location: Camping
Distance: 2 – 2.5 hours
Meals: Breakfast, Lunch, Dinner
Day 3

Blue Lake

Today you'll embark on a challenging 16 km hike to the Big Aktru Glacier and on to the Light Blue Lake at 2,900m. This lake is a bright turquoise color because of mineral deposits and is also extremely cold – usually no warmer than 2 °C. You'll be able to take some great photographs of the glaciers, Small Aktru and Big Aktru here. After a picnic lunch you'll return to camp for a well-earned rest, and for an additional fee you can enjoy a Russian banya, a traditional steam bath made with hot rocks that generate steam. This is a lovely experience to soothe tired muscles after all the walking you've been doing.
Overnight Location: Camping
Distance: 7 hours, 16 km
Meals: Breakfast, Lunch, Dinner
Day 4

Ulagansky Passage

Today you'll follow the Chuya Highway, the ancient route through the Altai, which was once part of the Silk Road. Cross a narrow pass known as the Red Gates, because of the unusual red color of the rock, and continue to the Dead Lake, so-called because of its mysterious lack of fish. After lunch on the way, you'll reach the camp, in a very beautiful area of alpine meadows and rivers.
Overnight Location: Camping
Distance: N/A
Meals: Breakfast, Lunch, Dinner
Day 5

Chulyshman River

Today begins with a drive down into the Chulyshman River valley to see the world-famous Pazyryk burial mounds. These are tombs of a nomadic Iron Age civilization, which were first unearthed in the 1920s. New ones have been found as recently as 2012. Prepare for incredible views as you walk on foot through the Katu-Yaryk mountain pass. The short hike continues to the camp where you'll stop for dinner and the night.
Overnight Location: Camping
Distance: 3 km
Meals: Breakfast, Lunch, Dinner
Day 6

Uchar Waterfall

After breakfast, you'll hike along the riverbank to the Chulchinsky waterfall. This is the highest and most dramatic waterfall in the Altai. The water cascades over huge boulders, creating a thunderous noise. In the afternoon, there will be time to relax and hop into the banya (additional charge) if you wish. You'll have dinner and spend the night in the camp.
Overnight Location: Camping
Distance: 22 km
Meals: Breakfast, Lunch, Dinner
Day 7

Stone mushrooms

Today you'll cross the river to see some unusual rock formations known as the 'stone mushrooms'. These bizarre rocks, some of which are more than five meters tall, have been shaped by weather and erosion. They are constantly moving and shifting, and geologists believe they will eventually disappear completely. Enjoy a picnic lunch before returning to the camp. In the afternoon, you'll travel to Lake Teletskoye. If you haven't already tried the Russian steam bath, there will be the opportunity to pay for one here as well.
Overnight Location: Camping
Distance: N/A
Meals: Breakfast, Lunch, Dinner
Day 8

Lake Teletskoye

The final day is an exploration of majestic Lake Teletskoye on foot and via boat. One of Russia's natural wonders, this lake can be 325 meters deep in parts, making it one of the deepest lakes in the world. The banks of the lake are covered in ancient coniferous forests and the water is unusually clear. Afterwards, there will be free time to explore Artybash, the village on the shores of the lake. Then, you will have a final farewell dinner, where you'll no doubt want to take some group photos and swap contact details with your companions. Later, you'll board the bus for Barnaul where the tour ends.
Overnight Location: None
Distance: N/A
Meals: Breakfast, Lunch

Book Now
Golden Ring of Altai Tour Price and Dates
This guided hiking tour in Russia is run as a fixed-departure tour where you'd be joining a group, however, custom private tours can be organized for those willing to travel with their group only (please contact us with your preferred date and the number of people in your group and we will create the itinerary just for you).

Prices below are per person. Note that there is an additional charge to add an English-speaking guide to the trip:
Book Now
Accommodation on the Golden Ring of Altai Tour
You will be camping at various scenic spots during this tour. Camping allows you to enjoy the incredible mountain scenery of the Altai to its fullest. The campsites used are owned by local communities and provide them with revenue. In some cases, accommodation may need to be substituted for other, comparable accommodations.
Single Rooms and Solo Travelers
Contact us and we can try and match single travelers up, where possible.
Hotels on Standard Tour
Campsites along the trail
Stay in campsites in the most beautiful locations around the Altai mountains.
What's included in the Golden Ring of Altai Tour?
Meals
7 breakfasts, 8 lunches, 7 dinners.
Accommodations
Accommodation in campsites as described in the itinerary.
Transportation during the Tour
Transportation for you and your luggage throughout the tour is included.
Also Included
Russian-speaking guide
Medical insurance
Reserves and national parks entrance permissions
Tent rental
Boat trip
Letter of invitation
Not included
English-speaking guide
Personal expenses and tips
Visa fees and travel insurance
Banya (Russian steam bath)
Optional Extras
Extra nights in tents after the tour
Small wooden house at the camp instead of a tent (2-6 persons sharing the room) - $129 USD per person
Frequently Asked Questions about Golden Ring of Altai Tour
BaikalNature is a leading Russian adventure tour operator, founded over 12 years ago. BaikalNature is focused on guiding foreign guests to explore the most exciting natural spaces in all of Russia. With a focus and deep love of Lake Baikal, they also love taking guests off the beaten path in exploring the beautiful natural areas of Russia.
Learn More
Is this tour for me?
We rate this tour 2/5. There are a couple of longer hikes on this trip, but most days are short. Be ready to hike up to 16 km daily.
Ask a Question
Got any questions regarding the tour? Interested in promotions for groups or want to customize this tour to fit your needs? We are here to help you!
Ask a question