Follow the historic route of the fur traders as you explore Quebec's wilderness
An important part of Canadian history was founded on the fur trade and the establishment of the trade route through Quebec to the Great Lakes and Hudson Bay. The Historic Traders' Route Self-Drive Tour is a 14-day self-drive itinerary that follows the old path through the spectacular Quebec wilderness.
Spend two weeks discovering charming towns and villages that produce delightful artisanal products such as local cheeses, chocolates, ciders, and of course, maple syrup. Aside from the unique French-Canadian cuisine, you'll also learn about the fascinating history and the traditions preserved in these communities. In between towns, you'll stay in beautiful natural parks, where you can go hiking and paddling to discover the true beauty of the Canadian wilderness. Why decide between gastronomy, history, wildlife, and nature when you can have it all on this unforgettable Quebec adventure?
Highlights of the Historic Traders' Route Self-Drive Tour
Learn about the importance of the historic fur trade in the establishment of Canada and follow the route of these explorers.
Hike, bike, or paddle through some of Quebec's most beautiful natural places as you customize your tour and explore in your favourite manner.
Enjoy delectable artisanal delicacies as you explore the local shops and food markets in the towns and villages along your route.
Visit informative museums and enjoy stunning city views during your stay in Gatineau.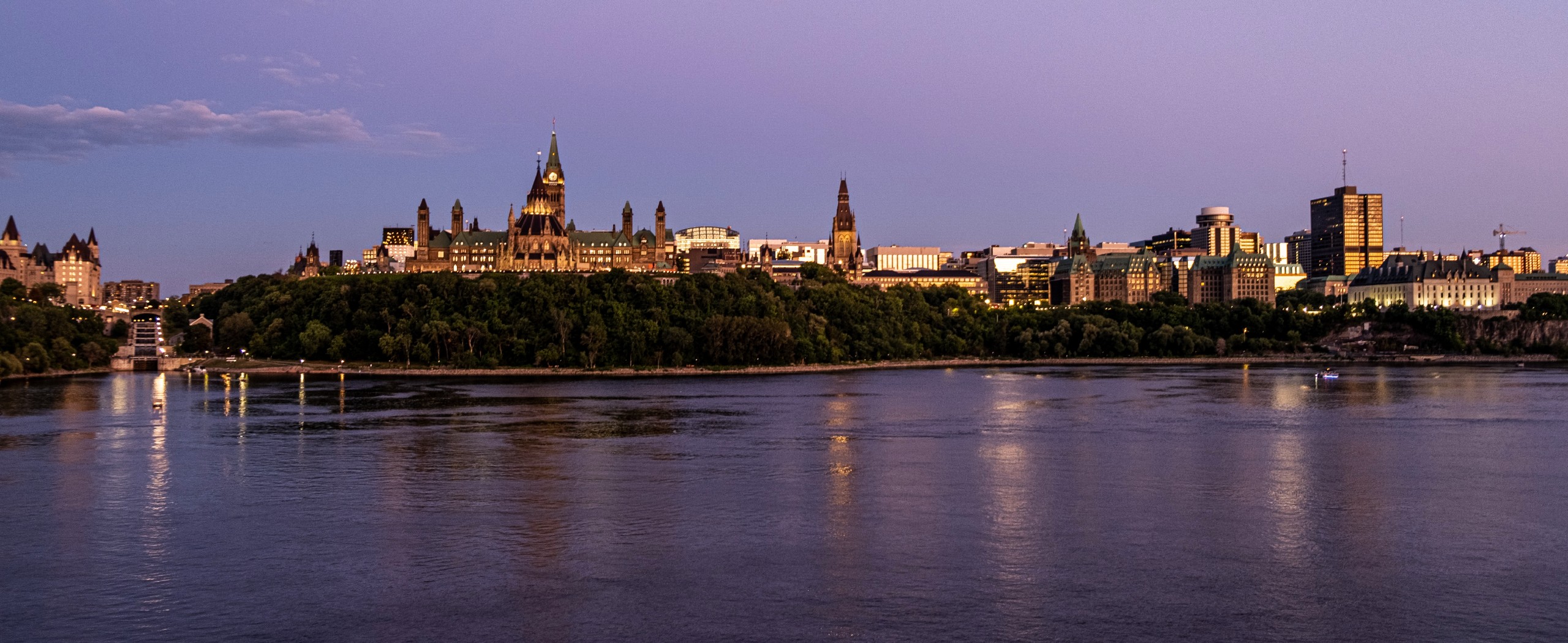 Historic Traders' Route Self-Drive Tour Itinerary
Day 1

Tour Begins in Montreal

Arrive in Montreal any time. You'll pick up your rental vehicle from the Montreal Pierre Elliott Trudeau Airport (YUL) and drive to your city hotel. Enjoy your afternoon exploring Old Montreal or the vibrant shopping district on St. Catherine Street. In the evening, you can indulge in one of the many excellent restaurants in the city.
Overnight Location: Hotel in Montreal
Distance: None
Meals: None
Day 2

Country Roads to Mont-Tremblant

Enjoy a final walk through the lively streets of Montreal before embarking on the first drive of your road trip. Get off the highway and take the back roads that wind through the fertile agricultural region. Spend some time visiting the villages of the Lower Laurentians and discover the maple sugar shacks, cider breweries, and cheese producers along your route. When you arrive in Mont-Tremblant, you can get settled into your cottage and then take a stroll through the colourful pedestrian village.
Overnight Location: Cottage in Mont-Tremblant
Distance: 145km
Meals: None
Day 3

Enjoy Mont-Tremblant National Park

There is truly something for everyone in Mont-Tremblant. You can rent a canoe and paddle the tranquil lakes or down the Devil's River. Hiking trails lead all over the area, including the Corniche Trail, which offers tremendous views of the park from the top. You can also go on a fishing expedition, attempt the zip-lining course, or book a scenic helicopter ride. Tonight, you'll visit the new Tonga Lumina, an illuminated trail experience for an imaginative journey through the park.
Overnight Location: Cottage in Mont-Tremblant
Distance: None
Meals: None
Day 4

Waterfall Hikes on Devil's Mountain

Journey farther into the natural areas of Quebec on your drive to Ferme Neuve. Hike to Windigo and Walker Falls in the Devil's Mountain Regional Park and explore the park's many peaceful pathways. You'll spend the next two nights surrounded by nature in Ferme Neuve.
Overnight Location: Lodge in Ferme Neuve
Distance: 170km
Meals: None
Day 5

Play All Day in Ferme Neuve

The hardest part of your day today will be deciding how to spend it. Hike through the quiet woods of Ferme Neuve or visit one of the lakes or rivers to canoe, kayak, swim, or just bask in the sun.
Overnight Location: Lodge in Ferme Neuve
Distance: None
Meals: None
Day 6

Explore Historic Val d'Or

As you drive farther into the wilderness, you'll feel as though you're travelling back into the historic times when fur traders travelled this route. Enjoy the scenic views of the Verendrye Wildlife Reserve, home to over 4000 incredible lakes, as you drive to Val d'Or. Watch the history of this gold mining town unfold as you walk the Heritage Val d'Or Circuit and discover its 27 historical stops. You can also visit Bourlamaque, the 1940s mining village that has been frozen in time.
Overnight Location: Hotel in Val d'Or
Distance: 300km
Meals: None
Day 7

Gold Mines and Golden Honey

Begin your day with a tour of the Lamaque mine, descending into the tunnels to learn about the gold mining and making process. Then, you'll visit a honey farm that produces organic honey and sample some local Abitibian products. Your next stop is the Refuge Pageau, a wildlife rescue centre, to visit with the deer, coyotes, owls, moose, and bear being rehabilitated. Enjoy your next two nights sleeping en-pleine air as they say when you camp outdoors in Quebec.
Overnight Location: Cottage or Camping in Aiguebelle National Park
Distance: Drive 120km
Meals: None
Day 8

Peaceful Day in Aiguebelle National Park

Wake up to the sounds of nature, and take an early morning canoe trip. Watch for beaver, heron, and moose as you paddle the silent lakes. In the afternoon, hike to the footbridge that soars 22 meters above Lake La Haie and offers stunning views of the park. Enjoy another peaceful night in Aiguebelle.
Overnight Location: Cottage or Camping in Aiguebelle National Park
Distance: None
Meals: None
Day 9

Explore the Historic Sites in Témiscamingue

Continue following in the footsteps of pioneer explorers as you drive through Abitibi-Témiscamingue. Pay a visit to the Dumulon General store in Rouyn-Noranda, which has been operating since 1924. Take a scenic bike ride along the Lake Osisko bike path before your drive to Angliers. Enjoy some more fascinating historical sites when you visit the T.E. Draper, a wooden tug boat from the twenties, and a lumberjack camp. Spend the night near Lake Témiscamingue.
Overnight Location: Hotel in Ville-Marie
Distance: 185km
Meals: None
Day 10

Drive Along the Explorers Route

As you relax by the lakeside and take in the tranquil beauty of the land around you, take a minute to imagine the fur traders who once travelled this route and the Indigenous who lived on the land long before the European arrival. You'll drive alongside the Ottawa River, which once led the explorers across Quebec to the discovery of the Hudson Bay and the Great Lakes. Stop at the covered bridge that was built in 1898 on your way into 1898.
Overnight Location: Hotel in Fort Coulonge
Distance: 372km
Meals: None
Day 11

Travel to Scenic Gatineau

Start your day with a walk on the interpretive trail that tells the history of the Coulonge River. If you're feeling adventurous, you might want to try out the zip lines that soar across the river. Begin your drive to Gatineau, which sits on the river and has incredible views across the water to the parliament buildings of the nation's capital. There are endless biking and walking trails for you to explore through the city or in nearby Gatineau Hills. You may also want to visit the Canadian Museum of History and walk the cultural trail from the museum along the water.
Overnight Location: Hotel in Gatineau
Distance: 120km
Meals: None
Day 12

Visit the Charming Village of Montebello

Cross the bridge into Ottawa for breakfast in the Bytown Market before you start your journey to Montebello. Stop for a walk to Placentia Falls and enjoy the forests of Gatineau. Visit the home of Montebello founder Louis-Joseph Papineau and the beautiful Fairmont Chateau Montebello, the largest log cabin in the world. Stroll the artisanal shops and enjoy the local produce as you explore the village on foot.
Overnight Location: Hostel in Duhamel
Distance: 100km
Meals: None
Day 13

Quiet Day at the Lake

Today, you can enjoy the peaceful woods however you like. You can paddle a canoe across the tranquil lake, walk through the forest paths, or relax by the lake to reflect on your travels. Enjoy watching the sunset over the lake and spend your last night of the tour in your forest accommodations.
Overnight Location: Hostel in Duhamel
Distance: None
Meals: None
Day 14

Park Omega and Return to Montreal

Start your day with a visit to Omega Park in Montebello, a drive-through safari where you can see Canadian wildlife. Along the route are moose, elk, bison, wolves, and bears, but the favourite is always the deer who rush to your car for a carrot treat! Return your rental vehicle to the Montreal Airport, where your tour concludes.
Overnight Location: None
Distance: 120km
Meals: None

Book Now
Historic Traders' Route Self-Drive Tour Price and Dates
This self-guided tour to Quebec is run as private tour for your group only, and the price per person depends on how many people are in your group.

Prices below are per person:
Groups of 2+: $1,650 USD per person
Book Now
Accommodation on the Historic Traders' Route Self-Drive Tour
This tour is based on hotel, cottage, and camping accommodations. Hotels on this trip are 2- and 3-star in convenient locations. Your cottage stays will be in cozy cottages that are equipped for your stay so that you can fully enjoy your natural surroundings. The camping nights are in "ready-to-camp" sites, which have permanent tents that are also equipped for a comfortable stay—you don't have to bring any camping gear.
In some cases, the accommodation listed below may need to be substituted for other comparable accommodations.
Single Rooms and Solo Travellers
Rooms are double occupancy. Single rooms, including those for solo travellers, are by request and may incur an additional fee.
Hotels on Standard Tour
Stay in a standard 3-star hotel in a great location. Walk around downtown, Old Montreal, Mile End, and Plateau Mont-Royal to peek into city life in different areas.
Cottage in Mont-Tremblant
Discover the quintessential Mont-Tremblant cottage experience. Unwind in a cozy natural retreat that is fully equipped with all the necessities.
Fall asleep to the quiet call of the loon at your lakeside nature accommodation. Explore the many nearby paths or enjoy the water.
Spend a comfortable night in the hub for transporting goods to the north. You'll be surrounded by forests, parks, and lakes.
Camp in Aiguebelle National Park
Spend two nights in the wilderness enjoying the beauty of Aiguebelle National Park. You will be staying in a ready-to-camp with bedding provided.
Revel in the tranquility of Ville-Marie, an old trading post on the shores of Lake Témiscamingue.
Step back in time when you stay at the site of one of the first trading posts in the region. Wander the streets of this cute town, noticing its centuries of history.
You'll love the urban vibe of this city, which is directly across the river from Canada's capital. Indulge in some local French-Canadian cuisine.
Spend the night in a comfortable log hostel, where you can enjoy the outdoor activities in the wilderness that surrounds you.
What's Included in the Historic Traders' Route Self-Drive Tour?
Meals
Meals are not included in this tour.
Accommodations
Accommodations for 13 nights are included. Accommodations before and after the tour in Montreal are not included but can be added as a supplement.
Transportation during the Tour
This is a self-drive tour, and you'll be provided with a rental vehicle for the duration of the itinerary.
Also Included
Standard vehicle rental, Category B
Entry to Tonga Lumina Illuminated walk in Mont-Tremblant
Admission to Cité de l'Or and Bourlamaque mining village in Val d'Or
Admission to the Canadian Museum of History in Gatineau
Entrance to Mont-Tremblant and Aiguebelle National Park
Bedding in Mont-Tremblant and Aiguebelle National Park
Bedding in Aiguebelle National Park
Canadian taxes
24/7 access to helpline
Not included
Flights to and from Montreal
Meals, drinks, or snacks not previously mentioned
Travel insurance
Personal expenses
Optional activities
Entrance fees to national parks not mentioned
Canoe rentals, with paddles and safety equipment including life jackets
Guide services
Gratuities for tour guides or other staff if desired
Vehicle insurance
Fuel
Optional Extras
Additional nights before or after the tour
Single occupancy upgrades
Optional activities or excursions

Helicopter flight over Mont Tremblant
Naturalist hike with park warden in Aiguebelle National Park
Admission to Omega Park in Montebello
Frequently Asked Questions about Historic Traders' Route Self-Drive Tour
In the two decades since Toundra Voyages Inc. was founded in 1998, the company has become North America's go-to travel agency in customized independent and group tourism.
Tounda takes a flexible, responsive approach to developing adventure travel tours. By listening to the wants and wishes of travellers, they've been able to create memorable, affordable tours complemented by impeccable service.
Toundra's mission is to create and organize tailor-made travel. They select, adapt, and personalize travel experiences in North America for each and every guest, ensuring your adventure is one you'll never forget.
Meeting your expectations is just the beginning of what Toundra aims to accomplish. Exceeding them by providing exceptional experiences in beautiful North America is their standard, and their track record of knockout customer service and customized tour planning speaks for itself.
Learn More
Is this tour for me?
We rate this tour as a 1/5. This tour has a flexible itinerary that allows you to choose the hikes and activities so that you can tailor them to your fitness level. All you need is a love of the outdoors!
Ask a Question
Got any questions regarding the tour? Interested in promotions for groups or want to customize this tour to fit your needs? We are here to help you!
Ask a question