Spend 8 days discovering the mountains of southern Morocco with a guide
Embark on a classic mountain bike holiday adventure in Morocco's arid Jebel Saghro region. With the snow-covered peaks of the High Atlas to the north and the Sahara to the south, the climate of the Jebel Saghro in southern Morocco is the perfect place for cycling outside the summer months.
Find out what it's like to mountain bike through the southern part of the Atlas Mountain, the Saghro Mountains, and the palm oases of the South Morocco. During this mountain bike tour, you'll discover the Gardens of the Atlas, the Valley of the Birds, the M'Goun Valley, the Valley of the Roses, the Valley of Dates, and the sprawling volcanic of Jbel Saghro. With the exception of a few short sections, the entire cycling trip unfolds on unpaved roads flanked by astonishing natural scenery.
Highlights of the Jebel Saghro Mountain Biking Tour
Explore the lunar landscapes of Morocco's breathtaking Jebel Saghro region.
Stand in awe as you ride surrounded by snow-covered peaks, plunging gorges, and palm oases.
Embark on a guided city tour of vibrant Marrakech discovering it's colourfil palaces, mosques, and endless historical sites.
Enjoy the ease of a fully supported bike tour with an expert local guide, skilled cook, and support vehicle.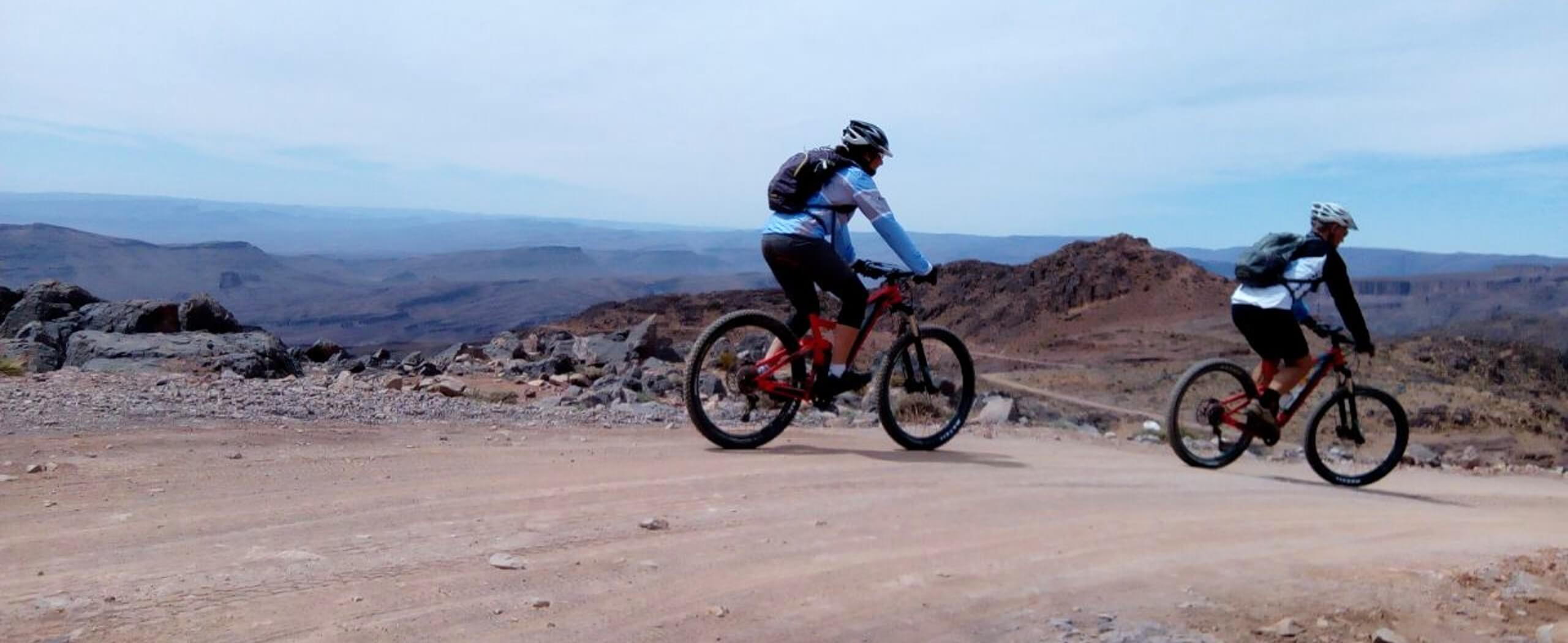 Jebel Saghro Mountain Biking Tour Itinerary
Day 1

Marrakech

Arrive at Marrakech Airport and transfer to your hotel. Overnight in Marrakech.
Overnight Location: Hotel in Marrakech
Distance: None
Meals: None
Day 2

Marrakech – Kasbah Telouat - Kasbah Ait Benhaddou

This morning you depart Marrakech for the UNESCO designated world heritage village of Ait Ben Haddou. Travelling by 4-wheel drive from Marrakech via the Tizi N'Tichka mountain pass (2260m) as far as Telouet, you'll have the chance to visit Glaoui Kasbah before jumping in the saddle for your first ride.

Later, you'll cycle through scenically situated small Berber villages and the Ounila Valley, making your way to the stunning Kasbah village of Ait Benhaddou. Tonight you'll spend a magical evening in Ait Ben Haddou.
Overnight Location: Hotel in Ait Ben Haddou
Distance: 47km
Meals: Breakfast, lunch, dinner
Day 3

Kasbah Ait Benhaddou – Dades Gorge

Leaving Ait Benhaddou via the beautiful Taslmante Valley and Boutheghrar this morning, you'll visit an ancient troglodyte settlement and may even see nomadic Berbers living in caves handed down through generations of families. It may be possible to visit one of these Berber families, share a refreshing cup of mint tea and learn about their unique lifestyle. The final leg of today's ride takes you to the interesting Dades Gorge. Finally, you'll retire for the evening at a guesthouse situated in Dades Gorge.
Overnight Location: Guesthouse in Dades Gorge
Distance: 168km
Meals: Breakfast, lunch, dinner
Day 4

Dades Gorge – Saghro Mountains – N'kob

Today you cycle to the Berber oasis town of N'kob. Setting out your route takes you through the Dades Valley which lies between the High Atlas Mountains and Jbel Saghro Mountains (Jebel Saghro). Making your way into the Jbel Saghro Mountains you cross the Tizi n'Tzazert pass (2200m) all the while enjoying stunning panoramic views in every direction. Continue onto the Berber oasis town of N'kob which lies at the foot of the Jbel Saghro Mountains. Overnight in Nkob.
Overnight Location: Guesthouse in Nkob
Distance: 105km
Meals: Breakfast, lunch, dinner
Day 5

N'kob – D'raa Valley - Agdz

Continuing your mountain bike exploration of the Moroccan desert, this morning you'll ride to the beautiful and seemingly endless date palm groves of the lovely D'raa Valley – the largest date palm groves in Morocco. Following local dirt tracks you'll make your way into the heart of the oasis, exploring the palm groves and the small Berber villages lining the edges of the D'raa River which is the life source for this beautiful area. Tonight you'll stay in Agdz.
Overnight Location: Guesthouse in Agdz
Distance: 69km
Meals: Breakfast, lunch, dinner
Day 6

Agdz – Ouarzazate – Tichka Pass – Marrakech

After breakfast you'll load your bikes in the van and drive to the splendid Draa Valley. From here, you'll ride the last short stage through one of the most beautiful valleys of Morocco with a succession of traditional villages lying in green oases. After lunch you'll drive to Marrakech via the Tizi-n-Tichka Pass before settling into your hotel in colourful Marrakech.
Overnight Location: Hotel in Marrakech
Distance: 30km
Meals: Breakfast, lunch
Day 7

Explore Marrakech

It's a bike-free day today as you set out on a guided tour of Marrakech, the Southern Pearl of Morocco. Learn about this city's rich history and culture, discovering palaces, ancient tombs, mosques and squares. Among the countless highlights of today, you'll visit Koutoubia Mosque, the city's most famous mosque and the nearby square, Djeema el-Fna, where you can practice your bargaining skills. The tour concludes with an exploration of the Souk Market, where you'll discover endless stalls brimming with mounds of fragrant spices, intricately woven Berber carpets, ceramics, hand-made leather goods, tantalising food.
Overnight Location: Hotel in Marrakech
Distance: Flexible
Meals: Breakfast
Day 8

Marrakech – Airport

Breakfast in the Riad, if you have spare time before the transfer to the airport, you can finish your visit to the city or go shopping in the Souk before your transfer to the airport of Marrakech.
Overnight Location: None
Distance: None
Meals: Breakfast

Book Now
Jebel Saghro Mountain Biking Tour Price and Dates
This guided mountain biking tour in Morocco is run as a private tour for your group and the price depends on the number of participants.

The prices below are per person sharing a double or a triple room:

Guided Groups of 2-3: $1,275 USD per person
Guided Groups of 4-5: $1,025 USD per person
Guided Groups of 6: $950 USD per person
Guided groups of 7+: on request
Book Now
Accommodation on Jebel Saghro Mountain Biking Tour
This tour is based in the guesthouses and hotels. The hotels on this tour offer modern conveniences to make your stay comfortable. The guesthouses are rustic, but full of local character. The guesthouse rooms are either double occupancy or dormitory-style and offer shared facilities.
In some cases, the accommodation listed below may need to be substituted for other comparable accommodations.
Single Rooms and Solo Travelers
Rooms are double occupancy. You can pay a supplement of $250 USD to have a private room in a hotel where possible. Solo travellers may be required to pay a supplement.
Hotels on Standard Tour
Enjoy a night in Morocco's capital city and head out to explore its vibrant souqs, historic palaces, and impressive mosques.
See the incredible UNESCO World Heritage site of Ait Benhaddou, a red-bricked architectural wonder of southern Morocco.
Guesthouse in Dades Gorge
Admire the dramatic landscapes of the Dades Gorge's iconic multi-coloured walls and winding rock formations.
This Berber village built around an oasis is surrounded by gorgeous views of the Jebel Saghro Mountains.
Find yourself surrounded by breathtaking scenes of the Atlas Mountains as you stay in a comfortable guesthouse in the sleepy market town of Agdz.
Enjoy a night in Morocco's capital city and head out to explore its vibrant souqs, historic palaces, and impressive mosques.
What's Included in the Jebel Saghro Mountain Biking Tour?
Meals
7 breakfasts, 5 lunches, and 4 dinners are included.
Accommodations
Accommodations for 8 nights are included. Accommodations before and after the tour in Marrakech are not included.
Transportation during the Tour
Transportation for you and your luggage is provided throughout the tour, including airport transfers in Marrakech. An assistance car will follow the group during the tour to transfer you, your luggage, and the bikes to the trailheads and the guesthouses each day.
Also Included
English/French Speaking guide
Cook services
Assistance car
Not included
Flights to and from Marrakech
Travel insurance
Visas
Meals, drinks, or snacks not previously mentioned
Gratuities for tour guides or other staff
Bike rental
Optional Extras
Mountain bike rental: $50 USD per day
Extra nights in Marrakech
Frequently Asked Questions about Jebel Saghro Mountain Biking Tour
Mountain Bike Morocco Company is based in the Atlas Mountains near Marrakech. This incredible adventure tour operator is founded and run by a passionate group of cyclists and avid mountaineers who have been hitting the trails of Morocco for over 30 years. Mountain Bike Morocco offers unique and high-quality mountain biking tours & road cycling holidays in Morocco, with the option to also tailor made itineraries with the guidance of their expert team.
While Mountain Bike Morocco is a small company, their passion and expertise are unmatched. Guests can reap the benefits of travelling with a team of people who absolutely love what they do and are eager to share the best adventures in Morocco with the world. Each and every guide knows the area they work in intimately and are also trained in both bike maintenance and first aid.
The tours offered by Mountain Bike Morocco are unparalleled, combining the very best trails with incredibly unique cultural experiences. Cyclists of all levels are welcome, from entry-level to the pros!
Amazing food and superb accommodations ensure guests stay energized and well rested on their trip and responsible tourism is also at the forefront of operations. Group sizes are small and led by only local staff and expert local guides who aim to protect the cultural integrity of the places they visit.
At the heart of Mountain Bike Morocco Company is the idea that cycling can and should be enjoyed by all! Young or old, rich or poor, everyone should reap the benefits of exploring Morocco in this unique way.
Experience:  
Mountain Bike Morocco brings over 30 years of experience to their guests. Their passionate team is constantly evolving to develop new mountain bike tours and unique culture experiences.
Professional guides:
Mountain Bike Morocco guides are highly professional, humble and sociable. Their area of guiding expertise includes day tours, multi-day tours, bike rental, workshops, and even coaching. High quality service and integrity are at the forefront of all operations as well as an emphasis on responsible eco-tourism.
Tours : 
Mountains Bike Morocco features tour packages that are suitable for all age groups. Guests can choose from a selection of existing guided road cycling our mountain bike tours and can also customize these to suit individual needs and requests. Competitive pricing and top-rated guides with a world of experience ensure each and every tour is of great value to guests.
Learn More
Is this tour for me?
We rate this tour as a 5 / 5. The distances long and the trails are challenging, therefore being physically fit and having some previous experience is a must.
Local Guide
Ask a Question
Got any questions regarding the tour? Interested in promotions for groups or want to customize this tour to fit your needs? We are here to help you!
Ask a question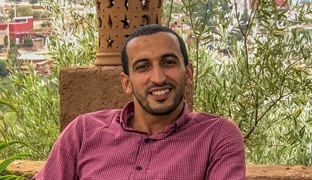 Houssain
Marrakech - Morocco
Q&A
Q: What is the best part of guiding tourists in Morocco?
A: I love showing guests the High Atlas Mountains as this area is remarkably beautiful and our guests are constantly left in absolute awe.
Q: What is your favourite trip to do and why?
A: My favourite trip to guide is the Mountain Bike Tour of the Atlas Mountains and Berber Villages. I love introducing guests to the unique local culture, traditions, lifestyle, and of course, the mouth-watering food!
Q: What are guests most surprised about in visiting your country?
A: I think guests are most often surprised by the diversity in our culture, the richness of our history and traditions. They always expect the food will be good, but I think their expectations are often far exceeded in this area!
Q: What is one experience anybody visiting your country should do?
A: I would recommend that guests choose to explore Morocco in a variety of ways to see the best our country has to offer. This can include travelling by bike, by camel or on foot. The activities guests can enjoy here are endless, from cultural sightseeing to incredible trekking, and evening surfing!
Q: What is one local dish or drink that tourists must try on a visit to your country and why?
A: I love our local food, well the first dish fritada with tortillas that is fried pork with potato patties then empanadas.
Q: What is one local dish or drink that tourists must try on a visit to your country and why?
A: Hands down, this is Tagine! Guests may have tried Tagine elsewhere around the world,
but one must try Tagine in its birthplace for the true experience! To top this off, a traditional Min Tea is the perfect follow-up.
Q: Where would you want to go on holiday?
A: My ideal holiday destination is the beach. I really like Essaouira and Agadir.
Q: What is the most challenging adventure you've ever done?
A: The most challenging adventure I've ever done is exploring might Mount Toubkal by bike.
Q: What do your guests say is best about the trips you lead?
A: Our guests often tell us that their experience was excellent and that the trip they've completed with us is one they'll never forget.