Cycle from Kilimanjaro to Ngorongoro on this epic guided bike tour
Come and experience an exciting and unforgettable cycling tour across Tanzania's famous northern circuit in 7 days. This tour takes you through Tanzania's most iconic national and cultural attractions. From the base of the world's highest free standing mountain, Mt. Kilimanjaro, to the world's largest unbroken caldera, the wildlife-rich Ngorongoro Crater.
Though the starting and end points of the tour may sound like the highlights of the tour, wait till you see all the amazing places and cultures you will visit and experience in between. This guided cycling tour is one of the best ways to experience the best of Tanzania.
Highlights of the Kilimanjaro to Ngorongoro Cycling Tour
Start the bike tour beside stunning Mt Kilimanjaro.
Explore less-visited villages and towns on the bike ride to Ngorongoro
Ride through the vast open grasslands rich in wildlife, lush green forests, farmlands, villages and towns
Ride through Tarangire National Park, the home of the largest elephant concentration in Tanzania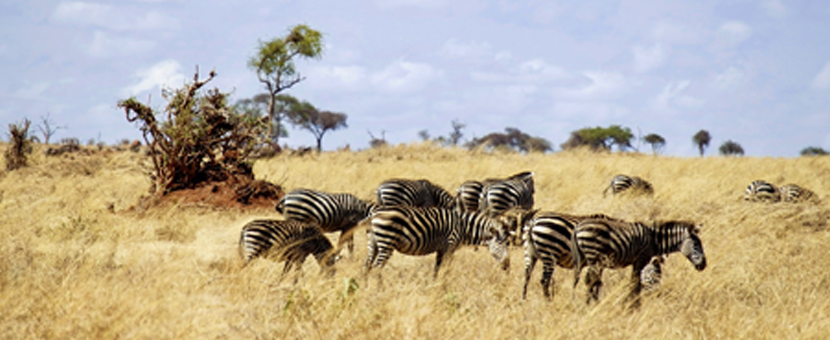 Kilimanjaro to Ngorongoro Cycling Tour Itinerary
Day 1

Arrive in Tanzania

Your guided Kilimanjaro bike trip starts today! Get picked up from the Kilimanjaro International Airport and return to Moshi town, where you will check-in to your hotel. You will also meet your guide today and be briefed on the bike route, meet other guests and check your gear to make sure you are ready. Anything that you might be missing, can be rented here on this day.
Accommodation: Panama Garden Resort
Distance: None
Meals: Dinner
Day 2

Moshi Town to West Kilimanjaro

Your ride today takes you from the greener southern side of Mt. Kilimanjaro towards the more arid western side of the mountain. Your ride today will initially take you through coffee and banana plantations as you cycle through the more fertile areas of southern Kilimanjaro. As you head west you will cycle through the more arid open plains and acacia woodlands. These plains support a remarkable variety of wildlife and spectacular views of Mt. Kilimanjaro. While Moshi is home the Chagga people west Kilimanjaro plains are home to the nomadic Maasai people who co-exist with the surrounding wildlife and it is why this area is known as the Maasai Lands. Your ride today will be on both dirt and tarmac roads and you will finish the ride at the Ngabobo village where you will be spending the night.
Accommodation: Camping at Ngabobo Village
Distance: 64km on Tarmac and dirt roads
Meals: Breakfast, Lunch & Dinner
Day 3

West Kilimanjaro to Arusha

Get ready for a longer bike ride today. You will ride from the west Kilimanjaro plains to Arusha city. The first section of the ride will be through the Ngasurai open plains which serve as a migratory path for elephants moving to and from the Amboseli National Park in Kenya. Cyclists should look forward to a hot and dusty day ahead. Once you finish the dirt road you will enter the main tarmac road towards Arusha city passing a few small villages and settlements along with Mt. Meru looming in the background. Right before reaching the bustling city of Arusha you will divert through a coffee estate as you head towards a boutique lodge located outside the city. You will end your ride at the Tembo Club, where you will be spending the night.
Accommodation: Camping at Tembo Club
Distance: 83km on tarmac and dirt roads
Meals: Breakfast, Lunch & Dinner
Day 4

Arusha to Tarangire National Park

Today's is the longest ride of the trip, but it's not as tough as it looks. The ride is mostly on tarmac roads, and goes through villages, towns and open plains. The long stretches of undulating road through the Tanzanian country side perfectly represents Ernest Hemingway's quote when he said – "It is by riding a bicycle that you learn the contours of a country best, since you have to sweat up the hills and coast down them" After completing the tarmac road section, you will take a dirt road to a tented camp right on the border of the Tarangire National Park, which is home to the largest concentration of elephants in Tanzania. You have the option of going for a swim in the pool after a long, hot day of cycling.
Accommodation: Camping at Roika Tented Lodge
Distance: 102km on tarmac and dirt roads
Meals: Breakfast, Lunch & Dinner
Day 5

Tarangire to Lake Manyara

Today's ride marks another exciting day as you cycle through the migratory wildlife corridors between Lake Manyara and Tarangire National Parks. The first section of the ride takes you back to the main road which you follow for a few kilometers then divert onto a dirt road towards Lake Manyara. This area is rich in wildlife and you will notice a significant number of Maasai settlements along the way. One of today's highlights will be the beautiful views of the Great Rift Valley directly in front of you as cycle towards Lake Manyara. After the dirt road section of today's ride, you will rejoin the main tarmac road towards Mto wa Mbu town for several kilometers before diverting into the dirt road towards Migunga Tented Camp.
Accommodation: Camping at Migunga Tented Camp
Distance: 74km on tarmac and dirt roads
Meals: Breakfast, Lunch & Dinner
Day 6

Lake Mayara to Ngorongoro Crater

The last days ride is the toughest, but it is also the most rewarding. Start off the day cycling from the dirt road back onto the tarmac road and head past the bustling town of Mto wa Mbu and the entry gate of Lake Manyara National Park. You have a very tough cycle up the Great Rift Valley escarpment, leaving behind a spectacular backdrop. Before reaching the top of the escarpment you will stop to catch your breath at the viewpoint overlooking the beautiful Lake Manyara National Park and its surroundings. If there's ever a time to take a great selfie, it's here. You will then proceed on the tarmac road past the colorful Karatu town as you head towards the Ngorongoro Conservation Area. Your ride today will finish at the entrance gate to the Ngorongoro Conservation Area. After a celebratory toast to your achievement, you will be transferred to the Ngorongoro Farm House (or alternative) where you will be spending the night.
Accommodation: Ngorongoro Farm House
Distance: 43km on tarmac and dirt roads
Meals: Breakfast, Lunch & Dinner
Day 7

Departure

Today it's all up to you and what time your flight leaves. If you have time, you can explore the town of Moshi and find some souvenirs to commemorate your summit of Mount Kilimanjaro. Consider sparing an hour of your time to help our environmental conservation efforts by planting a tree in the Kilimanjaro region.
Accommodation: None, departure day
Distance: None
Meals: Breakfast

Book Now
Dates and prices of Kilimanjaro to Ngorongoro Cycling Tour
This cycling tour in Tanzania is always run as a private tour for you and your group and the pricing depends on the number of guests on your trip.

The prices below are per person, sharing a double or a triple room:
Guided Groups of 2-4: $1,990 USD per person
Guided Groups of 5-6: $1,590 USD per person
Guided Groups of 7+: on request
Book Now
Accommodation on Kilimanjaro to Ngorongoro Cycling Tour
This accommodations on this cycling tour from Kilimanjaro to Ngorongoro are in tents and in a private room in a lodge while in Moshi. In some cases, accommodation listed below may need to be substituted for other, comparable accommodations.
Single Rooms and Solo Travelers
You can pay a supplement of $200 USD to have a private room as a solo traveler. In some cases, there may be other solo travelers, and we can match you with participants of the same sex.
Hotels on Standard Tour
This beautiful hotel has everything you need to make your stay in Moshi comfortable: the resort has a beautiful garden area with swimming pool, bar, BBQ corner and free WiFi.
Osiligai Maasai Lodge ★★★
This scenic eco-lodge is constructed as traditional Maasai houses, with private bathrooms and comfortable beds. Enjoy beautiful views and free Wi-Fi.
Tembo Club offers an amazing venue for everyone's campsite or accommodation requirement. The rooms are fully furnished with their own bathroom and washroom, TV and Wi-Fi.
With Tarangire National Park nearby, this tented lodge features luxury en-suite tents, each with handcrafted furniture and a private balcony with a view of Tarangire's Wilderness. Enjoy WiFi and a swimming pool on this property.
This tented camp is nestled in 35 acres of acacia forest and consists of 21 semi-luxury permanent tents with en-suite bathrooms and a private veranda overlooking lush forest.
Ngorongoro Farm House is located on a 500 acre coffee farm, nestled in a beautiful woodland area and located 4 km from the Lolduare entrance to the Ngorongoro Conservation Area.
What's included in the Manaslu Circuit Trekking Tour?
Meals
6 breakfasts, 6 lunches, 6 dinners
Accommodations
Accommodations for 6 nights along the tour
Transportation during the Tour
Support vehicles and transportation of cycles are included as well as 2-way airport transfer
Also Included
TREK Mountain HardTail 4300 Model & Merida Matts 20D mountain bikes
Accomodation as indicated on the itinerary
6 litres of bottled mineral water per participants
Snacks and fruits at water points
2-way airport transfer
All government fees & taxes inclusive of 18% VAT
All village fees
Helmets
Guide services
Not included
Tips to the guide and supporting crew
Items of a personal nature
Laundry service
Alcoholic and non-alcoholic drinks
Flights
Travel Insurance
Optional Tours
Transfer: Moshi to Arusha -

$60 USD

per vehicle (one way)
Transfer: Moshi to Nairobi -

$200 USD

per vehicle (one way)
Materuni + Coffee Tour Day trip -

$60 USD

per person
Rundugai Hot water springs Day Trip -

$40 USD

per person
Cycling day trip -

$60 USD

Cultural Day Trip -

$50 USD

2 Days Safari –

$680 USD

per person. This safari is suitable for trekkers after Kilimanjaro, and the price includes meals, transport, park fees and accommodation. National Parks that are visited are Tarangire National Park & Ngorongoro Conservation Area.
Frequently Asked Questions about Kilimanjaro to Ngorongoro Cycling Tour
Ahsante tours is a family-run tour operator based in Moshi. They aim to provide exceptional treks and game drives at fair prices. They've been leading guests in Africa for over 20 years.
Ahsante provides each client with family-like service, keeping the values of care, trust, respect, and commitment at the centre of their operations.
They are committed to ensuring each guest has the best adventure possible.
Learn More
Is this tour for me?
We rate this tour as a 4 / 5, this tour is best suited for cyclists with experience with similar distances on dirt roads.
Local Guide
Ask a Question
Got any questions regarding the tour? Interested in promotions for groups or want to customize this tour to fit your needs? We are here to help you!
Ask a question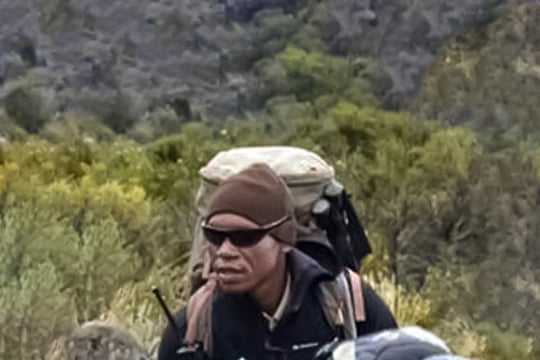 Q & A
Q:

What is your favourite place to show to visitors?

A:

Kilimanjaro Mountain, which is the roof of Africa.

Q:

What is one local dish that tourists have to try?

A:

Machalari, which is banana mixed up with meat or vegetables.

Q:

What are guests most surprised about when visiting Tanzania?

A:

The nature in the country, and the friendly and respectful people, which is part of our Tanzanian culture.