Discover the beauty of the Peruvian Andes and Machu Picchu on this 7-day guided adventure
Explore the ancient city of Cusco, Peru, trek in the spectacular Peruvian Andes, and watch the sunrise over Machu Picchu. This 7-day Lares Trek and Machu Picchu guided trekking adventure is the experience of a lifetime.
Discover the unique and colorful culture of small Quechua village life as you hike through the stunning landscape of the Sacred Valley. Enjoy luxury hotel accommodations in Cusco, the oldest continually inhabited city in South America. You'll understand why this region formed the heart of the Incan empire. It will likely capture your heart as well.
You'll also spend a day experiencing the wonder of Machu Picchu. Beginning with the sunrise, continuing with a guided tour, and ending with opportunities to explore freely, your day at Machu Picchu will give you memories to treasure for years to come. Don't miss this guided trekking tour full of adventure, mystery, culture and history. Book your place on the Lares Trek and Machu Picchu guided trekking tour!
Highlights of the Lares Trek including Machu Picchu
Surround yourself with the breathtaking scenery and beautiful views of mountains and lakes in the Andes mountains of Peru.
Experience the rich and colorful culture of traditional Peruvian villages high in the Andes mountains.
Watch the sunrise over the spectacular Machu Picchu and take a guided tour of this mysterious landmark.
Explore the city of Cusco, formerly the capital of the Incan Empire, but now – a capital of archaeological discovery.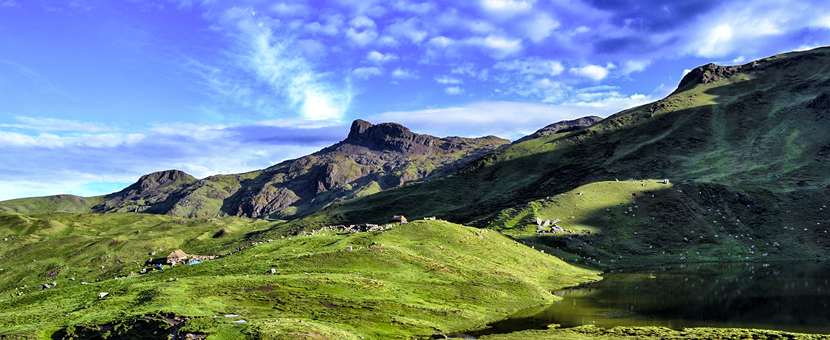 Lares Trek and Machu Picchu Itinerary
Day 1

Arrive in Cusco

Welcome to Peru and the city of Cusco! Transportation will be arranged for you to get to your hotel from the airport, and once there you will meet your guide for a tour briefing and overview. Depending on what time you arrive, you should have time to explore Cusco! This city set high in the Andes was the capital of the ancient Incan Empire, and there are many remains left from this time. You can also see Spanish churches and mansions. Cusco also offers wonderful Peruvian restaurants and a vibrant nightlife.
Overnight Location: Jose Antonio Hotel, Cusco (3,399m, 11,200')
Distance: None
Meals: None
Day 2

Explore Cusco

Today you are free to explore Cusco at your own pace and following your own interests. There is much to see, do, and learn here in South America's oldest, continuously inhabited city. What was once the Inca's capital city has now become the archaeological capital of South America.

To help you make the most of your visit, you can choose one of two optional daytours, which are provided for free (though you still need to pay admission fees while on the tour. Choose between the Sacred Valley Tour and the Maras Moray Tour.

The Sacred Valley Tour is a full day of experiences. You'll visit an Indian market in Pisac to experience this colourful tradition. You'll then travel to the town of Ollantaytambo, a town of narrow streets and canals that are largely unchanged since the time the Incas inhabited it. Finally, visit the Chinchero market. This market is more authentic and less geared toward tourists. According to legend, Chinchero is the birthplace of the rainbow. When you are finished in Chinchero, return to Cusco.

Your other option is the Maras Moray tour begins with a drive from your hotel to Moray (approx. 1.5 hours). Moray is known as the "Inca agricultural greenhouse or laboratory." Here, the Incas carved amphitheatre-like terraces in a bowl shape. It is thought that these were used to test and determine optimal growing conditions for different crops. After exploring Moray, continue another two miles to visit the Maras salt mines, a spectacular set of terraced salt ponds. Exposed to the sun, the water dries and leaves the salt behind. It is believed that salt was harvested in this way in this place since a time before even the Incas. After exploring the Maras salt mines, return to Cusco.
Overnight Location: Jose Antonio Hotel, Cusco (3,399m, 11,200')
Distance: As required
Meals: Breakfast
Day 3

Transfer through Sacred Valley to Lares, hike to Huacawasi

After breakfast, you'll transfer to Calca, which is in the Sacred Valley. This is an opportunity to purchase any last-minute supplies. continue driving, going to today's highest elevation, 4,265 m (13,992 ft), where you will be able to see two large and beautiful mountains: Sawasiray and Pitusiray. Descending again, you'll come to the small colonial town of Lares (3,207 m / 10,521 ft). Pause to have lunch, enjoy the springs and prepare to begin your hike.

Today's hike will climb almost 400 m to reach your first campsite at Huacawasi (3,800 m / 12,467ft). Here in this small town, you'll see adobe houses, llamas, and plenty of vibrant colors.
Overnight Location: Huacawasi Camp (3,800m, 12,467')
Distance: 3-4h, 10km / 6.2 miles
Meals: Breakfast, Lunch, Dinner
Day 4

Trek to Mantanay

After breakfast, begin your trek from Huacawasi to Aruraycocha (4,500 m / 14,763 ft), which is today's highest point. From here you can see the stunning Aruraycocha Lake and the views from this point are simply incredible. From here, begin hiking down toward the lake. You'll notice the vegetation begins to change as you enter the Mantanay Conservation Area, so watch for the special Q'euñas trees that surround another lake, Lake Yuraccocha. Stop for lunch in the beautiful region around these two lakes. Keep your eyes to the skies for the chance to spot the enormous Andean condor. After lunch, continue descending the trail into the village of Mantanay, where you'll find your next campsite (3,800 m / 12,467 ft).
Overnight Location: Mantanay Camp (3,800 m / 12,467 ft)
Distance: 6-7h; 14km / 8.7 miles
Meals: Breakfast, Lunch, Dinner
Day 5

Trek to Yanahuara then transfer to Ollantaytambo & Aguas Calientes

Finish your trek today from Mantanay to Yanahuara (2,950 m / 9,678 m). Yanahuara is another lovely and colorful village in the Sacred Valley. White grain corn, an important staple crop, is grown here. You'll notice the weather grows warmer here. In Yanahuara, you'll have one last meal with the horsemen and cooks that accompanied you on your trek, then bid them farewell. Board a van takes you on to Ollantaytambo, where you will visit a museum and archaeological site that were formerly the royal estate of Incan Emperor Pachacuti, who conquered this area in the mid-15th Century. Ride the train from here to Aguas Calientes, where you'll stay for the night.
Overnight Location: Hatun Inti Boutique (2,040m, 6,700')
Distance: 4h, 7km / 4.4 miles
Meals: Breakfast, Lunch, Dinner
Day 6

Aguas Calientes – Machu Picchu – Cusco

Get a very early start today, eating breakfast and being ready to leave the hotel at 5:40 AM. A short bus ride will bring you to Machu Picchu in time to watch the sunrise. You'll then be able to enter the Citadel for a guided walking tour of the complex that lasts about 2 hours. After your tour, you'll have time to freely explore this mysterious ancient city. If you would like to climb Wayna (Huayna) Picchu, the mountain behind Machu Picchu, this can be arranged for an additional fee. This hike allows you to see Machu Picchu from a different perspective, as well as some steps that the Incas cut into the rocks, and other interesting details. In the afternoon, return to Aguas Calientes by bus and eat lunch. After lunch, the train takes you back to Ollantaytambo, where you will be picked up and transported back to your hotel in Cusco.

Optional: You can also choose to hike to the top of Wayna (Huayna) Picchu, scenic mountain near Machu Picchu, that has amazing views of the site from another angle. Make sure to book this hike a long time in advance, as there is a limited number of permits issued for every day. Check Dates and Prices for more information about the price.
Overnight Location: Jose Antonio Hotel, Cusco (3,399m, 11,200')
Distance: As Required
Meals: Breakfast
Day 7

Departure from Cusco Airport

Sadly, your Lares and Machu Picchu tour has come to an end. After breakfast, depending on your flight times, you are free to explore Cusco until it is time for your transfer to the airport. Have a pleasant journey!
Overnight Location: N/A
Distance: None
Meals: Breakfast

Book Now
Lares Trek and Machu Picchu Price and Dates
You can choose between joining a group tour or else creating a custom tour for just your group. All the prices are per person, sharing a double room or a tent.
Prices for a Private Guided Lares and Machu Picchu Trekking Tour
Guided group of 2: $1,370 USD per person
Guided groups of 4: $975 USD per person
Guided groups of 6: $875 USD per person
Guided groups of 7+: on request
Join a Group Tour for the Guided Lares and Machu Picchu Trekking Tour
Make new friends by joining a group tour! The prices below are per person.
Accommodation on Lares Trek and Machu Picchu Tour
This tour is based in hotels and camps. Four nights are spent in hotels and two nights along the Lares Trek are spent in camps.
Hotels on this trip are 4-star and offer modern conveniences that can make this trip more pleasant. The accommodations have been carefully chosen so you will feel comfortable and pampered.
Rooms are double occupancy, and single travelers will pay a supplement.
In some cases, accommodation listed below may need to be substituted for other, comparable accommodations.
Single Rooms and Solo Travelers
You can pay a single supplement of $360 USD to have a private room in a hotel. Contact us and we can try and match single travelers up, where possible.
Hotels on Standard Tour
Jose Antonio Hotel, Cusco ★★★★
A comfortable hotel in a great location for exploring the city. Be sure to visit the rooftop terrace for wonderful views of the city and don't miss their excellent breakfast.
Camping in campsites along the Lares Trail ★
Sleep under the starry sky in comfortable tents in the campsites along the Lares Trek. Spend your nights in Huacawasi and Mantanay camps surrounded by stunning peaks of Peruvian Andes.
Hatun Inti Boutique, Aguas Calientes ★★★★
Stay in a suite room in this fabulous and luxurious hotel with mountain and river views. The location is convenient for exploring Machu Picchu and the decor will immerse you in Andean culture.
Jose Antonio Hotel, Cusco ★★★★
A comfortable hotel in a great location for exploring the city. Be sure to visit the rooftop terrace for wonderful views of the city and don't miss their excellent breakfast.
What's included in the Lares Trek and Machu Picchu Tour?
Meals
6 breakfasts, 3 lunches, 3 afternoon snacks, 3 dinners, and other various snacks along the trek.
Accommodations
Hotel accommodations for 4 nights, 3 in Cusco and 1 in Aguas Calientes. Camping for 3 nights
Transportation during the Tour
Planned transportation throughout the tour is included. This includes:
Transportation to/from the Cusco Airport at the beginning and end of the tour
Transportation from Cusco to Wacawasi (Huacawasi) – approx 3.5 hours
Train tickets (expedition class) from Ollantaytambo to Aguas Calientes and from Aguas Calientes to Poroy. (Can be upgraded to the Vistadome class for $50 USD per person)
Bus tickets from Aguas Calientes to Machu Picchu and back. (approx 25 min)
Transportation from Poroy train station to your hotel in Cusco
Also Included
Tour briefing on the day you arrive in Cusco
Camping fees, tent, cooking shelter
Professional, English-speaking guide
Entrance fees to the Inca Trail and Machu Picchu
Lares Valley entrance fee
Horseman and mules to carry cooking and camping equipment during the trek
First Aid kit
24/7 support and emergency line available throughout the tour
Not included
Meals and drinks, other than those mentioned in the itinerary (extra meals can be arranged upon request).
Optional tours and excursions
Personal items such as souvenirs or telephone calls
Personal camping and trekking equipment, such as sleeping bags or walking sticks (many of these items can be rented for an additional fee).
Any damages you might cause to the bus or camping equipment
Tips and gratuities
Additional personal porter for guests with excessive luggage.
Travel insurance
Evacuation in the event of a serious medical issue or injury
Optional Extras
Additional meals
Climb Wayna (Huayna) Picchu - $40 USD (per person)
Upgrade train tickets from Expedition class to Vistadome class ($55 USD per person)
Additional activities in Cusco (all prices are per person):

Cusco City Tour: A tour of many different significant landmarks in and around Cusco. $40 USD + $33 USD entrance fees
South Valley: Head south from Cusco to tour an Andean village with Pre-Incan architecture, plus the Incan Pikillagta (Temple of Water) and Tipon (the 17th Century "Sistine Chapel of Cusco"). $50 USD + $26 USD entrance fee
Gastronomic Tour at Market & Cooking Class: Learn to prepare authentic, traditional local dishes from shopping at the market for ingredients to preparing and serving the meal. $60 USD

Personal horse to ride during the trek (max weight - 110 Kg) - $70 USD per person
Frequently Asked Questions about Lares Trek including Machu Picchu
Valencia Travel Cusco has been providing incredible trekking and cultural tours around Cusco since 2009. Owned and operated in Cusco, Valencia Travel know the Cusco and Macchu Picchu region well, and provide great active holidays for their guests.
Valencia Travel is recognized as Best Tour Operator in Peru 2021 by the International Travel Awards by KSA!
Learn More
Is this tour for me?
We rate the Lares Trek as a 3 / 5. The trek is moderate but hikers unaccustomed to hiking at higher altitudes will notice the additional strain caused by the elevations.
Ask a Question
Got any questions regarding the tour? Interested in promotions for groups or want to customize this tour to fit your needs? We are here to help you!
Ask a question