Summit Africa's highest mountain on this adventure-packed 8-day guided trekking tour
Summit Mount Kilimanjaro on this guided tour using the Machame route. The Machame route, otherwise known as the "Whiskey" route, is one of the more popular routes to summit Kilimanjaro. This guided trek to the top of Kilimanjaro is famous for its beautiful and magnificent scenery. Despite being more strenuous compared to the Marangu route, the Machame route has one of the highest success rates for summiting.
The Machame route allows trekkers to trek high and sleep low, which is ideal for acclimatization. It also means that there is more ascent and descent, so this guided tour to the top of Kilimanjaro is best for experienced trekkers.
Highlights of the Mount Kilimanjaro on Machame Route
Enjoy the view of the majestic glaciers on the summit of Kilimanjaro.
Hike past the iconic Barranca Wall and Lava Tower.
Walk through lush rain forests and savannah grassland on this guided trek.
Explore the native town of Moshi and explore the local culture.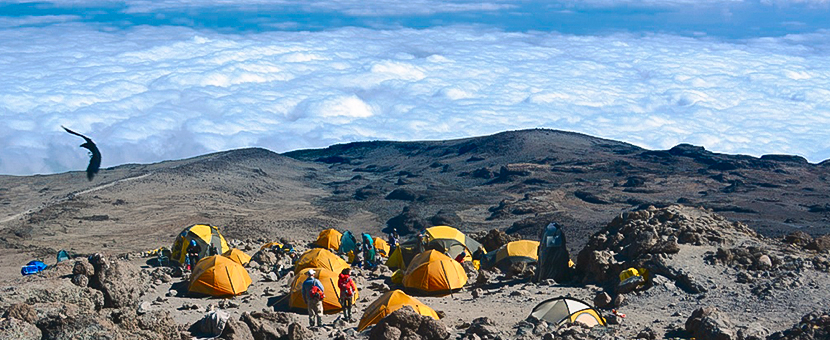 Manaslu Circuit Trek Itinerary
Day 1

Arrive in Tanzania

Your guided Kilimanjaro trek starts today! Get picked up from the Kilimanjaro International Airport and return to Moshi town, where you will check-in to your hotel. You will also meet your guide today and be briefed on the Machame route, meet other guests and check your gear to make sure you are ready. Anything that you might be missing, can be rented here on this day.
Overnight Location: Panama Garden Resort
Distance: None
Meals: No Meals Included
Day 2

Transfer to Machame Gate (1,790m) and trek to Machame Camp (3,010m)

Start your trek up Kilimanjaro with a 1-hour transfer to the Machame Gate. Here you will complete park formalities and also meet the team of porters that will help to carry everything throughout this guided trek. The first part of this Kilimanjaro trek will take you through an amazing, dense rainforest. Due to the humidity, this trail sometimes gets a bit overgrown in some parts and is often muddy and wet.
Overnight Location: Machame Camp
Distance: 10.8km, 1,250m, 6 hours
Meals: Breakfast, Lunch & Dinner
Day 3

Machame Camp (3,010m) to Shira Camp (3,845m)

The route up Kilimanjaro continues up through the forest until you reach the Shira Plateau, which has very nice views of Kilimanjaro. Looking back you will be able to see the amazing Mount Meru, climbing in the distance high above the town of Arusha.
Overnight Location: Shira Camp
Distance: 5.4 km, 850m, 5 hours
Meals: Breakfast, Lunch & Dinner
Day 4

Shira Camp (3,845m) to Barranco Camp (3,960m)

The Machame route continues today, starting off on high moorland. The route climbs and traverses the southwest side of Mount Kilimanjaro, passing underneath the famous Lava Tower and the final section of the Western Breach before you will finally arrive at the Barranco Camp. You will reach a high point of 4,600m on today's trek, so you will be feeling the altitude. By sleeping at Barranco Camp you are following the rule of "trek high, sleep low", which will help your body to get used to the altitude.
Overnight Location: Barranco Camp
Distance: 10.8km, 720m, 8 hours
Meals: Breakfast, Lunch & Dinner
Day 5

Barranco Camp (3,960m) to Barafu Camp (4,640m)

Start today's walk by descending into a huge ravine, known as the Great Barranco. Whatever goes down must come up, and you will exit the steep Great Barranco Wall, which divides you from the southeastern slopes of Kibo. This part of the Machame route involves climbing over rock. Though not technical, it is long and tiring. Pass under the Kersten and Heim glaciers and head towards Karanga Valley. The Karanga Valley is the last stop for fresh water on Machame Route before the summit.
Overnight Location: Barafu Camp
Distance: 8.5km, 975m, 8 hours
Meals: Breakfast, Lunch & Dinner
Day 6

Barafu Camp (4640m) to Uhuru Peak (5895m) & down to Millennium Camp (3790m)

Today you will experience the culmination of this great Kilimanjaro guided trek, summiting Mount Kilimanjaro. You will start trekking at around midnight and will head steeply up towards the summit glaciers. Expect to climb for 4-5 hours, and gain height quickly. The goal is to arrive at the crater rim at Stella Point (5,739 m) with the first rays of sunlight. The views from within the crater are spectacular. It will take one more hour to reach the summit of Kilimanjaro - Uhuru Peak (5,895m). Return from the summit of Kilimanjaro back past Stella Point all the way to Barafu Camp for a well-earned. Later in the day continue down to Millennium Camp.
Overnight Location: Millennium Camp
Distance: 13.4km, 1,250m Up, 2,000m down , 12-15 hours
Meals: Breakfast, Lunch & Dinner
Day 7

Millennium Camp (3,790m) to Mweka Gate (1,630m)

This is the last trekking day on this guided tour to the summit of Kilimanjaro. Today is a gentle day compared to yesterday, as you walk down through a rainforest to Mweka Gate, where you exit the park. Meet the vehicles and return to the hotel in Moshi, where you will enjoy a shower and probably a cold beer or two, before a big celebration.
Overnight Location: Panama Garden Resort
Distance: 12.1km, 2,100m down, 6 hours
Meals: Breakfast, Lunch
Day 8

Departure

Today it's all up to you and what time your flight leaves. If you have time, you can explore the town of Moshi and find some souvenirs to commemorate your summit of Mount Kilimanjaro. Consider sparing an hour of your time to help our environmental conservation efforts by planting a tree in the Kilimanjaro region.
Overnight Location: None, departure day
Distance: None
Meals: Breakfast

Book Now
Dates and Prices of Mount Kilimanjaro on Machame Route trek
This hiking tour in Tanzania is run as a custom tour for your group only. This tour is typically run from June to October and December to March, however, it can be run April, May, and November.
Prices of Private Guided Mount Kilimanjaro Trek on Machame Route
Enjoy a private trek with just your group. Pricing is based on the number of guests on your trip.
2-9 Guests: $2,000 USD per person
10+ Guests: $1,750 USD per person
Book Now
Accommodation on Mount Kilimanjaro on Machame Route Tour
This accommodations on this trekking tour of Mount Kilimanjaro on the Machame route are in tents while on Mount Kilimanjaro and in a private room in a lodge while in Moshi. In some cases, accommodation listed below may need to be substituted for other, comparable accommodations.
Single Rooms and Solo Travelers
You can pay a supplement of $150 USD to have a private room as a solo travelers. In some cases, there may be other solo travelers, and we can match you with participants of the same sex.
Hotels on Standard Tour
This beautiful hotel has everything you need to make your stay in Moshi comfortable: the resort has a beautiful garden area with swimming pool, bar, BBQ corner and free WiFi.
Machame Camp is a well-organized camp just outside the tropical forest area at 3,000m. There are views of the peak. There are splendid sunset views on Mount Meru.
After cresting the dramatic Shira Ridge, you'll see why people rave about the views from the plateau. This is where you'll find Shira Camp.
Barranco Camp is set in a rocky valley. Hopefully the view of the Barranco Wall in the distance will help motivate you for the upcoming journey.
Tonight, you're sleeping at over 4,600m above sea level with the summit in sight.
Your final campsite on the mountain. At a much more comfortable lower altitude, you'll see the trees are starting to appear again.
What's included in the Manaslu Circuit Trekking Tour?
Meals
7 breakfasts, 6 lunches, 5 dinners
Accommodations
Accommodations for 7 nights along the tour
Transportation during the Tour
2-way shared airport transfers between Moshi and Kilimanjaro International Airport
Also Included
2-way shared airport transfers to Kilimanjaro International Airport
Professional mountain guides, cooks and porters for the Mount Meru Trek
Park fees, camping fees & rescue fees
18% VAT on tour fees & services
Accommodation in tents on the Machame Route. Pre & Post Trek accommodation at the Weru Weru River Lodge (or alternative) on Bed & Breakfast Basis
Transportation to & from the mountain gate
Fair wages for the mountain crew as approved by the Kilimanjaro Association of Tour Operators (KIATO)
Gear, such as double layered sleeping mats and 3-season mountain tents
Katadyn filtered water throughout the trek
Tree donation in support of our environmental conservation projects
Supplemental Oxygen and pulse Oximeter
Not included
Tips – see FAQ for guidelines per group.
Air Travel to Kilimanjaro International Airport
Any meals or drinks not specified in the itinerary
Laundry Services & Items of personal nature.
Optional Extras
Portable flush toilet with a toilet tent: $150 USD
Sleeping bag rental - $20 USD
Extra porter - $15 USD per day
Transfers:

Moshi to Arusha - $60 USD per vehicle (one way)
Moshi to Nairobi - $200 USD per vehicle (one way)
Optional Tours
Materuni + Coffee Tour Day trip - $60 USD per person
Rundugai Hot water springs Day Trip - $40 USD per person
Cycling day trip - $60 USD
Cultural Day Trip - $50 USD
2 Days Safari – $680 USD per person. This safari is suitable for trekkers after Kilimanjaro, and the price includes meals, transport, park fees and accommodation. National Parks that are visited are Tarangire National Park & Ngorongoro Conservation Area.
Frequently Asked Questions about Mount Kilimanjaro on Machame Route
Ahsante tours is a family-run tour operator based in Moshi. They aim to provide exceptional treks and game drives at fair prices. They've been leading guests in Africa for over 20 years.
Ahsante provides each client with family-like service, keeping the values of care, trust, respect, and commitment at the centre of their operations.
They are committed to ensuring each guest has the best adventure possible.
Learn More
Is this tour for me?
We rate this tour as a 5 / 5 due to the elevation and very long summit day.
Local Guide
Ask a Question
Got any questions regarding the tour? Interested in promotions for groups or want to customize this tour to fit your needs? We are here to help you!
Ask a question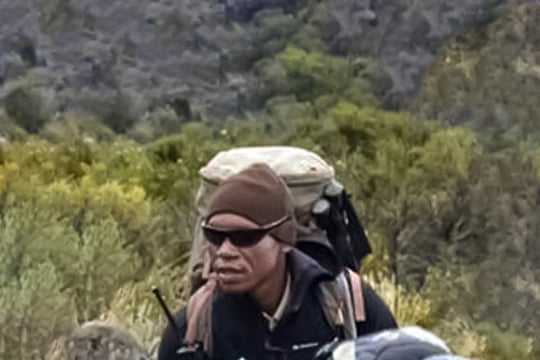 Q & A
Q:

What is your favourite place to show to visitors?

A:

Kilimanjaro Mountain, which is the roof of Africa.

Q:

What is one local dish that tourists have to try?

A:

Machalari, which is banana mixed up with meat or vegetables.

Q:

What are guests most surprised about when visiting Tanzania?

A:

The nature in the country, and the friendly and respectful people, which is part of our Tanzanian culture.