Summit the tallest peak of Morocco's Atlas Mountains on this 5-day guided adventure
Get the ultimate trekking experience in Morocco in a short period of time on this guided trek to the summit of Mount Toubkal. Mount Toubkal is the tallest summit in northern Africa, and it does not require any technical climbing to reach the summit.
On this "express route," you'll see all the highlights of trekking in Morocco. The Atlas Mountains offer spectacular views of jagged peaks and lush, green valleys. You'll be introduced to Berber food and culture and the whole experience will leave you with a taste for more adventures in Morocco!
Highlights of the Mount Toubkal Summit Trek
Explore the jagged peaks and lush valleys of the Atlas Mountains in Morocco, enjoying fantastic views all along your hike.
Trek to the summit of Mount Toubkal, the tallest peak in northern Africa.
Stay in mountain refuges and enjoy the camaraderie of like-minded fellow trekkers.
Experience the culture of the Berber people as you see their villages up close, meet Berber guides and muleteers, and eat food prepared by Berber cooks.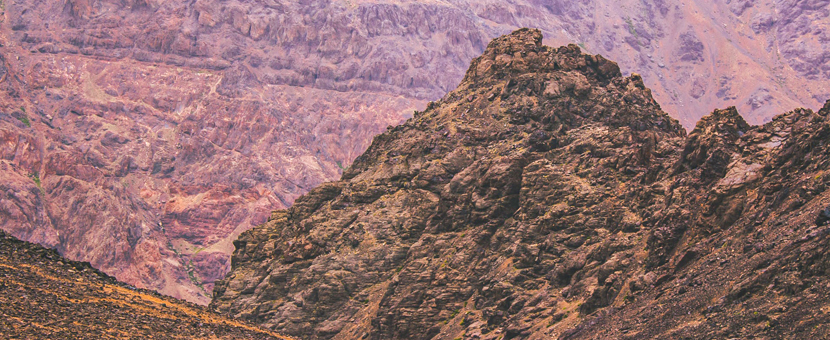 Mount Toubkal Trek Itinerary
Day 1

Arrive in Marrakesh

Welcome to Morocco! Arrive at Marrakesh Menara International Airport and transfer to your hotel for your first night in Morocco. If you arrive early, enjoy exploring the incredible city of Marrakesh. Remember to get a good night's rest in your comfortable hotel as you prepare for your trekking adventure!
Overnight Location: Riad Viewpoint, Marrakesh
Distance: N/A
Meals: None
Day 2

Transfer to Imlil and trek to Tamsoult

Travel from the city of Marrakesh to the village of Imlil (1,740 m/5,709'). The 1.5-hour drive takes you into the Atlas Mountains, and Imlil is the well-known starting place for many mountaineering excursions. Begin your trek by hiking up to the Tizi-n-Mezzik mountain pass (2,489 m/8,166'), where you can enjoy beautiful views of Imlil and the Azzaden Valley. The cook will prepare lunch as you rest in the shade of a juniper forest. After lunch, continue hiking down into the Azzaden Valley to Tamsoult Village (2,250 m/7,382'). Spend the night in the Tamsoult Refuge or choose to camp in the area.
Overnight Location: Tamsoult Refuge (2,250 m/7,382')
Distance: 5 hours
Meals: Breakfast, Lunch, Dinner
Day 3

Trek to Toubkal Refuge via the Aguelzim Pass

Start today with a tough but rewarding climb up from the Azzaden Valley past the Ighouliden waterfalls to the Aguelzim mountain pass (3,560 m/11,680'). Enjoy a lunch stop here with incredible views of the Atlas Mountains before continuing to hike to the Toubkal Refuge (3,207 m/10,522') where you'll spend the night in one of two mountain huts in this location. This refuge is very popular with trekkers getting up early to hit the summit of Mount Toubkal, so you will probably share the large bunk rooms with like-minded fellow trekkers.
Overnight Location: Toubkal Refuge (3,207 m/10,522')
Distance: 7 hrs
Meals: Breakfast, Lunch, Dinner
Day 4

Summit Mount Toubkal Return to Imlil, Transfer to Marrakesh

Get a very early start today to climb to the summit of Mount Toubkal (4,167 m/13,671'), the tallest peak in northern Africa. If the day is clear, you will have spectacular views of the Atlas mountain range and part of the Sahara Desert. You'll also be able to see the well-used trail that leads back to Imlil. Enjoy the moment of reaching the summit and pause to rest for the trek back down the mountain and all the way back to Imlil. After a long day on the trail, you will be transferred back to Marrakesh by early evening (typically about 5:00 PM). If you have the energy, explore the central square of Jemaa el-Fnaa and sample the open-air restaurants.
Overnight Location: Riad Viewpoint, Marrakesh
Distance: 8-9 hrs
Meals: Breakfast, Lunch
Day 5

Departure

Sadly, your adventure in Marrakesh just came to an end. After breakfast, you will transfer to the airport for your flight.
Overnight Location: None
Distance: None
Meals: Breakfast

Book Now
Mount Toubkal 3-day Trek Dates and Prices
This guided trekking tour to Mount Toubkal is always run as a private tour for your group only and the pricing always depends on the size of your group.
Prices below are per person sharing a double or a triple room:
Guided group of 2-3: $475 USD per person
Guided group of 4-6: $425 USD per person
Guided group of 7-10: $395 USD per person
Guided group of 11+: $375 USD per person
Book Now
Accommodation on the Mount Toubkal trekking tour
Accommodation along your trek will be in simple Berber gites for an authentic experience of Moroccan life and culture. Camping is an option during the summer months.
Before your trek, stay in a 3-star Riad (bed and breakfast) in Marrakesh. Rooms are double occupancy, and single travelers will pay a supplement.
In some cases, accommodation listed below may need to be substituted for other, comparable accommodations.
Single Rooms and Solo Travelers
You can pay a supplement of $75 USD to have a private room as a solo traveler. In some cases, there may be other solo travelers, and we can match you with participants of the same sex.
Hotels on Standard Tour
What's included in the Mount Toubkal summit trek?
Meals
4 breakfasts, 3 lunches, and 2 dinners are included.
Accommodations
Accommodations for 4 nights along the tour, including the first night in Marrakesh and 2 nights along the trek.
Transportation during the Tour
Airport transfers between Marrakesh Menara International airport and your hotel
Round trip transportation between your hotel in Marrakesh and the trek
Also Included
Expert, Berber, English-speaking mountain guides
Mules and muleteers to carry your luggage
Berber Cook for meals along the trek
Camping equipment (Tents & Mattress) if desired
Airport Transfers to and from the Marrakesh airport
Not included
Travel to and from Marrakesh
Travel insurance
Soft drinks or alcoholic beverages
Tips and other personal expenses
Optional Extras
Additional night in Imlil
Combine with another tour/trek
Gear rentals (€2-5 EUR/day per item)
Frequently Asked Questions about Mount Toubkal Summit Trek
Aztat Treks (also known at Atlas Trek Shop) is a trekking holiday specialist based in Morocco. Learn about the incredible history, culture and food of Morocco with brothers Mohamed and Ibrahim and their handpicked team of guides, drivers, cooks and muleteers. Aztat has been featured in The Guardian, BBC Radio, Lonely Planet and the Sunday Times.
Learn More
Is this tour for me?
We rate this tour as a 4 / 5 due to the challenge of trekking at altitude to reach the summit of Mount Toubkal. You should be able to hike for 7-8 hours each day, climbing over 1,000 m in a single day and descending over 2,000 m on another day. No technical climbing is required.
Ask a Question
Got any questions regarding the tour? Interested in promotions for groups or want to customize this tour to fit your needs? We are here to help you!
Ask a question