Discover Inca ruins as you bike unreal single track trails
Go on rugged, adrenaline-inducing excursions on the 9-day Mountain Biking Adventure in Sacred Valley, Peru. Expect to traverse epic single track trails amid the Andes and crumbling Inca remnants. This adventure in Sacred Valley unveils glimpses of Peruvian culture and its storied past right from the seat of your mountain bike. It's truly a unique, unforgettable experience, but unreal mountain biking isn't all this tour offers!
On Day 7, you'll ditch your bike and head up to Machu Picchu by bus and train. Upon arrival at the World Heritage Site, a guide will take you around the famous Inca ruins. Be sure to charge your camera and prepare to say the word "wow" over and over as you explore this world-renowned wonder. The Mountain Biking Adventure in Sacred Valley is a fantastic fusion of adventure, jaw-dropping sights, and culture. If you're a history buff and an adventure seeker, this tour is your jam. Over the week, you'll stay in three different hotels, where you can kick back, let your sore muscles chill, and reflect on the incredible adventure you just had. The Mountain Biking Adventure in the Sacred Valley tour is not one to miss!
Highlights of the Mountain Biking Adventure in the Sacred Valley
Ride the renowned international Mega-Avalanche course, which drops from 4,400m to 2,800m within 20km.
Ditch your bike and explore the wonder of Machu Picchu alongside a knowledgeable English-speaking guide.
Bike to Maras salt pans, a collection of salt pans unravelling along a terraced field and nestled between mountains.
Enjoy Cusco's exciting nightlife, where salsa dancing thrives and lively pubs keep you entertained!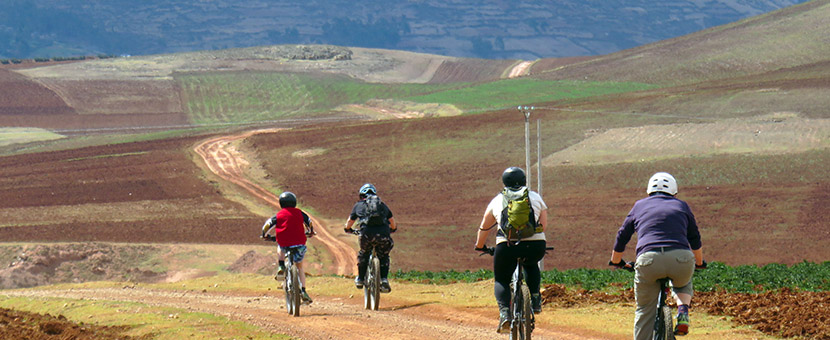 Mountain Biking Adventure in the Sacred Valley Itinerary
Day 1

Go to Sacred Valley

Meet your guide at the international airport in Cusco, and let the fact that you're about to embark on a wild, exciting adventure in Peru's Sacred Valley sink in. You'll then travel 70 minutes to your hotel in Sacred Valley. Take a moment to admire the views whizzing by and quiz your guide on Peru's culture. Upon arrival, enjoy a free afternoon. You can ask your guide to take you around Urubamba town if you feel like getting to know the area from a local perspective. At some point today, your guide will go over your upcoming adventure with you.
Overnight Location: Hotel in Sacred Valley
Meals: None
Day 2

Bike to Maras salt pans

Catch a glimpse of the Sacred Valley's fascinating local culture as you ride today! You'll begin biking after a short ride to Chinchero plateau, a lovely agricultural area. Admire the snow-topped Urubamba range as you bike. Eventually, you'll reach the ruins of Moray. Feel free to get off your bike and explore them (you will need to pay a "Boleto Touristico" to get in). After a delicious lunch, you'll ride to the salt pans in Maras! You'll be shocked to know that they mine this salt by hand.
Overnight Location: Hotel in Sacred Valley
Meals: Breakfast, lunch
Day 3

Admire Inca ruins

Not only will today's biking journey take you on epic single tracks, but you'll also wind by several Inca ruins, including stairways and tombs! First, you'll travel by small villages (and alpacas, potentially) to Amparaes, where you'll enjoy lunch. The trail after lunch takes you to the Inca ruins and a stunning canyon. You'll also stop at Calca Plaza de Armas for a refreshing beer or ice-cream before letting your sore muscles relax for the night.
Overnight Location: Hotel in Sacred Valley
Meals: Breakfast, lunch
Day 4

Discover ruins of Huchuy Q'osqo

Hopefully, you have a good sleep in preparation for today's adrenaline-pumping bike ride! You'll kick things off with a crazy car ride that's almost as exhilarating as the actual bike ride before parking the car somewhere high in the Andes (4000m), hopping out, and getting on your bicycle. Grab your snacks, spares, and begin your exciting ride along an Inca trail to an Inca ceremonial platform at around 4200m.

From here, you'll get to fly down the track, speeding by a reel of scenery: Andean hamlets, Inca wonders, Inca hanging bridge. At one point, you'll have to get off and portage through a remarkable canyon. Come out to a magical viewpoint before continuing along Inca terraces and the ruins at Huchuy Q'osqo. Afterwards, enjoy descending for 800m. At some point, you'll get to enjoy a delicious lunch! In the evening, you'll transfer to Ollantaytambo, where you can meander through the plaza.
Overnight Location: Hotel in Sacred Valley
Meals: Breakfast, lunch
Day 5

Epic downhill rides

If you thought yesterday was thrilling, just wait for what's in store today! You'll get the amazing opportunity to bike down two of Peru's best single track downhills. Both will be crazy, crazy rides! The journey starts out gently in Chinchero, along a wide path. Soon, you'll bike down (or walk) steps that go through a eucalyptus forest and an incredible vista. Eventually, you'll arrive in Huayllabamba.

Drive back to Chinchero for a tasty lunch and a fantastic view of Chicon massif and its surrounding glaciers. But that's not all today! The afternoon brings another biking adventure. Your guide will choose between two trails; their choice depends on the current conditions. After your ride, you'll head back to your hotel before going out to a bar and chatting with your group over a rewarding, cold beer.
Overnight Location: Hotel in Sacred Valley
Meals: Breakfast, lunch
Day 6

Bike the Mega-Avalanche racecourse

You're in for more scenic, exhilarating adventures today! Hop on your bike and ride the epic Mega-Avalanche course, which drops from 4,400m to 2,800m in 20km. Talk about a thrill! This unreal descent is actually the location for an international race, The Inca Avalanche Course. That's right. You get to bike on a world-class track today.

Go back to your hotel in the late afternoon and let it sink in that you just biked an internationally famous track.
Overnight Location: Hotel in Sacred Valley
Meals: Breakfast, lunch
Day 7

Machu Picchu

Give your biking muscles a rest, ditch your bikes, and hop in a train, take a short bus ride, and wind to Machu Picchu, a World Heritage Site steeped in history. Ever heard of it? Shake your legs out upon arrival and follow your guide as they navigate through these legendary Inca ruins. Marvel at the stories etched into these ruins and take lots of pictures.

Then, travel back to Cusco via train and watch the enchanting scenery rush by you. Let the excitement of viewing Machu Picchu continue into the evening, where a fun night of dancing, pubs, and fine dining in Cusco awaits.
Overnight Location: Hotel in Sacred Valley
Meals: Breakfast
Day 8

Ride in Cusco Hills

Are your legs ready for another day of exploring after resting? They'll have to be! Cusco Hills is a playground for avid mountain bikers, granting "three downhills in three hours." Encounter more Inca ruins as you navigate your way down steps, through a eucalyptus forest and a jungle.

The evening will give you a chance to tap into your second wind! Eat local dishes and salsa dance until the sun rises. You can sleep tomorrow, right?
Overnight Location: Hotel in Sacred Valley
Meals: Breakfast
Day 9

Explore Cusco and depart

Get to know Cusco by checking out museums, try a chocolate-making class, or just chill at one of the cafes and watch locals and tourists meander by. You've just biked a crazy amount and deserve a relaxing day before you head to the airport for your onward flight.
Overnight Location: None
Meals: Breakfast

Book Now
Mountain Biking Adventure in the Sacred Valley Price and Dates
This guided cycling tour in Peru is run as a custom tour for your group and the price depends on the number of people in your group.
Please note, that standard rooms are double/twin and groups of odd numbers can opt out to stay in a triple room or add a single supplement of $600 USD to use one single room instead. Please note that the prices below are per person and solo traveller price already includes the single supplement.
Guided Groups of 1: $6,465 USD per person
Guided Groups of 2: $3,775 USD per person
Guided Groups of 3: $3,025 USD per person
Guided Groups of 4: $2,675 USD per person
Guided Groups of 5-6: $2,350 USD per person
Guided Groups of 7+: $2,275 USD per person
Book Now
Accommodation on the Mountain Biking Adventure in the Sacred Valley Tour
This biking adventure tour will have you staying in three cozy hotels for 8 nights. The hotel has modern necessities that will keep you comfy and relaxed. Keep in mind that rooms are double occupancy, but you can upgrade to single occupancy for an additional fee. Single travellers are also required to pay a supplement.
In some cases, the accommodation listed below may be swapped for other similar accommodations.
Single Rooms and Solo Travelers
You can pay a supplement of $600 USD to have a private room in a hotel. It's often also possible to match single travellers up.
Hotels on Standard Tour
Villa Urubamba in Urubamba ★★★
This luxury villa offers you the perfect place to chill and relax after a day of adventuring. Enjoy the restaurant, bar, and WiFi.
Hotel Sol Natura in Sacred Valley ★★★
Tailored for travellers and families, this hotel delightfully fuses comfort and authenticity! Bask in the stunning views surrounding Hotel Sol Natura.
Quinta San Blas in Sacred Valley ★★★
Take advantage of Quinta San Blas' ideal downtown location and enjoy revelling in the nightlife without worrying about paying anything to get back home at the end of the night.
What's Included in the Mountain Biking Adventure in Sacred Valley Tour?
Meals
8 breakfasts and 5 lunches are included on this tour. You will also receive snacks and water on days 2-6 and 8. You are responsible for buying your own snacks and water on days 1, 7, 9, as well as dinners.
Accommodations
Accommodation for 8 nights is included.
Transportation during the Tour
Personal and luggage transportation is included for the duration of the tour.
Also Included
Guides
Trekking porter for Machu Picchu
Permits and entrance fees
Bike (Specialized Stumpjumper)
Gear (helmet, gloves)
Not included
Flights to and from Cusco
Personal expenses
Tour guide gratuities
Snacks and water on days 1, 7, and 9
Dinners
Entrance fee to ruins of Moray
Optional Extras
Single occupancy upgrade
Additional nights before and after the tour in Cusco or in Sacred Valley
Frequently Asked Questions about Mountain Biking Adventure in the Sacred Valley
Amazonas Explorer has been running high-end adventure travel tours in Peru for over 30 years. They offer both customizable and pre-set tours so your group can choose the perfect adventure.
British owned and Peruvian operated, Amazonas Explorer adheres to the highest European standards using the finest equipment available.
Amazonas Explorer knows you may only visit Peru once, so they aim to make that experience exceptional.
Learn More
Is this tour for me?
This tour is rated as a 4 / 5. It has six days of biking on exhilarating single track trails, so you should be a confident biker before joining.
Local Guide
Ask a Question
Got any questions regarding the tour? Interested in promotions for groups or want to customize this tour to fit your needs? We are here to help you!
Ask a question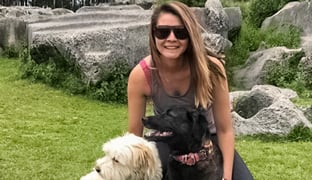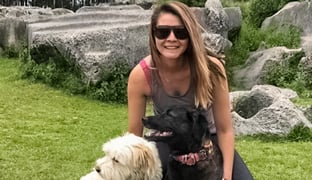 Andrea has been designing tours with Amazonas Explorer since 2015. She moved to Cusco to take advantage of the fantastic hiking and be immersed in nature. Helping clients explore Peru is her dream job, and seeing new travellers fall in love with the country inspires her to create the best itineraries possible. While she's an avid hiker and adventurer herself, she also loves sharing the culture and cuisine of Peru through her tours.
Q & A
Q:

What is your favourite trip that you offer?

A:

The Sacred Valley of the Incas Hiking Adventure is a once in a lifetime experience I encourage all of my clients to have. The combination of day hikes really showcases the best of Cusco, the Sacred Valley, and of course Machu Picchu. Every day you hike to beautiful places, see incredible ruins, and meet lovely locals. You also get to stay in a beautiful private villa with your own private guide, driver, and even chef!

Q:

What is an unforgettable local experience you've had?

A:

Part of my job is to test services and visit our suppliers to later be able to sell it to the right clients. One of the tours that I tried recently and I really enjoyed was visiting a local community and working the land with them. It made me really appreciate the food that I have on my table every day. The sacrifices the locals make when working their farms. Without them, we wouldn't have anything healthy to eat.

Q:

What is one experience anyone visiting Peru should have?

A:

For me, travelling is not only visiting archaeological sites. It is meeting the local people, learning about their customers, and expanding our knowledge of how people live in another part of the world. This will give us another perspective on the world and life.

Q:

What do your guests say they like best about the trips you create?

A:

They say that they felt that the entire trip was exactly what they were looking for and exceeded their expectations. I always go the extra mile to make sure my clients get the right trip and make the most of their precious holiday. I look forward to working with you all to create these unforgettable memories.