Enjoy your own corner of the Quebec wilderness as you explore in your campervan
Live the bohemian adVANture life on this road trip tour of Quebec in a converted campervan. The Quebec Campervan Tour offers you the flexibility to forgo check-out times and schedules as you discover the majesty of Quebec's landscapes.
This 12-day self-drive itinerary promises a glimpse into the rural villages along the Saint-Lawrence River and a chance to indulge in the local artisanal produce along the way. Your route takes you into the different National Parks where you can hike, paddle, swim, and explore as you like. You'll experience everything from the lively Mont-Tremblant to the rugged cliffs of Saguenay Fjords. Immerse yourself in nature without the hassle of setting up a tent on this exciting Quebec Campervan Tour.
Highlights of the Quebec Campervan Tour
Enjoy the freedom and flexible schedule that travelling and camping in your converted van provides.
Watch for wildlife, including several opportunities to see beluga and other whales.
Visit the convivial Mont-Tremblant pedestrian village, and then get back to nature with a hike or a paddle in the National Park.
Experience the pastoral villages of rural Quebec and the dramatic landscapes along the majestic Saint-Lawrence River.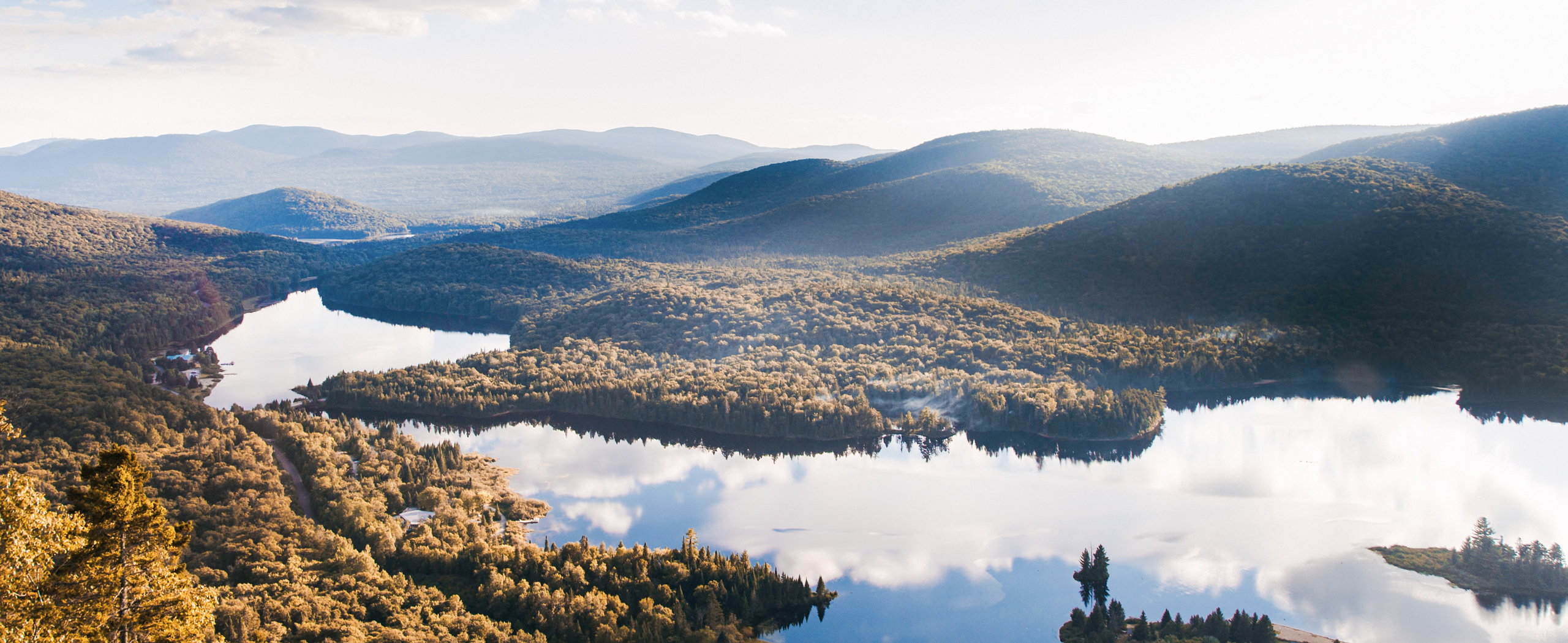 Quebec Campervan Tour Itinerary
Day 1

Arrive in Montreal

Today is your travel day, and you can arrive anytime. After you've settled into your hotel room, it's time to explore the city. Visit the cobblestone streets of Old Montreal and enjoy the vibrant restaurants and nightlife.
Overnight Location: Hotel in Montreal
Distance: None
Meals: None
Day 2

River Surf or Explore Montreal

You have the whole day to enjoy Montreal before you begin your road trip. Spend the day exploring the neighbourhoods, like Mile End, Plateau, or St. Henri, to discover the local boutiques, cafes, and the wondrous St. Henri library. If you're looking for an adventure, you can visit the Lachine Rapids and try your hand at river surfing. You can also rent a bike for the day if you want to see more of the city.

After your full day in Montreal, pick one of its many incredible restaurants, and stop for ice cream at Dalla Rose before heading back to the hotel.
Overnight Location: Hotel in Montreal
Distance: None
Meals: None
Day 3

Country Roads to Mont-Tremblant

This morning, you'll pick up your van rental, which has been converted to a camper, fully-equipped and ready to take you on your adventure. Take the country backroads to visit the small towns on the way to Mont-Tremblant. Saint-Sauver and Val-David are great places to stop and observe rural Quebec.

When you reach the ski-resort village of Mont-Tremblant, spend some time exploring the colourful buildings in the pedestrian village or go for a hike in the nearby national park.
Overnight Location: Campervan near Mont-Tremblant
Distance: 130km
Meals: None
Day 4

Play All Day at Mont-Tremblant

You have the whole day to explore Mont-Tremblant National Park. Take a hike through the luxuriant woods to scenic lookouts, or rent a canoe and navigate the Devil's River. There are also plentiful beaches and lakes to visit if you'd rather relax in the sunshine.

Park your van after dinner, or get some groceries and make it yourself before settling into your cozy bed-on-wheels for the night.
Overnight Location: Campervan near Mont-Tremblant
Distance: None
Meals: None
Day 5

Hike or Canoe in Mauricie

As you take the quiet roads that connect Mont-Tremblant with Mauricie, feel free to stop at any of the roadside stands or markets to collect some local produce for a picnic lunch. There are many trails for you to hike and explore once you arrive at the Mauricie National Park. The park also offers guided tours with a naturalist or excursions in a native canoe known as a Rabaska.

When you've had your fill of extraordinary nature, park the van in a cozy spot for a quiet night in the woods.
Overnight Location: Campervan in Mauricie
Distance: 195km
Meals: None
Day 6

Scenic Drive to Saguenay

Enjoy one of the most beautiful drives in Quebec as you journey east towards the Saguenay Fjord. Stop along the way to stretch your legs and take a stroll along the sparkling Saint-Maurice River. You also have the option to book a seaplane flight from La Tuque that shows off the spectacular forests and lakes in the region.

Your day will have a spectacular big finish as you arrive at the cliffs of the Saguenay Fjord. Stay nearby so you can explore some more tomorrow.
Overnight Location: Campervan in Saint Fulgence
Distance: 392km
Meals: None
Day 7

Adventures at the Fjord

There is an unending list of possibilities for how to spend your time in spectacular Saguenay. There are many hikes around the fjords and nearby Pointe-Taillon National Park, or you can visit Lac-Saint-Jean for beaches or bike rides. Visit Cap Jaseux Adventure Park for kayaking, ropes courses, and other nature activities.

End your day with the drive to Saint-Rose-du-Nord, where you can reach the fjords and watch for beluga whales from the Baie Saint-Marguerite lookout. As you continue to Bergeronnes, there's a perceptible shift towards a more maritime atmosphere.
Overnight Location: Campervan in Bergeronnes
Distance: 122km
Meals: None
Day 8

Whale Watching and Kayaking in Bergeronnes

From your riverside camping spot, you may hear the spouts of whales looking for breakfast. Enjoy your morning coffee as you observe the beautiful animals as they pass by. Today, you have the option to take a half-day sea kayaking excursion to seek close encounters with whales.

Be sure to find some fresh local fish for dinner and spend another night at the seaside.
Overnight Location: Campervan in Bergeronnes
Distance: None
Meals: None
Day 9

Campervan in Bergeronnes

You'll be torn between watching the waters of the Saint-Lawrence and admiring the beautiful mountains as you drive along the river. You can choose to spend the day hiking and exploring the High Gorges National Park or visit Coudres Island to discover all its locally-grown food and artisanal products. You can also book an afternoon paddleboard excursion on Coudres Island.

End the drive in Grand Jardins and set up your van for the night.
Overnight Location: Campervan in Grands Jardins
Distance: 101km
Meals: None
Day 10

Hike or Kayak in Grand Jardins

Spend today in another beautiful and the wild Grand Jardins National Park. Explore the trails through the forests dotted with great moss-covered boulders, and enjoy beautiful views over the river. There are two optional activities available here: a self-guided kayaking route or a scenic helicopter ride. Both offer an exceptional and unique vantage point of the park.

Relax in your campervan in this natural paradise.
Overnight Location: Campervan in Grands Jardins
Distance: None
Meals: None
Day 11

From Farm to City Life

Start your drive early today and take a detour to l'Île d'Orleans. Enjoy exploring the farming landscape on this little island in the middle of the river, and visit some of the local shops and markets to sample the exquisite produce. From the island, you'll cross the Saint-Lawrence and head to Quebec City.

In this UNESCO-recognized city, wander through the cobbled streets of its historic centre and enjoy some famous French-Canadian cuisine.
Overnight Location: Hotel in Quebec City
Distance: None
Meals: None
Day 12

Return to Montreal

Enjoy the final morning of your trip within the historic walls of Quebec City. Drive to Montreal to drop off your van before going to the airport to take your flight home.
Overnight Location: None
Distance: None
Meals: None

Book Now
Quebec Campervan Tour Price and Dates
This self-guided tour of Quebec is run as private tour for your group only, and the price per person depends on how many people are in your group.

Prices below are per person:
Groups of 2+: $2,095 USD per person
Book Now
Accommodation on the Quebec Campervan Tour
This tour is based on hotel and camper accommodations. You'll spend three nights in hotels that are 3-star standard accommodations. For the remaining nights of the trip, you'll camp in a fully-equipped converted van.
In some cases, the accommodation listed below may need to be substituted for other comparable accommodations.
Single Rooms and Solo Travellers
Rooms are double occupancy. Single rooms, including those for solo travellers, are by request.
Hotels on Standard Tour
Stay in a standard 3-star hotel in a great location. Walk around downtown, Old Montreal, Mile End, and Plateau Mont-Royal to peek into city life in different areas.
Your rental vehicle will be a fully-equipped converted campervan. You'll enjoy the freedom that your temporary home on wheels provides.
The only fortified city in Canada! The historic district is a UNESCO World Heritage Site. Stroll the streets to admire the cobblestone roads and European architecture.
What's Included in the Quebec Campervan Tour?
Meals
Meals are not included in this tour.
Accommodations
Accommodations for 3 nights in a hotel and 8 nights in a campervan are included. Accommodations before and after the tour in Montreal are not included but can be added as a supplement.
Transportation during the Tour
This is a self-drive tour, and you'll be provided with a rental vehicle from Day 3 to Day 12 of your itinerary.
Also Included
Converted campervan rental, including:

Bedding
Kitchen necessities, such as refrigerator, sink, gas stove, and cleaning supplies

Basic campervan insurance
Canadian Taxes
24/7 access to helpline
Not included
Flights to and from Montreal
Camping sites for nights spent in the van
Travel and medical insurance
Entrance fees to National Parks
Meals, drinks, or snacks not previously mentioned
Gratuities for tour guides or other staff if desired
Personal expenses
Optional activities
Fuel
Optional Extras
Additional nights before or after the tour
Single occupancy upgrades
Optional activities or excursions:

Daylong bike rental on Day 2
Zip-line tour on Day 3
Canoe trip on Devil's River on Day 4
Seaplane flight from La Tuque on Day 6
Half-day sea kayak excursion in the Bay of Anse on Day 8
Self-guided kayak excursion on Day 10
Twenty-minute helicopter tour on Day 10
Frequently Asked Questions about Quebec Campervan Tour
In the two decades since Toundra Voyages Inc. was founded in 1998, the company has become North America's go-to travel agency in customized independent and group tourism.
Tounda takes a flexible, responsive approach to developing adventure travel tours. By listening to the wants and wishes of travellers, they've been able to create memorable, affordable tours complemented by impeccable service.
Toundra's mission is to create and organize tailor-made travel. They select, adapt, and personalize travel experiences in North America for each and every guest, ensuring your adventure is one you'll never forget.
Meeting your expectations is just the beginning of what Toundra aims to accomplish. Exceeding them by providing exceptional experiences in beautiful North America is their standard, and their track record of knockout customer service and customized tour planning speaks for itself.
Learn More
Is this tour for me?
We rate this tour as a 1 / 5. All the physical activities and hikes are optional, so you are free to tailor the difficulty to your fitness level.
Ask a Question
Got any questions regarding the tour? Interested in promotions for groups or want to customize this tour to fit your needs? We are here to help you!
Ask a question