Experience the natural beauty of the North Cornwall Coast along the South West Coast Path
This self-guided walking tour on the South West Coast Path (SWCP) in North Cornwall is spectacular. Beautiful landscape, charming villages and great walking.
The dramatic landscape of North Cornwall awaits you as you walk along the South West Coast Path from Bude to Penzance. The rugged cliffs, hidden coves, and dramatic landscapes that have inspired great works of art and literature can inspire you too as you surround yourself with natural beauty that is like a world apart.
The path also leads you through beautiful and historic towns and villages, where you can learn more about Cornwall or simply relax with some refreshments from the local cafe or pub. End each day by checking in to a lovely guesthouse with personal attention from your gracious hosts.
Each detail is well-coordinated to make sure that your walking tour of the South West Coast Path in North Cornwall is memorable for all the right reasons!
Highlights of North Cornwall Coast part of South West Coast Path
Surround yourself with the incredible natural beauty of the cliff-lined coastline of northern Cornwall.
Explore the Cornish towns and villages that line the coast, such as Newquay, St. Ives, and Penzance.
Visit the Land's End landmark that marks the westernmost point of England and enjoy the attractions available there.
Receive warm and friendly local hospitality in your guesthouse each night, resting in beautiful locations and being refreshed by hearty meals.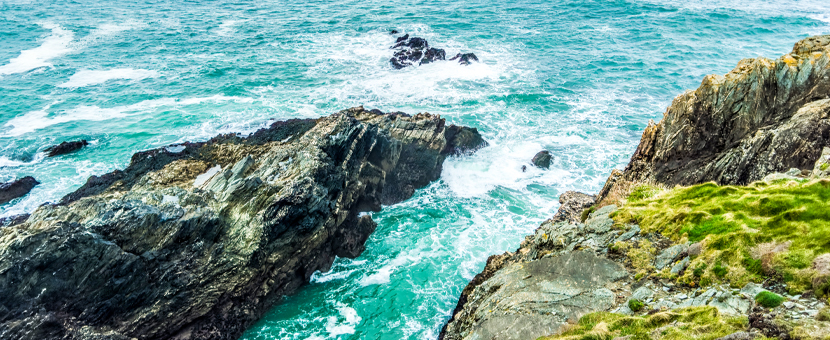 South West Coast Path: North Cornwall Coast Walking Tour Itinerary
Day 1

Arrive in Bude

Welcome to Cornwall and the town of Bude! A small port that hit its peak late in the 19th Century, Bude is now a popular seaside resort. Each year, visitors are drawn to this fantastic coastline to enjoy the views, the spotless beaches, and activities such as golf and deep sea fishing.
Overnight Location: Bude
Distance: N/A
Meals: None
Day 2

Walk to Boscastle

Begin your walk on the South West Coast Path this morning! With the lovely Bude beaches behind you, the walk from here to Widemouth Bay is relatively easy, which gives you a good warm-up. The trail hugs the cliffs past landmarks such as Compass Point Tower, Phillip's Point, Higher Longbeak and Lower Longbeak, and then eventually reaches Widemouth Sands. Follow the path as it descends into the lovely bay, then climb up again to reach the grassy hill at Black Rock.

As you continue along the path the environment varies between grassland, small woodlands, and gorse bushes. The route today offers spectacular views and geological points of interest such as Crackington Haven, where you can clearly see the rock strata. Follow the trail along the coast, passing a few sections of climbing steps, and when you reach Penally Point you can see across to Boscastle Harbor, where you will spend the night. Follow the trail into Boscastle and rest after your first day of walking.
Overnight Location: Boscastle
Distance: 17 miles / 27 km
Meals: Breakfast
Day 3

Walk to Port Isaac

Leave Boscastle by crossing the bridge. Be sure to pause to appreciate the stunning scenery. You'll usually follow the cliff line, though occasionally the trail cuts straight across headlands that are especially rocky. Watch for the many rock stacks along your path today that have been formed over time by the wind and water.

When you come to Tintagel Head you can stop to visit the crumbling ancient monastery of Tintagel Castle. As you continue walking, watch for Gull Rock, which is out at sea, and Glebe Cliff. Both landmarks are marked. From here, the path to Port Isaac crosses the countryside. You'll be spending the night in Port Isaac, which is primarily a fishing village. If you have time, you can walk down to the Port Isaac Harbor and see the catch of the day.
Overnight Location: Port Isaac
Distance: 14 miles / 22 km
Meals: Breakfast
Day 4

Walk to Padstow

A series of small valleys greets you as you leave Port Isaac, which means a series of ascents and descents to start the day. Nevertheless, the trail is not overly strenuous and becomes much flatter later on. The South West Coast Path follows its now familiar rugged landscape and rounds both Rumps Point and Pentire Point.

You'll leave Polzeath by way of a beach formation known as the "Doom Bar". Past Daymer Bay you'll come to a village called Rock, which is across the estuary from Padstow. There is a ferry to cross the estuary and bring you to today's destination in Padstow. If time and energy permit, it is possible to walk inland to Weymouth to cross the water, but this adds a lot to your walk. Padstow got its start as a fishing village, but this is no longer its main industry. Boat trips are available from here.
Overnight Location: Padstow
Distance: 12 miles / 19 km
Meals: Breakfast
Day 5

Walk to Porthcothan

Your walking route today from Padstow to Porthcothan is relatively easy, which means you should have enough time to stop and explore the local area along the way. There are plenty of bays and beaches, as well as two larger headlands to walk around, called Stepper Point and Trevose Head.

As you begin your walk the South West Coast Path runs inland across some fields and a wetland area, but you can also choose to walk across the beach. A few highlights that you won't want to miss today are Pepper Hole, Butter Hole, Gunver Head, and Round Hole, all of which offer wonderful views.

When you come to Harlyn Bay, be aware that the path is nearly impassable when the tide is in. The best option if you come at high tide is to wait for a little while at the local inn, since there are no inland alternatives other than the road. At Trevose Head, you'll cross the access road for the lighthouse and then follow the coast around several small bays until you reach your destination in Porthcothan.
Overnight Location: Porthcothan
Distance: 14 miles / 22 km
Meals: Breakfast
Day 6

Walk to Newquay

Today's scenic route from Porthcothan to Newquay is easy and full of great views. After leaving Porthcothan, you'll soon come to a magnificent highlight of the trail, climbing the scenic Bedruthan Steps. The beach here is covered with fascinating rock stacks and the area is managed by the National Trust. There are many places along this route where you can choose between walking along sandy beaches or following the traditional South West Coast Path on the cliffs above.

As you continue, you can follow the coastal path as it passes Tolcarne Beach to Newquay. If the tide is out, you can also walk across the beach. Historically there was a town here called "Towanblistra" but when a new quay was built during the 16th Century, the port town began to prosper and was renamed Newquay. Newquay is the largest town you'll encounter on this tour and a wide range of amenities and facilities are available. Spend the night in Newquay.
Overnight Location: Newquay
Distance: 11.5 miles / 18 km
Meals: Breakfast
Day 7

Walk to Perranporth

As you leave Newquay, you'll walk around a few simple headlands just outside of town but soon reach the River Gannel. The official way to cross the river is by walking over a footbridge at low tide. There are two unofficial ways to cross as well. At high tide, there is a ferry available seasonally and at low tide it is possible to walk across the sand.

Once you've crossed the River Gannel, you'll come to Crantock Beach near the town of Crantock. From here you'll walk around a double headland, both Pentire Point West and Kelsey Head. You'll then pass the vilalge of Holywell and at Penhale Point it is important to stay on the path so you avoid the old mine shafts in the area. At Ligger Point, the trail turns and you will descend onto the sand and cross Perran Beach. This brings you to Perranporth, which is your stop for the night.
Overnight Location: Perranporth
Distance: 11.5 miles / 18 km
Meals: Breakfast
Day 8

Walk to Portreath

The landscape of this area is described by many as being bleak or moody. Your walk today will clearly reflect the history of this area as a booming mining district. Often your view will be dotted with evidence of old mine shafts, engine houses, and chimneys. The area is safe but it is recommended that you stay on the marked trail.

There are a few tough climbs today, but each is rewarded with a wonderful view that makes it all worth it. Blue Hills Tin Streams is a living history museum that is well worth a stop. The mine closed in 1897 but reopened in 1975 as a museum where you can learn more about how tin ore is crushed, then washed, then smelted. After this, continue your walk around St. Agnes Head, then descend down Lighthouse Hill to your destination for today in Porthreath.
Overnight Location: Portreath
Distance: 12 miles / 19.5 km
Meals: Breakfast
Day 9

Walk to St. Ives

The trail from Portreath begins with some up and down climbs but it soon becomes level and you'll enjoy an easy walk among the cliffs as you round several headlands to reach Godevry. You will not encounter many villages on today's segment of the trail, but there are cafes available along the way for refreshments. Along the coast today you'll notice many fascinating geological features such as rock stacks and small islands. At Godevry, you'll see Godevry Island, which has a lighthouse.

When you come to the River Hayle Estuary, you'll need to detour into the village of Hayle. Continue on, until you reach St. Ives, which is your destination for today.

St. Ives is situated at a natural harbor on the western end of St. Ives Bay that is well-protected by St. Ives head. While it began as a fishing port, today it is better known for its arts and crafts. Reservations for hotels and restaurants can be difficult to get here during peak season, so try to plan ahead. Spend the night in this beautiful and popular town.
Overnight Location: St. Ives
Distance: 18 miles / 29 km
Meals: Breakfast
Day 10

Walk to Pendeen Watch

Today's walk on the SWCP offers some of the South West Coast Path's most incredible scenery. You'll also want to pack provisions well for today, since there are few opportunities for refreshments and these require adding a detour. With few detours inland, you will hug the cliff line today as the path wiggles and meanders around each point and headland. A few landmarks to watch for are the large granite tors near Boswednack Cliff, the Iron Age Promonotory Fort called Bosigran Castle and the ancient settlement site nearby.

When you see the lighthouse at Pendeen Watch, you'll know you're approaching today's destination. Evidence of the tin-mining industry abound in Pendeen Watch, and you'll see many engine houses, old chimneys, and winding gear. Spend the night here in Pendeen Watch.
Overnight Location: Pendeen Watch
Distance: 13.5 miles / 21.5 km
Meals: Breakfast
Day 11

Walk to Land's End then Porthcurno

Today you return to walking the classic cliff environment of Cornwall. Today's route begins with rugged trail that takes you to such landmarks as Kenidjack Castle, which is a fortification from the Iron Age, and Cape Cornwall, which is one of the most popular views in Cornwall County. When you come to the small fishing village of Sennen Cove, you'll notice that the trail becomes much easier.

Plan some time to visit the famous attractions at Land's End, which marks the westernmost point of England. If you haven't tired of cliff scenery yet, the easy trail between Land's End and Porthcurno offers some incredible views. At Porthcurno you can choose to explore some unusual cultural sites, such as the cliff-edge Minack Theatre, or the Museum of Submarine Telegraphy. There is also a secret communications bunker from World War II here. Spend the night in Porthcurno.
Overnight Location: Porthcurno
Distance: 15.5 miles / 25 km
Meals: Breakfast
Day 12

Walk to Penzance

Finish your self-guided walking tour on the SWCP today with a trail that offers a variety of conditions. The more rugged parts of the trail are spread out with long stretches of easy walking in between. When you leave Porthcurno, the path will move up onto the cliff, away from the beach, as it leads around a series of points and headlands. Enjoy walking through grassy fields and wooded areas, which are especially rare in this region. You'll come to St. Loy's Cove, then the Tater Du lighthouse which was built in the 1960s. On the other side of the lighthouse is Lamoma Cove.

Two special villages are also along your path today: Mousehole and Newlyn. While both of these began as fishing villages, Mousehole is currently well-known for arts and crafts. Newlyn continues to flourish in the fishing industry. From Newlyn, a short walk brings you to Penzance, which is your final destination for this tour. Penzance has an interesting history, beginning as a fishing village that was mostly destroyed by the Spanish Armada in 1595. It survived and was rebuilt into the thriving town that is there today.
Overnight Location: Penzance
Distance: 11.5 miles / 18.5 km
Meals: Breakfast
Day 13

Departure Day

Sadly, your South West Coast Path Walking Tour of the North Cornwall Coast has come to an end. Have a pleasant journey home!
Overnight Location: N/A
Distance: N/A
Meals: Breakfast

Book Now
South West Coast Path: North Cornwall Coast Walking Tour Price and Dates
Pricing for this self-guided walking tour in Cornwall, Southwest England is based on the number of guests on your trip. The best time to travel to the Cornwall for this tour is during the warmer months from May to September, but the trip is available year-round.
Prices for Self-guided South West Coast Path: North Cornwall Coast Walking Tour
Prices below are per person:
Self-Guided Group of 1: $2,295 USD per person
Self-Guided Groups of 2-4: $1,475 USD per person
Self-Guided Groups of 5+: $1,450 USD per person
Book Now
Accommodation on the South West Coast Path: North Cornwall Coast Walking Tour
This tour is based in 3-4-star hotels and bed and breakfasts. In some cases, the accommodation listed below may need to be substituted for other, comparable accommodations.
Single Rooms and Solo Travelers
You can pay a supplement of $750 USD to have a private room in a hotel.
Hotels on Standard Tour
What's included in the South West Coast Path: North Cornwall Coast Walking Tour?
Meals
12 breakfasts included with accommodations. Lunches, dinners and drinks are not included.
Accommodations
Accommodations for 12 nights along the tour. Extra nights may be added for an additional fee.
Also Included
Luggage Transfers
Full Tour Pack with color-coded routes on local maps
Smartphone App with GPS routes
24-hr emergency helpline
Not included
Lunch, Dinner & Drinks
Entrance to attractions
Buses and/or Ferries unless otherwise stated
Tourist Taxes where applicable
Frequently Asked Questions about South West Coast Path: North Cornwall Coast
Compass Holidays has been helping walkers explore the best walks in the UK since 1990. Their expert team organize great walking holidays so you can sit back, relax and enjoy your time away.
Learn More
Is this tour for me?
We rate this tour as a 3 / 5. The difficulty level is moderate but you should be ready to walk up to 18 miles (29 km) per day.
Ask a Question
Got any questions regarding the tour? Interested in promotions for groups or want to customize this tour to fit your needs? We are here to help you!
Ask a question