Stay in hotels on this self-guided trek around the Tour du Mont Blanc
The Tour du Mont Blanc is the most famous multi-day trek in the Alps, and with good reason. This classic circuit route takes you as close to Western Europe's tallest peak, Mont Blanc, as you can get without climbing it.
This self-guided tour allows guests to stay in hotels the entire trip. This means private rooms, showers and the luxuries associated with a stay in the Alps.
The stunning and picturesque alpine scenery introduces you to the heart of the Alps and the nature of the area. Notice the native plant life, the wild ibex running free, and the grazing cattle whose milk will be used to produce some of the world's best cheeses.
Let your feet take you through lush, green valleys, and up to stunning mountain passes and overlooks. Stay in hotels and experience the hospitality and culture of three alpine countries: France, Italy, and Switzerland. This self-guided trek along the Tour du Mont Blanc is an unforgettable adventure!
Highlights of the Tour du Mont Blanc Highlights in Hotels
Experience the grandeur of Mont Blanc up close as you take in the highlights of the Tour du Mont Blanc Trek.
Stay in hotels while taking in the highlights of the Tour du Mont Blanc as it goes through France, Switzerland and Italy.
Adjust this self-guided tour to be shorter and easier or longer and more difficult, to suit your personal preferences and abilities.
Discover beautiful alpine plant life and native animals, such as the ibex.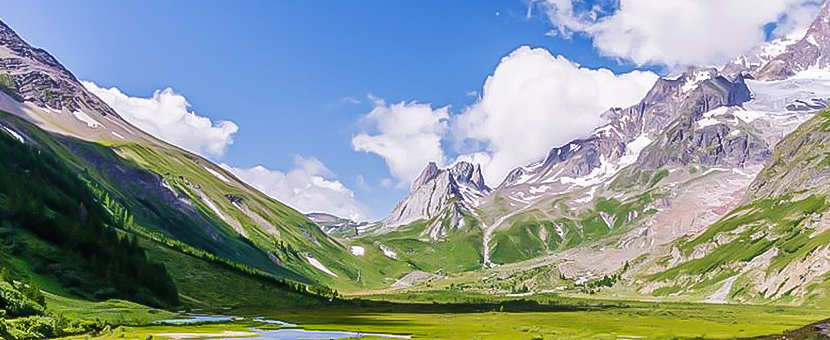 Tour du Mont Blanc Highlights in Hotels Itinerary
Day 1

Chamonix

Welcome to Chamonix! Try and get to Chamonix early, as this is one of the greatest mountain towns on earth.  Two highlights in Chamonix are to take the stunning Aiguille de Midi cable car or else hop on the train to Mer de Glace,  you can arrange these trips on your own if you're interested.   When you check in to your hotel, you will receive a travel pack that provides all necessary information for your Tour du Mont Blanc trek.
Overnight Location:  3-Star Hotel in Chamonix
Distance: n/a
Meals: None
Day 2

Trek to Les Contamines-Montjoie

Transfer to the base of the Bellevue Cable Car and ride to the top of the lift.  Pause to appreciate your surroundings here at the beginning of the Tour du Mont Blanc. Begin hiking past the Bionnassay Glacier trail and cross the "Nepali hanging bridge" for a beautiful view of the Bionnassay glacier.  Follow the trail through alpine pastures up to the Col de Tricot Pass (2,120 m / 6,955 ft). Stop to rest here with a spectacular view of the Contamines-Montjoie Valley. Continue hiking steeply down to the Chalets de Miage (1,559 m / 5,115 ft), then back up to the Chalets du Truc (1,750 m / 5,741 ft). Come around Mt. Truc (1,811 m / 5,942 ft) before hiking down to spend the night in the village of Les Contamines Montjoie.

Note that this hike can be shorted by avoiding the climb to the Col du Tricot Pass.
Overnight Location: 3-Star hotel in Les Contamines-Montjoie
Distance: 5 hours hiking, 650 m elevation gain, 1,300 m elevation loss
Meals: Breakfast, Dinner
Day 3

Hike to Les Chapieux via Col de la Croix-du-Bonhomme Pass

Transfer this morning from Les Contamines-Montjoie to Notre Dame de la Gorge (1,210 m / 3,970 ft), where you can visit a beautifully decorated baroque chapel. The Roman Road, historically a trade route between mountain valleys, begins here.

Hike steadily upward on the trail to the Col du Bonhomme Pass (2,329 m / 7,641 ft). This beautiful trail at the southern edge of the Mont Blanc Range forms a boundary line between the Mont Blanc and Beaufortain mountain ranges. Continue climbing to the Col de la Croix-du-Bonhomme Pass (2,433 m / 7,982 ft) and stop to enjoy the spectacular view of Mont Pourri (3,779 m / 12,398 ft). Descend through a charming alpine pasture to the lovely village of Les Chapieux (1,549 m / 5,082 ft). A private transfer takes you to your hotel in the town of Bourg-Saint-Maurice.
Overnight Location: 3-Star hotel in Bourg-Saint-Maurice
Distance: 6-7 hour hiking, 1,300 m elevation gain, 950 m elevation loss
Meals: Breakfast, Dinner
Day 4

Hike to Courmayeur (Italy) via Col de la Seigne and Val Veny

Start the morning with a transfer to begin today's hike from the Ville des Glaciers (1,800 m / 5,905 ft),  where they make the well-known Beaufort cheese. The Tour du Mont Blanc leads through peaceful alpine pastures up to the Col de la Seigne Pass (2,516 m / 8,255 ft) where you will cross the border into Italy. This spectacular overlook brings you impressively close to famous peaks such as Mont Blanc de Courmayeur, Noire de Peuterey Spire, and Grandes Jorasses.

Descend through the Val Veny which is at the end of the Miage glacier. Notice the serene lake and the unique alpine plant life in this area. A short transfer takes you to the town of Courmayeur (1,226 m / 4,022 ft), where you get to spend the night in the heart of the Italian Alps.

Note that you can add an additional rest day in Courmayeur – just let us know during the booking process.
Overnight Location: 3-Star hotel in Courmayeur
Distance: 5 hours hiking, 750 m elevation gain, 900 m elevation loss
Meals: Breakfast.  Dinner on your own in Courmayeur
Day 5

Hike into Switzerland via the Grand Col Ferret pass

Today is another great day on the Tour du Mont Blanc, and is the day you will hike into Switzerland. Begin the morning with a short transfer from Courmayeur to Val Ferret, which is at the end of the Pré-de-Bar glacier. Trek up to the Grand Col Ferret Pass (2,537 m / 8,323 ft) and cross the border into Switzerland. With a final glance at Italy, descend through tranquil Swiss alpine meadows to the village of Ferret (1,740 m / 5,709 ft).

Your hotel will either be in nearby La Fouly or in pretty village of Champex, which requires a short transfer by bus.
Overnight Location:  3-Star hotel in Champex
Distance: 5 hours hiking, 800 m elevation gain, 950 m elevation loss
Meals: Breakfast, Dinner
Day 6

Trek back to Argentière in France

Today's hike begins in Champex, so if you spent the night in La Fouly, take the bus to this charming lakeside village. As you walk from Champex, explore scenic Swiss alpine pastures full of grazing cows. This area is famous for its cheese. The Bovine area offers amazing views of the Rhône River valley and the Swiss region of Valais.

Today offers an exciting variant, and strong hikers can go over the beautiful Fenêtre d'Arpette Pass (2,665 m / 8,743 ft), but be advised this trek is nearly 3 hours longer and much more difficult. Finish today's trek in the village of Trient (1,280 m/ 4,200 ft), where a private transfer takes you to the French village of Argentière, near the top of the Chamonix Valley.
Overnight Location: 3-Star hotel in Trient or Argentière
Distance:  5.5 - 8 hours hiking, 750 -1,200 m elevation gain, 900-1,400 m elevation loss
Meals: Breakfast, Dinner
Day 7

Trek to Chamonix via Col des Montets and Lac Blanc

Your Tour du Mont Blanc self-guided trek concludes today with one of the best days for scenery.  Today you will have some amazing glacier and summit views as you hike through the Aiguilles-Rouges mountains just across the valley from the Mont Blanc massif.

From the Col des Montets pass (1,461 m / 4,793 ft), follow the trail to Lake Chéserys where you will see Mont Blanc and other majestic peaks reflected in the still water. The hike continues back to the lovely Lake Blanc (2,352 m / 7,717 ft). Pause here to appreciate the beauty of this place, and be sure to watch for some of the many ibex that call this area home. When you are ready to finish your tour, walk to La Flégère and ride the gondola takes you all the way down to the bottom of the valley, in the Chamonix hamlet of Les Praz.

Most guests arrange an evening flight out of Geneva back home or else stay on for a couple more days in Chamonix.  You can arrange additional hotel nights while booking your tour.
Overnight Location:  None
Distance: 5 hours hiking, 900 m elevation gain, 600 m elevation loss
Meals: Breakfast

Book Now
Self-Guided Tour du Mont Blanc Trek
Pricing for this self-guided Tour du Mont Blanc Trek, staying in hotels, depends on the number of guests in your group. Please note, that there is a supplement of $75 USD for departures of Friday, Saturday and Sunday.
Prices for Self-Guided Tour du Mont Blanc Trek
Enjoy a private, self-guided tour for just your group, prices below are per person:
Self-guided group of 2: $1,575 USD per person
Self-guided groups of 4+: $1,525 USD per person
Prices for Private Guided Tour du Mont Blanc Trek
Private, guided tours can be arranged. Please contact us with dates and group information.
Join a Guided Group Tour du Mont Blanc Trek
Make friends on a guided, group tour taking in the highlights of the Tour du Mont Blanc. These tours include an additional night at the end of the tour in Chamonix.
Book Now
Accommodation on the Tour du Mont Blanc Trek
Accommodation is based on private double occupancy in hotels and shared comfort rooms in hiker's inns.  Due to the challenge of finding accommodation, no specific hotels are listed.    All effort is made to secure 3-star hotels for this tour, however due to the popularity of the Tour du Mont Blanc, that may not be possible.
Single Rooms and Solo Travelers
You can pay a supplement to have a private room as a solo travelers (please enquire for the prices). In some cases, there may be other solo travelers, and if desired we can try to match you with participants of the same sex.
Hotels on Standard Tour
Enjoy a night in stunning Chamonix, in a 3-star hotel.
Les Contamines- Montjoie ★★★
Rest comfortably in a 3-star hotel in Les Contamines-Montjoie.
Take a transfer off the trail to a 3-star hotel in Bourg-Saint-Maurice.
Enjoy the capital of the Italian Alps in a 3-star hotel in Courmayeur.
Enjoy a night in a 3-star hotel in either La Fouly or Champex.
Tonight you'll spend the night in either the pretty little village of Trient or back in the Chamonix Valley in Argentière.
What's included in the Tour du Mont Blanc Highlights in Hotels Tour?
Meals
6 breakfasts and 5 dinners are included. Lunches are at your own expense and can be purchased from local stores or refuges to be eaten along the trail. On the guided option 8 breakfasts, 7 packed lunches and 8 dinners are included.
Accommodations
Accommodation in 3-star hotels for 6 nights as described on the self-guided tour. The guided tour has 2 additional nights (1 in Chamonix and one in Trient).
Transportation during the Tour
Baggage transport is included if you chose this option.
Private transfers to/from Bourg-Saint-Maurice (days 3-4) and from Trient to  Argentière (day 6)
Also Included
The roadbook (as well as a map and booking vouchers) for a group of two to four people.
Access to a mobile app that includes GPS
Emergency hotline 24/7
Not included
Transportation to and from Chamonix
Travel insurance for cancellations, interruptions, loss of luggage, or other needs for assistance.
Anything not described as included
Late processing fee for bookings made 30 or less days before travel
Lunches (food can be purchased in grocery stores, supermarkets or refuges for lunch along the trail)
Dinner in Chamonix and Courmayeur (estimate €15-20 EUR)
Drinks and tips
Tickets to monuments, museums, etc.
Tickets for local public transport and cable cars during the tour, including:

Bus to Les Houches – free
Bellevue cablecar – approx. €15 EUR
Public transportation from Les Contamines – Notre Dame de la Gorge €3 EUR (Not available in June and September)
Regularly scheduled shuttles from Visaille to Courmayeur and from Courmayeur to Arnuva, approx. €3 each. Not available at the beginning/end of the season. Reserve a taxi when you reserve your trip or through your hotel.
Bus to Col des Montets – free to hotel guests in Chamonix Valley
La Flégère cable car to Les Praz – approx. €15 EUR
Optional: the Col de Balme chairlift and gondola to Le Tour on day 6 - approx. €20 EUR
Optional extras
Extra hotel night – either an extra day off in Courmayeur or an extra night in Chamonix.
Private airport transfer between Geneva airport and Chamonix: $350 USD one way (up to 8 people).
Reserve picnic lunches prepared by your accommodations along the way
Frequently Asked Questions about Tour du Mont Blanc Highlights in Hotels
Allibert Trekking is a Tour Operator based in the French Alps, specializing in incredible trips for the active outdoor enthusiast. They cater to your specific wants to create an unforgettable adventure.
Allibert Trekking specializes in mountain sports adventures throughout the European Alps (France, Switzerland, Italy, and Austria). From the Dolomites to the Mediterranean coast, they create and organize hiking, mountaineering, ski touring, snowshoeing, and multi-sport trips throughout the Alps.
With 45 years of experience, Allibert offers both exceptional "ready-made" trip itineraries and customizable plans to make sure your experience is everything you want it to be.
Allibert places great importance on sustainable travel. Because of this, they focus on creating trips that make as little an impact as possible on the natural environment. Ethics, respect, and responsibility represent the cornerstones of their commitment to responsible tourism.
Learn More
Is this tour for me?
This tour is rated as 3/5. Hikers should be able to spend about 5-6 hours per day on well-established trails and expect to climb 900 m in elevation and/or cover 15 km in distance.
Local Guide
Ask a Question
Got any questions regarding the tour? Interested in promotions for groups or want to customize this tour to fit your needs? We are here to help you!
Ask a question
SALE! Well, not yet.
Let me know when this trip goes on sale.
Notify me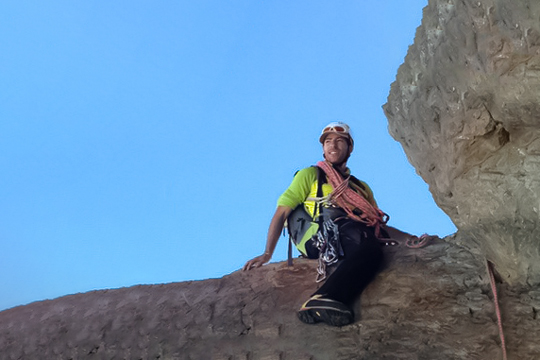 Originally from the Southern French Alps, Julien has been playing in the mountains since childhood. He loves backcountry skiing and mountaineering, long hikes, trail running, mountaineering, and rock climbing. Julien loves to share his passion for travelling and the mountains, and genuinely enjoys coming up with new ways to explore his favourite places in the Alps with visitors.
Q & A
Q:

What is your favourite trip you've taken and why?

A:

Bernese Oberland is one of the few places in the Alps that surprised me. The landscape and views are amazing. Hiking under the 1000m cliff wall of the famous Eiger Northface and along the U-style valley of Lauterbrunnen is a fantastic experience.

Q:

What is one experience anybody visiting your country should have?

A:

It's very hard to choose as there are so many things to see and do. But I would suggest visiting the quiet, wild southern Alps.

Q:

What is one local dish or drink that visitors absolutely have to try?

A:

The Savoyard fondue, which tastes even better than the original one from Switzerland!

Q:

What is the most challenging adventure you've ever taken on?

A:

Ski touring in the Armenian mountains.