Tour du Mont Blanc Tours
Tour du Mont Blanc Hike
The Tour du Mont Blanc (TMB) is a world-renowned long-distance walking route in Europe that traverses the rugged terrain of the Alps along the border of France, Switzerland, and Italy. Picturesque meadows, imposing mountain peaks, and charming villages characterize the landscape here, making the Tour du Mont Blanc a favourite route among many outdoor enthusiasts.
With a history dating back to the mid 1700s, the Tour du Mont Blanc is a well-established route that benefits from a solid infrastructure. This classic long-distance hiking trail is usually completed over a period of 11 days, and hikers are never too far from a village or mountain refuge, making the Tour du Mont Blanc a great option for those looking to challenge themselves with their first big trek on a world renowned trail.
Best Time to Hike the Tour du Mont Blanc
The best time of year to hike the Tour du Mont Blanc is during the mid-June to early-September window, when weather conditions are the most favourable for a long distance trek. Snow can often be experienced well into late-June at higher elevations, so be sure to exercise caution if you are planning to complete the route in the shoulder seasons. Although the weather may be pleasant, trekking the TMB during the summer - especially the peak months of July and August - will also expose you to higher volumes of foot traffic, so make sure to plan your trip, secure your accommodations, or book your Mont Blanc hiking tour well in advance.
Booking a Tour du Mont Blanc Adventure
Planning every detail of a Self-Guided Tour du Mont Blanc itinerary can be overwhelming, so why not leave all of the fuss to the professionals? Our team at 10Adventures has the experience, organization, and local connections to provide peace of mind throughout the booking process and the tour itself, allowing you to leave the stress of planning behind and focus on your life changing Mont Blanc hiking tour!
Frequently Asked Questions About the Tour du Mont Blanc
How long is the Tour du Mont Blanc?
The complete Tour du Mont Blanc covers approximately 180 kilometers (112 miles).
Where does the Tour du Mont Blanc start?
The Tour du Mont Blanc begins and ends in Les Houches, near Chamonix; however, many hikers tweak the route to suit their needs.
How long does it take to hike the Tour du Mont Blanc?
Generally speaking, it takes approximately 8-11 days to complete the tour du Mont Blanc, with most hikers completing it in 11.
What to pack for the Tour du Mont Blanc?
As with any long distance hiking route, when packing for the Tour du Mont Blanc you will need appropriate clothing, proper hiking boots, a comfortable pack, cash, and any accessories you may need along the trail. Check out our TMB packing list for more detailed information.
How difficult is the Tour du Mont Blanc?
Although long, the Tour du Mont Blanc isn't an overly challenging trek, as long as you train in advance to be able to handle up to 29 kilometers per day!
How to book huts for the Tour du Mont Blanc?
Many of the huts along the Tour du Mont Blanc can be booked individually on the official TMB website, or travellers can book a tour package that includes accommodations throughout the tour.
How much does it cost to hike the Tour du Mont Blanc?
The cost to hike the Tour du Mont Blanc can widely vary based on factors like accommodation and food, meaning travellers can pay anywhere between 50-200 Euro per day.
When to book accommodations for the Tour du Mont Blanc?
Trekkers should look to book their Tour du Mont Blanc accommodations as soon as possible, as they often sell out in January and February for the upcoming summer season. Check out this guide on Tour du Mont Blanc Accommodations or make sure to book a tour to secure your space.
Tour du Mont Blanc Map
Visualizing any long distance adventure can be difficult, so we've created this Tour du Mont Blanc map to give you an overview of each stage of the journey: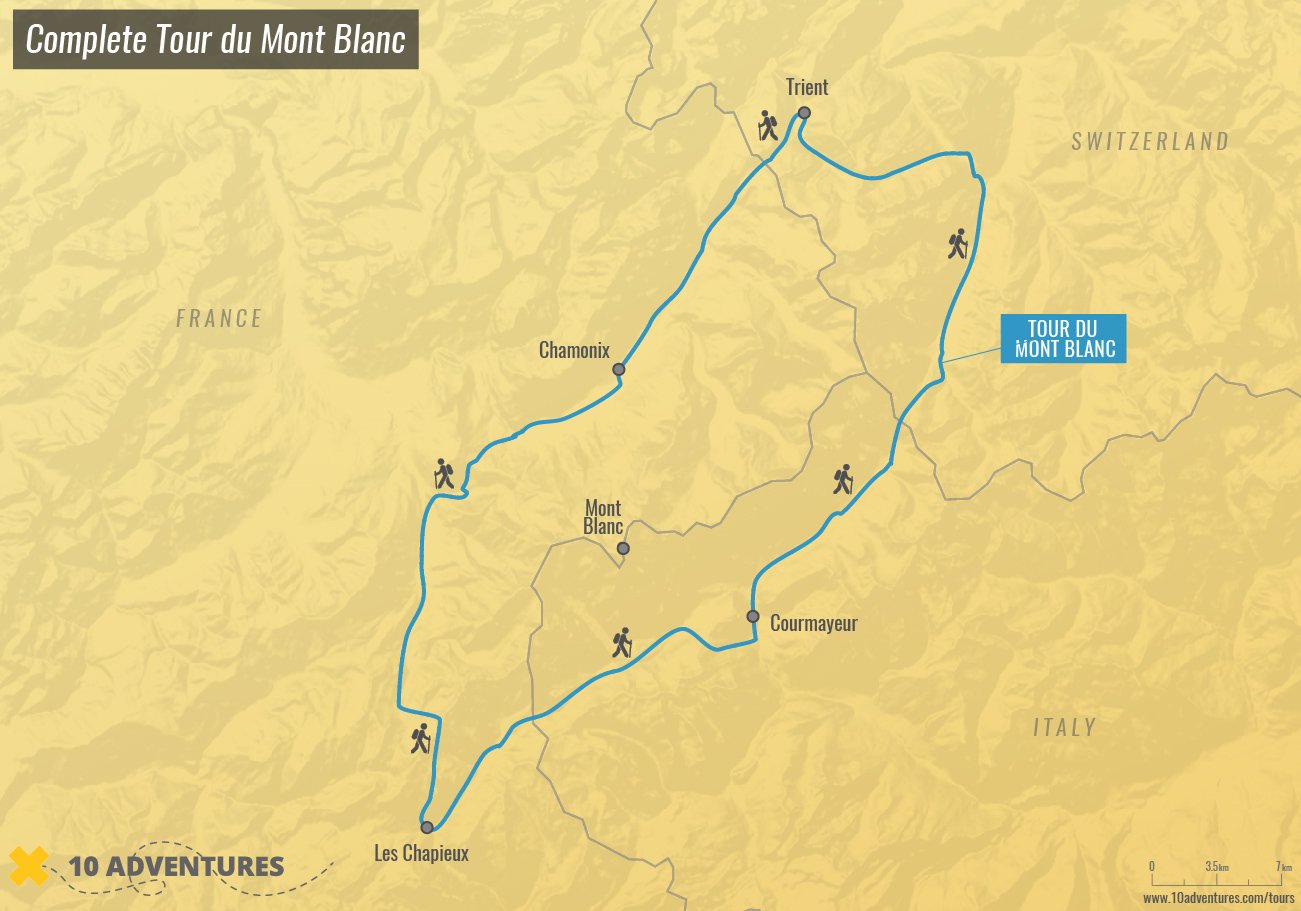 Mont Blanc
Nestled within the rugged terrain of the Alps near the border of France, Italy, and Switzerland, Mont Blanc is the tallest peak in Western Europe and is truly an impressive sight to behold. At an elevation of 4807.81m (15,773.7ft) above sea level, this imposing peak lends its name to the surrounding Mont Blanc Massif, which is a popular destination for a variety of outdoor activities such as climbing, skiing, snowboarding, and the world famous Mont Blanc hiking tour - also known as the Tour du Mont Blanc. Next to Mount Elbrus, Mont Blanc is the second-most prominent peak on the European continent, and is eleventh most prominent in the world.
Chamonix, France
Situated at the base of Mont Blanc - the highest peak in the Alps - Chamonix is a lovely resort area that is popular with tourists in both the summer and winter seasons. Although historically agriculture was a key part of the region, Chamonix has largely shifted its economic focus to tourism, and was even the host city for the first Winter Olympic Games in 1924. Nowadays, people travel to Chamonix for many reasons, including the busy ski season, to take a ride on one of the highest cable cars in the world, or to trek along the world-renowned Tour du Mont Blanc.
Courmayeur, Italy
At an elevation of 4810m above sea level, Courmayeur is a wonderfully scenic Italian town sitting high up in the rocky terrain of the Alps. During the summer months, it is a popular destination with hikers, especially those hiking the Tour du Mont Blanc. In the winter months, Courmayeur has the reputation as being the "best all-round ski resort in Italy". The town can be found opposite Chamonix, on the southern side of the Mont Blanc Massif.
Tour du Mont Blanc Guide
Need more information on the Tour du Mont Blanc? Whether you are looking to book a tour or are planning your own self-guided adventure, be sure to check out our ultimate Tour du Mont Blanc Guide to learn everything you need to know about this world famous hiking trail through the Alps.
Find Other Amazing Adventure Tours in Europe
Subscribe to our newsletter
Get a weekly dose of discounts and inspiration for adventure lovers
Showing 1 to 12 of 12 adventure tours
Open details for 5-day Tour du Mont Blanc Eastern Section
5-day Tour du Mont Blanc Eastern Section
This trek is for all those who wish to discover the splendid Tour du Mont Blanc in just a few days. The Tour du Mont Blanc is a stunning trek that takes you around Mont Blanc. For many people finding time for the complete route is a challenge, so this 5-day trek takes you on the eastern half of the route.
View More
Open details for Mont Blanc Snowshoeing Tour
Mont Blanc Snowshoeing Tour
The Mont Blanc Snowshoeing Tour is an incredible winter adventure in France that really makes the picturesque terrain of the Alps come alive! Strap on your snowshoes and discover the delights of the Mont Blanc region with this great route designed by expert guides.
View More
Open details for Tour du Mont Blanc in Guesthouses
Tour du Mont Blanc in Guesthouses
Lace up your hiking boots for a magical 8-day self-guided Tour du Mont Blanc hike, following the world-renowned tour route. This shortened version of the Tour du Mont Blanc takes in the highlights of the TMB, and uses local transport to shorten the valley bottom walking sections. If you only have a week, this is the best Tour du Mont Blanc itinerary.
View More
Open details for 10-day Tour du Mont Blanc
10-day Tour du Mont Blanc
One trek, three countries, ten days, 160 kilometres (100 miles), and thousands of steps: even these impressive figures cannot fully reflect the range of emotions you will experience on the Tour du Mont Blanc!
View More
Open details for Guided Tour du Mont Blanc in Mountain Huts
Guided Tour du Mont Blanc in Mountain Huts
This well-crafted trekking tour rewards you with new discoveries every day as you explore the different sides, cultures, and landscapes of the range: first through France, and then Italy and Switzerland. The well-marked trails discovered on this guided trip combine into one of the most-famous treks in the world – the Tour du Mont Blanc!
View More
What travellers say
Stephen L.
I've been using 10Adventures route guides for a while, but had never booked a tour. My wife and I booked a self-guided hike in Greece and were so impressed with how we were able navigate the route without a guide with the detailed and easy to follow itinerary. We enjoy travelling independently, and 10Adventures made that happen.
Melinda S.
I was going through a tough time and really needed a getaway so I decided to book a tour through 10Adventures. My trip to Peru changed my life in so many positive and eye-opening ways. I am so thankful for the kind, empathetic team at 10Adventures.
Lina K.
I've adventured around a lot of Canada and the US, but I've always wanted to explore other parts of the world. I felt a bit scared before booking my trip to Israel, but my conversations with the team at 10Adventures helped ease any worry. I can't wait to explore more of the world!
Gabriela H.
Travel companies have had to go through a lot during the pandemic but 10Adventures were super flexible and accommodating nonetheless. I had to cancel my tour in France due to the pandemic. 10Adventures was great and let me reschedule for a later date!
Mikael V.
My wife Sarah and I had a great experience booking our 7-day cycling trip through Portugal via 10Adventures. The communication between us and Nadine leading up the trip was top-notch!
Alexandra D.
Communicating with 10Adventures feels like talking with a family-run business. I love to explore and travel, and exploring with the comfort of knowing I can talk to the team at 10Adventures with almost immediate feedback helps to ease any stress that comes with adventuring!
Eric S.
Whenever I'm looking for my next adventure 10Adventures never fails. Their routes all over England are my main go to for exploring and I have only had great experiences booking both guided and self-guided trips in Europe and South America with them. I am looking into Africa next.
Valeria R.
I tend to have a lot of questions before travelling and was so happy to find that the team at 10Adventures responded to every single one of my inquiries in a timely fashion. I was never left waiting and waiting for a response. This was much appreciated!
Isabella N.
I have horrible dietary issues making it super hard to book a pre-planned trip sometimes, but the communication through 10Adventures helped me navigate this situation! I am so grateful for all of their help. I cant wait to book with them again!
Erika S.
I just got back from backpacking in the Sierra Nevada, and WOW. What an unreal journey! The alpine meadows, waterfalls, and the lakeside camping spot were memorable highlights! I wonder what other tours 10Adventures has to offer. That one went so well that I am now convinced I need to book another!
Robert D.
I'm not a big fan of traveling because of my fear of flying, but my girlfriend convinced me to go on the Aurora Borealis Tour in the Yukon. I will never forget the mesmerizing northern lights. Such a romantic (and cold) getaway. I would highly recommend it.
Monica L.
Wow! I am so happy with the experience I had with booking through 10Adventures for my tour in Italy! I worked with Nadine and she was super easy-going and helpful when it came to tweaking the itinerary provided on the website. 10/10 would book through 10Adventures again.
Open details for Guided Tour du Mont-Blanc in Hotels
Guided Tour du Mont-Blanc in Hotels
Ever dreamed of doing the most famous trek in the Alps but didn't know where to start? Join a group and have a guided Tour du Mont Blanc trek while staying in Hotels. This trekking adventure is the perfect solution for anyone looking to enjoy the magic of the Tour du Mont Blanc without compromising on comfort. Enjoy hand-picked comfortable hotels, the comradery of a group of like-minded individuals and the expertise of a licensed mountain guide to lead you.
View More
Open details for Highlights of Mont Blanc Hiking Tour
Highlights of Mont Blanc Hiking Tour
This 8-Day Guided adventure tour takes place in the surroundings of the beautiful Mont Blanc, the highest peak in the Alps. The landscapes that comprise this unique and prestigious massif offer up some of the most stunning hikes in Alps and this well-crafted tour will introduce you to the cream of the crop. In addition to days spent immersed in nature, you'll retire in comfortable hotel accommodations each night featuring facilities for ultimate relaxation. Not to mention the joy of discovering the typical Italian cuisine of the Aosta Valley!
View More
Book your next Adventure on 10Adventures
Hassle-free Adventure Travel

Sit back, relax, and enjoy! Let us take care of all the travel planning details, so you don't have to.

Don't Just Take A Trip, Take YOUR Trip

Let us help you get exactly what YOU want with a customizable adventure tour centred around your active interests and passions.

No Hidden Fees

We don't believe in hidden fees like credit card fees, booking fees or more. Even better, most people can pay in their local currency!

Happiness Guarantee

We want your journey to meet your expectations, and we will work with you to solve any issues you've encountered.

Personal Adventure Travel Concierge

Our dedicated adventure travel concierge will curate the perfect itinerary to make your travel dreams a reality.

Vetted Local Guides

Book with confidence, knowing that our team has carefully hand-picked each tour operator and they use local, experienced guides.