Tour du Mont Blanc Trekking Tours
Tour du Mont Blanc Hike
The Tour du Mont Blanc (TMB) is a world-renowned long-distance walking route in Europe that traverses the rugged terrain of the Alps along the border of France, Switzerland, and Italy. Picturesque meadows, imposing mountain peaks, and charming villages characterize the landscape here, making the Tour du Mont Blanc a favourite route among many outdoor enthusiasts.
With a history dating back to the mid 1700s, the Tour du Mont Blanc is a well-established route that benefits from a solid infrastructure. This classic long-distance hiking trail is usually completed over a period of 11 days, and hikers are never too far from a village or mountain refuge, making the Tour du Mont Blanc a great option for those looking to challenge themselves with their first big trek on a world renowned trail.
Best Time to Hike the Tour du Mont Blanc
The best time of year to hike the Tour du Mont Blanc is during the mid-June to early-September window, when weather conditions are the most favourable for a long distance trek. Snow can often be experienced well into late-June at higher elevations, so be sure to exercise caution if you are planning to complete the route in the shoulder seasons. Although the weather may be pleasant, trekking the TMB during the summer - especially the peak months of July and August - will also expose you to higher volumes of foot traffic, so make sure to plan your trip, secure your accommodations, or book your Mont Blanc hiking tour well in advance.
Booking a Tour du Mont Blanc Adventure
Planning every detail of a Self-Guided Tour du Mont Blanc itinerary can be overwhelming, so why not leave all of the fuss to the professionals? Our team at 10Adventures has the experience, organization, and local connections to provide peace of mind throughout the booking process and the tour itself, allowing you to leave the stress of planning behind and focus on your life changing Mont Blanc hiking tour!
Frequently Asked Questions About the Tour du Mont Blanc
How long is the Tour du Mont Blanc?
The complete Tour du Mont Blanc covers approximately 180 kilometers (112 miles).
Where does the Tour du Mont Blanc start?
The Tour du Mont Blanc begins and ends in Les Houches, near Chamonix; however, many hikers tweak the route to suit their needs.
How long does it take to hike the Tour du Mont Blanc?
Generally speaking, it takes approximately 8-11 days to complete the tour du Mont Blanc, with most hikers completing it in 11.
What to pack for the Tour du Mont Blanc?
As with any long distance hiking route, when packing for the Tour du Mont Blanc you will need appropriate clothing, proper hiking boots, a comfortable pack, cash, and any accessories you may need along the trail. Check out our TMB packing list for more detailed information.
How difficult is the Tour du Mont Blanc?
Although long, the Tour du Mont Blanc isn't an overly challenging trek, as long as you train in advance to be able to handle up to 29 kilometers per day!
How to book huts for the Tour du Mont Blanc?
Many of the huts along the Tour du Mont Blanc can be booked individually on the official TMB website, or travellers can book a tour package that includes accommodations throughout the tour.
How much does it cost to hike the Tour du Mont Blanc?
The cost to hike the Tour du Mont Blanc can widely vary based on factors like accommodation and food, meaning travellers can pay anywhere between 50-200 Euro per day.
When to book accommodations for the Tour du Mont Blanc?
Trekkers should look to book their Tour du Mont Blanc accommodations as soon as possible, as they often sell out in January and February for the upcoming summer season. Check out this guide on Tour du Mont Blanc Accommodations or make sure to book a tour to secure your space.
Tour du Mont Blanc Map
Visualizing any long distance adventure can be difficult, so we've created this Tour du Mont Blanc map to give you an overview of each stage of the journey: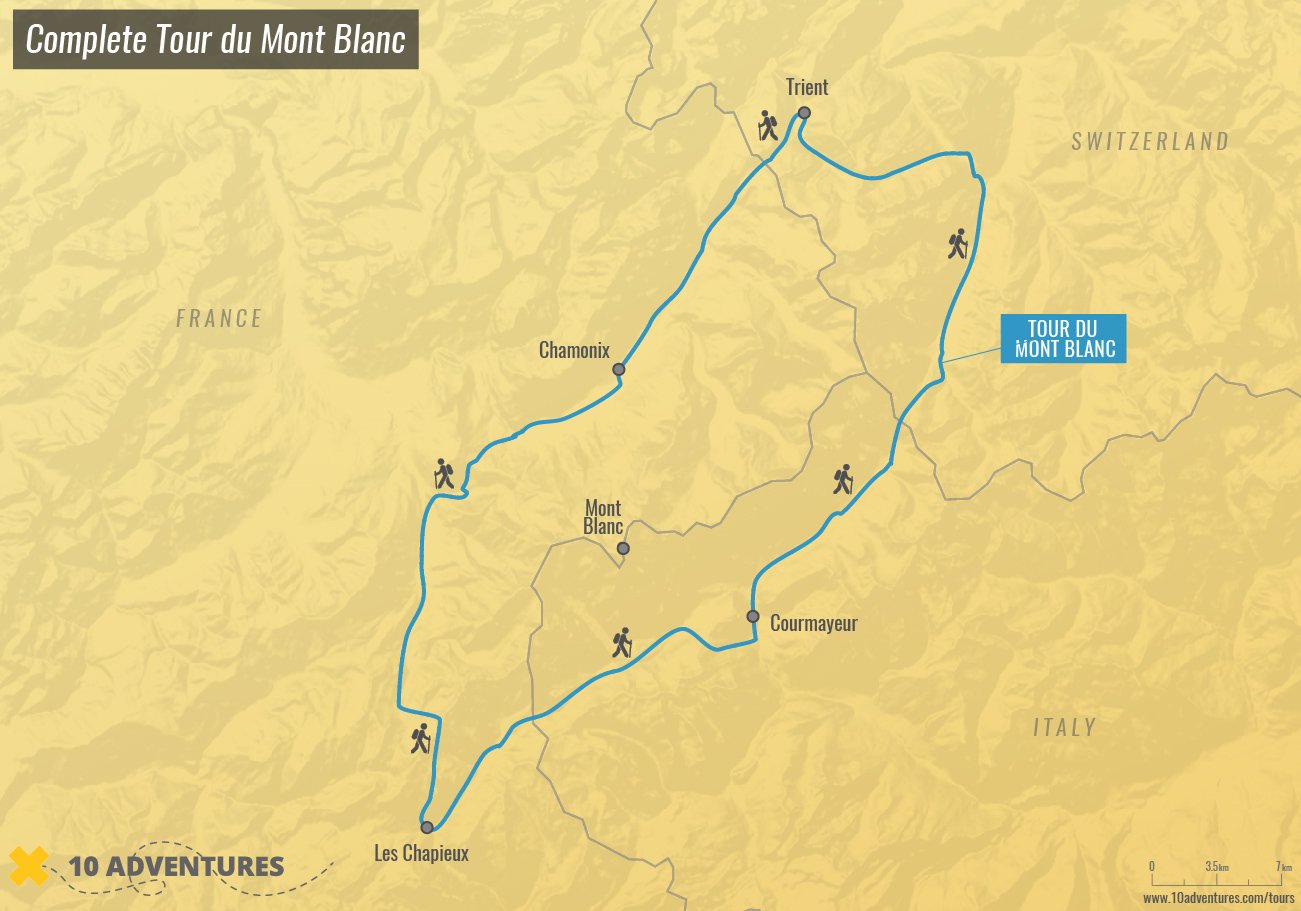 Mont Blanc
Nestled within the rugged terrain of the Alps near the border of France, Italy, and Switzerland, Mont Blanc is the tallest peak in Western Europe and is truly an impressive sight to behold. At an elevation of 4807.81m (15,773.7ft) above sea level, this imposing peak lends its name to the surrounding Mont Blanc Massif, which is a popular destination for a variety of outdoor activities such as climbing, skiing, snowboarding, and the world famous Mont Blanc hiking tour - also known as the Tour du Mont Blanc. Next to Mount Elbrus, Mont Blanc is the second-most prominent peak on the European continent, and is eleventh most prominent in the world.
Chamonix, France
Situated at the base of Mont Blanc - the highest peak in the Alps - Chamonix is a lovely resort area that is popular with tourists in both the summer and winter seasons. Although historically agriculture was a key part of the region, Chamonix has largely shifted its economic focus to tourism, and was even the host city for the first Winter Olympic Games in 1924. Nowadays, people travel to Chamonix for many reasons, including the busy ski season, to take a ride on one of the highest cable cars in the world, or to trek along the world-renowned Tour du Mont Blanc.
Courmayeur, Italy
At an elevation of 4810m above sea level, Courmayeur is a wonderfully scenic Italian town sitting high up in the rocky terrain of the Alps. During the summer months, it is a popular destination with hikers, especially those hiking the Tour du Mont Blanc. In the winter months, Courmayeur has the reputation as being the "best all-round ski resort in Italy". The town can be found opposite Chamonix, on the southern side of the Mont Blanc Massif.
Tour du Mont Blanc Guide
Need more information on the Tour du Mont Blanc? Whether you are looking to book a tour or are planning your own self-guided adventure, be sure to check out our ultimate Tour du Mont Blanc Guide to learn everything you need to know about this world famous hiking trail through the Alps.
Find Other Amazing Adventure Tours in Europe
Join our newsletter
Get a weekly dose of discounts and inspiration for adventure lovers
Showing 1 to 10 of 10 adventure tours
Why
book

with 10 Adventures?
Your trip. Your way.
Make lifelong memories with the people you care about most. We specialize in custom & private active travel experiences.
Travel made easy.
Spend your time making memories, not planning them. Enjoy a stress-free vacation and leave the trip logistics to us.
You matter to us.
No bots here. A real human is always a click or a call away to ensure you get the adventure of your dreams.
Travel authentically.
Immerse yourself in the destination with highly-vetted, local tour operators who love to showcase where they live.