This trek lets you experience the highlights of the famous Tour du Mont Blanc self-guided tour.
Lace up your hiking boots for a magical 7-day self-guided Tour du Mont Blanc hike, following the world-renowned tour route. This shortened version of the Tour du Mont Blanc takes in the highlights of the TMB, and uses local transport to shorten the valley bottom walking sections. If you only have a week, this is the best Tour du Mont Blanc itinerary.
The Tour du Mont Blanc Self-Guided Highlights Tour lets you experience the majesty and grandeur of the highest summit in the Alps along a classic route that takes you across borders and through a delightful variety of landscapes and cultures.
Each day holds something new to discover as you follow these well-marked trails from one breathtaking vista to the next. Experience the Mont Blanc massif and the beauty of the surrounding Alpine range from different vantage points as you follow this self-guided hiking tour through the French, Italian, and Swiss Alps.
Follow in the footsteps of generations as you trek along the ancient communication routes that have been travelled through the ages. Join the legacy of those who have encountered the Mont Blanc massif in this personal way. This is an unforgettable alpine hike!
Note that due to the popularity of this tour, it is recommended that you book well in advance, many hotels, guesthouses and refuges along this route sell out a year in advance.
Highlights of the Self-Guided Tour Du Mont Blanc
Follow the best parts of the Tour du Mont Blanc through France, Switzerland and Italy.
The Tour du Mont Blanc hike takes you on a self-guided trek around the tallest peak in the Alps.
Explore three different countries and cultures in just 7 days.
Witness spectacular vistas and stunning Alpine scenery, from imposing peaks to lush valleys to sparkling lakes.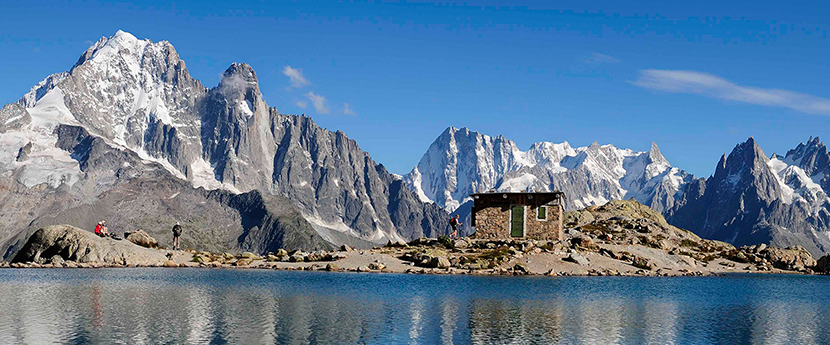 Tour du Mont Blanc Itinerary
This is the 7-day Tour du Mont Blanc itinerary where you can learn more about the major highlights for each day of this amazing tour.
Day 1

Arrival day in Chamonix

Arrive in Chamonix the day before. Most guests decide to take the train to the Mer de Glace or the cable car to Aiguille du Midi, two exceptional excursions you can organize on your own. Chamonix is also the home of mountain exploration and is full of stunning views, great restaurants and shops. You will receive a travel pack with all the information you need for your trip in the evening at your hotel.
Overnight Location: 3-Star Hotel in Chamonix
Distance: n/a
Meals: None
Day 2

Trek to Les Contamines-Montjoie

Today you start on your Tour du Mont Blanc Trek. Transfer to the Bellevue Cable Car and ride the lift over Val Montjoie. Begin hiking along the Bionnassay Glacier trail and cross the suspension bridge for a beautiful view of the Bionnassay glacier. Follow the trail up the Col de Tricot Pass (2,120m). Continue hiking down to the Chalets de Miage (1,559m) where you can take a break in the shadow of the snow-covered peaks of the Dômes de Miage. Next, the trail takes you up to Chalets du Truc (1,750m) before a final effort brings you to Les Contamines Montjoie.
Overnight Location: 1-Star Hotel in Contamines-Montjoie
Distance: 5 hrs, 650 m ascent, 1,300 m descent
Meals: Dinner
Day 3

Trek to Les Chapieux or Ville des Glaciers

Take a free shuttle bus from Les Contamines-Montjoie to Notre Dame de la Gorge (1,210m) where you can visit a beautifully decorated baroque chapel. This is where the road ends and your Tour du Mont Blanc (TMB) hike begins in earnest. Hike the TMB trail to the Col du Bonhomme pass (2,329m) which runs between the Mont Blanc and Beaufortain ranges. Continue climbing to the Croix du Bonhomme pass (2,433m) and stop to enjoy the spectacular views from Mont-Pourri (3,779m). Descend through a charming alpine pasture to the lovely village of Chapieux.
Overnight Location: Shared room (or private room if available) in Guest House in Chapieux or Ville des Glacier
Distance: 6-7 hours, 1,300 m ascent, 950 m descent
Meals: Breakfast, Dinner
Day 4

Trek to Courmayeur (Italy)

Begin your hike on the TMB today from the Ville des Glaciers (1,800m), where the well-known Beaufort cheese is made. Walk again through peaceful alpine pastures to reach Col de La Seigne Pass (2,516m) and cross the border into Italy. This spectacular overlook brings you impressively close to famous peaks such as Mont Blanc de Courmayeur, Noire de Peuterey, and Grandes Jorasses. Descend through the beautiful Val Veny, which is at the end of the Miage glacier. Take the bus to spend the night in Courmayeur (1,226m), a very nice town in the heart of the Italian Alps.
Overnight Location: Elena Refuge or 2-star Hotel in Courmayeur
Distance: 5 hours, 750 m ascent, 900 m descent
Meals: Breakfast only. Dinner on your own in town.
Day 5

Trek to La Fouly or Champex (Switzerland)

Halfway through the week, Day 4 on the Tour du Mont Blanc is designed as a recovery day. After a quick shuttle from Courmayeur to the end of the Val Ferret, hike from the end of the Pré de Bar glacier with Mont Dolent (3,823m) above you to the Elena Refuge (2,052m). Head toward the Grand Col Ferret pass (2,537m) and cross the border into Switzerland. Your walk through a lovely alpine pasture gives you a final view of the pretty Val Ferret to end another wonderful trekking day on the Tour du Mont Blanc. Rest and relax in the village of La Fouly, or take a bus to Champex to spend the night by a lovely lake.
Overnight Location: Shared room (or private room if available) in Guesthouse in Champex or La Fouly
Distance: 5 hours, 800 m ascent, 950 m descent
Meals: Breakfast and dinner
Day 6

Trek to Trient

Today's route on the TMB begins in Champex, so those who spent the night in La Fouly will take the bus to this charming lakeside village. As you walk from Champex, explore scenic Swiss alpine pastures full of grazing cows. This area is famous for its cheese. This hike offers amazing views of the Rhône River valley and the Swiss region of Valais. A variant of the main route is possible over the beautiful Fenêtre d'Arpette (2,665m), but be advised this trek is longer and harder. After a great day on the TMB, stop for the night in the village of Trient (1,280m).
Overnight Location: Shared room (or private room if available) in Guest House Trient
Distance: 5.5 - 8 hours, 750 – 1,200 m ascent, 900 – 1,400 m descent
Meals: Breakfast, Dinner
Day 7

Trek to Argentière (France)

From Trient, the Tour du Mont Blanc takes you back to France. Cross the French border at the Col de Balme Pass (2,191m) and take in a spectacular panoramic view up to the summit of Mont Blanc, the Mer de Glace, the Argentiere Glacier and down through the Chamonix Valley. Continue hiking down to Le Tour (1,453m) (or take the optional chairlift/gondola – not included in price). A final push brings you to Montroc (1,370 m) and the resort town of Argentière (1,250m).
Overnight Location: Double Room in Hotel
Distance: 5-6 hours, 900 – 1,150 m ascent, 850 – 1,000 m descent
Meals: Breakfast, Dinner
Day 8

Trek to Chamonix via Col des Montets and Lac Blanc

Your Tour du Mont Blanc concludes with a day amazing day of walking. Enjoy glacier and summit views as you hike in the Aiguilles-Rouges massif, just in front of the Mont Blanc massif. From the Col des Montets pass (1,461m), follow the trail to Lake Chéserys where you will see Mont Blanc reflected in the still water. The hike continues back to the lovely Lac Blanc (2,352m), one of the prettiest places on the entire walk. Pause to appreciate the beauty all around you and watch for a chance to see an alpine ibex. Continue walking down to La Flégère (1877m), where you will find a gondola that takes you down to Les Praz and Chamonix.
Overnight Location: n/a
Distance: 5 hours, 900 m ascent, 600 m descent
Meals: Breakfast

Book Now
Self-Guided Tour du Mont Blanc Trek
Pricing for this self-guided Tour du Mont Blanc Trek, staying in guesthouses and mountain huts, depends on the number of guests in your group.
Prices for Self-Guided Tour du Mont Blanc Trek
Enjoy a private, self-guided tour for just your group, prices below are per person:
Self-guided group of 2: €1,145 EUR per person
Self-guided groups of 4+: €1,095 EUR per person
Prices for Private Guided Tour du Mont Blanc Trek
Private, guided tours can be arranged. Please contact us with dates and group information.
Book Now
Tour du Mont Blanc Accommodation
Accommodation on the Tour du Mont Blanc is highly variable, and includes shared dormitories, private rooms in guesthouses and private rooms in hotels. For hotels, you will sleep in a double room. At guest houses, the rooms are usually shared (three or four beds), and where possible you will have a double room (this depends on availability when the reservation is made).
Please note that due to the popularity of this tour, it is possible that the specific accommodations listed below may be changed due to lack of availability.
Single Rooms and Solo Travelers
You can pay a supplement of €200 EUR to have a private room as a solo travelers. In some cases, there may be other solo travelers, and if desired we can try to match you with participants of the same sex.
Hotels on Standard Tour
What's included in the Tour Du Mont Blanc Self-Guided Tour
Meals
6 breakfasts and 5 dinners are included. Lunches are at your own expense and can be purchased from local stores or refuges to be eaten along the trail. On the guided option 8 breakfasts, 7 packed lunches and 8 dinners are included.
Accommodations
Accommodations are included for each night as described. Please remember that due to the popularity of the Tour du Mont Blanc, there is a high likelihood the specific accommodations will vary based on availability but every effort will be made to maintain a similar standard.
Transportation during the Tour du Mont Blanc
Baggage transport is included on this tour. You can reduce the overall cost if you choose to carry your own bag.
Also Included
A roadbook for the Tour du Mont Blanc (as well as a map and booking vouchers) for a group of two to four people.
Access to Mon Roadbook mobile app with GPS assistance
24/7 Emergency hotline
Not included
Transportation to and from Chamonix
Travel insurance for cancellations, interruptions, loss of luggage, or other needs for assistance.
Priority processing fee for registrations made within 15 days of departure.
Anything not described with the phrase, "The price includes..."
Greenhouse gas emission compensation.
Contribution fees to the Compensation Fund of the Office of Consumer Protection, which are set at 0.1% on the value of services bought: airfare and cost of the circuit.
Lunches (food can be purchased in grocery stores, supermarkets or refuges for lunch along the trail)
Drinks and tips
Tickets for local public transport and cable cars during the tour, including:

Bus to Les Houches – free
Bellevue cablecar: about €15 EUR
Public transportation Les Contamines – Notre Dame de la Gorge – €3 EUR/person. Not available in June and September
Shuttle down to Bourg-Saint-Maurice and back to La Ville des Glaciers if you stay in Bourg-Saint-Maurice
The shuttle between Les Chapieux and Ville-des-Glaciers, approximately €3.5 EUR. At the beginning of the season, you need to reserve a taxi.
The shuttles (regularly scheduled) from Visaille to Courmayeur and from Courmayeur to Arnuva, approximately €3 EUR each. At the beginning and the end of the season, you need to reserve a taxi. Check with your hotel/hut/guest house manager to ask if there are other hikers in the same situation with whom you can share the fare. You can also ask our staff when you make your reservation for the trip.
The bus (Postal Bus in Switzerland) from Ferret/La Fouly to Champex, approximately 12 CHF. At the beginning and end of the season, you need to reserve a taxi. You can ask our staff to reserve a taxi for you when making the reservation for your trip.
Bus to Col des Montets – free if you've spent the night before in Chamonix Valley
La Flégère cable car down to Les Praz: about €15 EUR
Optional: The Col de Balme chairlift and gondola to Le Tour, approximately €20 EUR (Day 6).Bus to Les Houches (Free)

Entrances to monuments, museums.
Frequently Asked Questions about Tour du Mont Blanc in Guesthouses

Founded 40 years ago, Allibert Trekking organizes more than 1,400 adventure trips per year, Allibert is a leader in responsible tourism, and is the premier trekking company in France.
Is this tour for me?
This tour is rated as 3/5. Hikers should be able to spend about 5 hours per day on the trail and expect to climb 600-800m in elevation and/or cover 15km in distance.
Ask a Question
Got any questions regarding the tour? Interested in promotions for groups or want to customize this tour to fit your needs? We are here to help you!
Ask a question
SALE! Well, not yet.
Let me know when this trip goes on sale.
Notify me