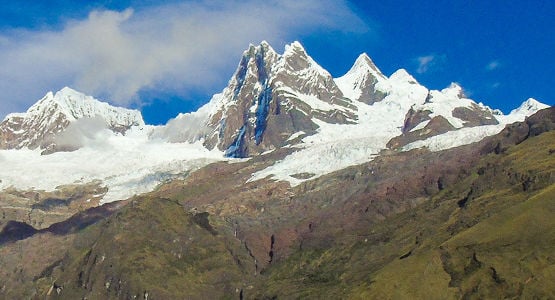 Peru is an incredibly beautiful country, sure to please all adventure travelers in ways that you couldn't imagine. From the lowlands of the Atacama Desert in southern Peru to the towering Cordillera Blanca range in the northern part of the country, the possibilities for finding your own custom adventures are endless.
Kayak the Amazon River, bomb down scenic trails in the Andes on a mountain bike or climb glaciers over two miles above the sea. This country has it all. No matter where you go, you'll also find Inca and Spanish ruins spread throughout the country, including the famous Sacred Valley and Machu Picchu.
Adventure travelers would be remiss not to consider a guided Peru tour for their holiday. Peru is packed with rich scenery, rare wildlife, Inca relics, and colonial history. There's no better way to get a completely immersive experience than on a guided tour in Peru.
Tour guides in Peru will give you an incredible, memorable experience. These highly-qualified and knowledgeable guides can put together custom, private tours for you, based on your interests, ability levels, budget, and time constraints. They also offer several pre-planned tours that may be just what you're looking for, from guided day tours of Cusco to multiday trekking excursions along the Inca Trail.
When you book a guided tour in Peru, you're both supporting the local economy and learning more about your experience than you ever could if you visited on your own. On top of that, booking a guided tour will make your holiday much less stressful. Your guides will take care of lodging, transportation, administrative paperwork, and meals for you, allowing you to relax and enjoy your holiday to the maximum extent possible.
Read More
Peru Trekking Tours
One of the most popular and memorable Peru trekking tours is along the Inca Trail. In fact, this is considered by many to be one of the best treks in the world. And thanks to the development of the trail, there are several options for adventurous travelers hoping to trek the Inca Trail, which terminates at Machu Picchu. Much of the trail is along paved stones of original Inca construction, and the trail passes spectacular vistas, through cloud forests, tundra, and Inca ruins.
While the historic Inca Trail actually consists of a network of thousands of miles of trails, most adventure tours take the four-day route, known as the Classic Trail. There is also a tougher seven-day option and even a short one-day option. Be sure to book your tour of the Inca Trail well in advance because there are daily limitations to the number of hikers allowed on the trail. If you can't get a permit for the Inca Trail, don't worry. There are several other trekking tours in Peru, just as spectacular.
Peru biking tours
Cyclists have no shortage of Peru biking tours to choose from. For a more mellow cycling tour, book a day biking through Cusco with a guide and see the many historic Inca ruins and colonial buildings in and around Cusco, along with many amazing viewpoints.
If you're seeking something a little more thrilling, you can also book a multi-day cycling tour along many of the dirt paths that crisscross the Andes. These cycling tours will take you past emerald lakes, Inca ruins, small villages, and views of glaciers. If mountain biking is your thing, you won't want to miss one of these Peru biking tours.
Cusco Tours
There are many different types of guided Cusco tours available to travelers who may be waiting for altitude acclimatization, or who just want to spend a few days in this beautiful ancient city. Some guided tours will take you to all of the bucket-list sites in Cusco, like Saqsaywaman, Qorikancha, and the many colonial cathedrals and museums.
If you want a more unique Cusco experience, you can book one of the many specialty tours of Cusco. Some of these tours revolve around food, like cooking classes, market tours, and chocolate tours. Other tours will let you experience Cusco's colorful artisans, while some tours will focus on either the pre-Columbian or post-Columbian history of Cusco.
Cordillera Blanca Tours
The Cordillera Blanca tours will let you experience the highest tropical environment in the world. This spectacular mountain range in northern Peru is full of both pre-Inca and Inca ruins, rich blue lakes, glaciers, and amazing wildlife. Guided Cordillera Blanca tour options include climbing routes, numerous multi-day trekking trails, and horseback riding.
Cordillera Huayhuash Tours
Serious mountaineers will want to book one of the many Cordillera Huayhuash tours available to the adventurous traveler. This impressive Andean mountain range in central Peru boasts some of the best alpine treks in the world, featuring jagged mountain spires, glacial lakes, endless vistas, and ancient ruins. Tours are available in lengths from just under one week to three weeks. Because of the difficulty of these treks, you won't want to go without a guide.
Peru scenery
Peru is home to several different environments, making it a vibrant country with some breathtaking scenery. You may not realize it, but the Amazon basin covers nearly half of Peru's territory. This region is dense with green jungles, cool streams and rivers, and nature reserves with remarkable wildlife. The coastal region on the other side of the country features a thin strip of desert abutting the ocean, including the famed Atacama desert on the southern end. These two completely different environments are separated by the Andes range, which spans the length of the entire continent. These mountains themselves are further split up into glacial regions, mountain jungles, and barren tundra.
You'll have no problem finding a guided adventure tour in Peru using the resources listed here. But with so many remarkably different options, you just might want to do them all!
Best Tours in Peru
Read More
Destinations