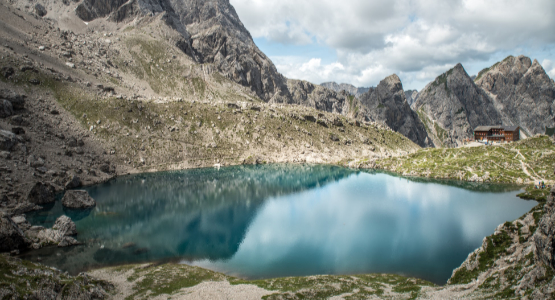 For some of the best alpine adventures, you can find year-round, book one of these Austria tours and prepare for some memorable thrills. Summer months in Austria offer pristine hiking trails and world-class rock climbing throughout the country, while winter – and even summer – offers unforgettable ski touring and ice climbing. The landscape of Austria has long inspired some of the world's greatest composers, and you owe it to yourself to see how it can also inspire you while challenging you physically and mentally.
Read More
Cycle 270km to the most popular lake in Italy
Immerse in the distinct blended South Tyrol culture
Ride in the Dolomites along well-maintained bike paths
See More ▸
Discover the cultural diversity of several regions in the Alps
Ride up to 280km at your own pace
Visit small mountain towns and coastal villages
See More ▸
Discover the cultural diversity of several regions in the Alps
Ride up to 280km at your own pace
Visit small mountain towns and coastal villages
See More ▸
Guided Tours in Austria
You can't go wrong booking a guided tour in Austria. Austria has renowned local guides no matter what activity you choose to do, whether it's touring by bicycle, skiing, rock climbing, or trekking from hut to hut in the Alps. Traveling can be stressful, but these trusted guides will make it a painless experience for you. They can arrange airport and luggage transfers, set you up with the best lodging, guide you to the best food, and teach you things about Austria that you'd never learn without a guide. Your safety and enjoyment are their top priorities!
Austria's Hiking Tours
Outstanding scenery and remarkable trails make Austria's hiking tours a top activity for holiday travelers. The Austrian Tyrol is especially perfect for hiking tours. Situated in the Austrian Alps, this beautiful region is dotted with lakes and small towns. You can either stay in one of these towns for a week of short day-hike excursions or take advantage of the mountain huts for long-distance trekking. Achenkirch, on Lake Achensee, is an ideal base for tours on shorter hiking trails through lush meadows where you'll get unbelievable mountain views.
To head into the mountains themselves, book a trekking tour on the Stubai High Trail, one of the best high-altitude hikes in the Austrian Alps. This hike through beautiful valleys and along glacial lakes takes approximately eight days. Your accommodation will be in renowned Austrian hiking huts, which number over a thousand throughout the Austrian Alps, and are complete with hearty food and warm showers.
Austria's Climbing Tours
Even if you don't have any alpine experience at all, you'd be remiss not to book one of Austria's climbing tours. Austria is a dream for alpinists, with experienced guides to teach beginners on easy routes and take more experienced climbers on multi-pitch advanced routes. Austria is also home to several ferratas, a unique climbing tour experience where you're protected by fixed steel cables while traversing the sides of high mountain walls. There's no better way to get an adrenaline rush while enjoying the impressive views of the Austrian Alps!
Austrian climbing tours don't stop when the temperatures drop; climbing guides will take you on some world-class ice climbs when the waterfalls freeze. While most climbers head to the Alps for climbing tours in Austria, be sure to check out other excellent climbing opportunities on the other side of the country near Vienna and Salzburg.
Austria Biking Tours
Booking an Austrian biking tour is an ideal way to get a taste of this wonderful country in a fun, active way. Austria's foothills are idyllic locations for biking tours, allowing you to cycle from village to village, through gently rolling terrain backdropped by glacier-covered peaks. One popular cycling route in Austria is along the Danube River, featuring gentle cycling through dense forests, past old castles and abbeys, and into delightful medieval towns where you'll spend the night during your tour.
Austria's Lake District is another popular destination for cycling tours. This mountainous area also offers leisurely cycling through a setting of lakes, meadows, and mountains that's straight out of the movies. Biking tours in Austria can be booked as either guided or self-guided tours, but no matter which method you choose, you'll have the support to make it a stress-free holiday.
Austria's Skiing Tours
Austria's skiing tours are a perfect way to spend a winter holiday thanks to textbook winter conditions. Ski touring in Austria can be booked either on-piste or in the backcountry, depending on how adventurous you're feeling. With over 400 ski resorts, you have plenty of options for resort touring, in everything from big cities to small, isolated ski towns. Guides will take you from one resort to another, giving you a mix of groomed trails and deep powder.
But perhaps more popular than resort touring is backcountry touring. The Austrian Tyrol offers endless opportunities for varying skill levels, physical abilities, and tastes. The Silvretta Alps along the Austria-Swiss border is a popular touring area for intermediate skiers, where you can spend a week in picture-perfect backcountry. Enjoy ski touring by day and warming up in Austria's legendary backcountry huts at night, complete with amazing food, great beer, and hot showers. You can find similar experiences throughout the rest of the Austrian Alps.
Austria's Scenery
It's easy to fall in love with Austria's scenery when you come here for a holiday. This small landlocked country shares a portion of the Alps, next to Italy, Switzerland, and Slovenia. This is one of the major attractions of Austria, making up most of the country, and drawing adventure travelers year-round. The limestone and granite mountains are covered with snow in the winter and glaciers in the summer. The foothills of the Austrian Alps and the valleys in between are full of pristine lakes, lush green meadows full of wildflowers in the spring and summer, and old villages and castles. The remaining eastern region of Austria is characterized by rolling hills and fields, part of the larger Danube Valley. The stretch of the Danube River known as Wachau is the most scenic, covered in old forests, vineyards, and castles in every direction.
Best Tours in Austria
Read More
Destinations