Experience the adventure of a lifetime crossing the frozen surface of Lake Baikal in Siberia
This guided tour in Siberia is one of the best. Spend 7 days making a winter crossing across Lake Baikal. Enjoy a trip few have done and experience the beauty of a Siberian Winter!
Lake Baikal in Eastern Siberia is the largest and deepest freshwater lake in the world. When it freezes over, it creates a landscape unlike any other. Experience a remarkable journey as you complete an ice trek across the 1500-meter-deep frozen Lake Baikal.
This journey across frozen Lake Baikal is a once in a lifetime adventure. Miles from human habitation, you'll spend two nights in a specially built ice camp, which has heated tents, an ice bath, and an ice bar! Spend a whole day having fun on the ice, walking, skating and taking astonishing photographs. On this tour, you'll also journey through the landscape of Siberia, and see the natural beauty of Olkhon Island, a wilderness sacred to the Buryat people.
Highlights of Grand Crossing of Lake Baikal Tour
Embark on an epic guided tour on foot across Lake Baikal, the largest and deepest freshwater lake in the world.
Spend one day and two nights miles from civilization in the Baikal Ice Camp in the middle of the lake.
Jump into an ice bath, drink at an ice bar, and ice skate on the lake
Discover the towns and cities of Buryatia, and the mysterious beliefs of the local people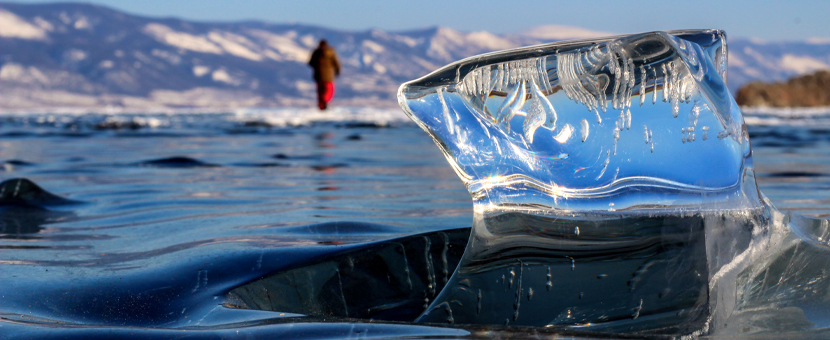 Grand Crossing of Lake Baikal Tour Itinerary
Day 1

Irkutsk

Arrive at the Irktusk Airport and get a morning transfer to your hotel in Irkutsk. At the welcome meeting, meet your guide and fellow travelers and ask any questions you have about the tour. Afterwards, there will be free time for any last-minute shopping before dinner. If you're keen to explore Irkutsk more fully, we can arrange a city tour.
Overnight Location: Hotel Angara, Irkutsk
Distance: N/A
Meals: None
Day 2

Olkhon Island

After breakfast in the hotel, you'll meet your guide and driver and commence the 300 km journey to Olkhon Island, the largest island on Lake Baikal. The journey is very scenic, and you'll stop for photos along the way. Lunch will be in a local café, where you can try some traditional Buryat dishes. On reaching the island, you'll stop at a sacred place where the Baikal spirit Burhan is worshipped. After a drive across the ice, you'll reach Khuzir. There will be free time to explore this town of traditional wooden houses and visit Shaman's Rock, one of the most sacred places for the indigenous people of the island. Dinner is at the hotel.
Overnight Location: Hotel Baikalov Ostrog in Khuzhir
Distance: N/A
Meals: Breakfast, Dinner
Day 3

Start of the crossing

This morning you'll drive to the starting point of the crossing, Cape Khoboy. On the way, you'll see some of Olkhon Island's many grottoes and caves. Around mid-morning you'll begin the crossing, which includes walking over the widest and deepest part of the lake. In total, you'll cover a distance of around 25 KM and reach the Baikal Ice Camp at around 5 PM. Change into a pair of Russian Valenki (felt boots), have a hot meal, and warm up in the Russian banya (steam bath). Then it's time to retire to your tent and spend your first night in this unique frozen wilderness.
Overnight Location: Camping on Lake Baikal
Distance: 7 hours, 25 Km
Meals: Breakfast, Lunch, Dinner
Day 4

Day on the ice

Today is a little bit different from a normal day as you'll be spending it in the middle of a lake! There are plenty of ways to entertain yourself; ice skating, walking around the camp, marvelling at the scenery. Try your hand at some ice photography – the clear nature and color of the ice, and the many shards, icicles and other formations make for some amazing photographs. Or, relax with a vodka in the Ice Bar – complete with Baikal ice in your glass. In the afternoon, you might even have a game of ice hockey. After dinner, you'll be able to cosy up again inside your heated tent.
Overnight Location: Camping on Lake Baikal
Distance: None
Meals: Breakfast, Lunch, Dinner
Day 5

Eastern coast of the Baikal

Today, the expedition across the ice continues. You'll walk another 25 km today, stopping for lunch along the way. Have your camera ready as there will be breathtaking views of the Barguzin and Khamar-Daban mountains in the distance. Once you've finished the crossing, you'll be driven to the small town of Ust-Barguzin. Check into the homestay and warm up in the banya. Dinner is a selection of local dishes cooked by your hosts.
Overnight Location: Homestay in Ust-Barguzin
Distance: 7 hours, 25 km
Meals: Breakfast, Lunch, Dinner
Day 6

Ulan-Ude

This morning you'll begin your journey to Ulan-Ude, traveling along the shores of the lake, through a landscape of ancient taiga forests. Ulan Ude is the capital of the Buryat region. You'll visit the Ivolginsky Datsan Temple, an important Buddhist temple where, famously, the body of Lama Dashi-Dorzho Itigilov is kept. This lama died while meditating and his body remains in the same position, having never properly decomposed. There will be time for you to have dinner in the town before departing by night train to Irkutsk.
Overnight Location: Overnight on the train (2nd class)
Distance: N/A
Meals: Breakfast
Day 7

Irkutsk

This morning you'll arrive in Irkutsk where the tour ends.
Overnight Location: None
Distance: None
Meals: None

Book Now
Grand Crossing of Lake Baikal Tour Price and Dates
This Grand Crossing of Lake Baikal Tour is run as a fixed-departure tour where you'd be joining a group, however, custom private tours can be organized for those willing to travel with their group only (please contact us with your preferred date and the number of people in your group and we will create the itinerary just for you).

Prices below are per person:
Accommodation on Grand Crossing of Lake Baikal Tour
This tour is based in hotels and campsites. Hotels on this trip are 2 and 3-star and offer modern conveniences that can make this trip more pleasant. Rooms are double occupancy, and single travelers will pay a supplement. The heated tents during the camping trip consists of bunkbeds with mattresses and sleeping bags and are shared between 5-6 travellers.
In some cases, the accommodation listed below may need to be substituted for other, comparable accommodations.
Single Rooms and Solo Travelers
You can pay a supplement of $52 USD to have a private room in a hotel on nights 1, 2 and 5. Contact us and we can try and match single travellers up, where possible. If you don't want to share your tent with other travellers during the camping trip, you can pay a supplement of $69 USD per tent per night to have a single/double/twin tent.
Hotels on Standard Tour
A modern hotel in the centre of the city with several restaurants, a bar and sauna
Hotel Baikalov Ostrog in Khuzhir
A hotel with basic rooms in wooden chalets, a restaurant with views of the lake and sauna.
One of the highlights of this tour, the Baikal Ice Camp, has heated tents with bunk beds, kitchen, banya and ice bath, and an ice bar.
Overnight Train (2nd Class)
Spending a night in overnight train is an unforgettable experience. There are 4 bunk beds in each coupe.
What's included in the Grand Crossing of Lake Baikal Tour?
Meals
5 breakfasts, 3 lunches, 4 dinners are included.
Accommodations
Accommodation for 6 nights is included.
Transportation during the Tour
Transport for you and your luggage is included throughout the tour.
Also Included
English-speaking guide services
Excursions and visits as per itinerary
Tent rental
Letter of invitation
Camping outfit rental
Sleeping bag rental
Railway tickets (2nd class)
Valenki / felt boots (in BaikalNature Ice Camp)
Russian-speaking guide services
Accident insurance (persons under 75 years old)
Ice studs for shoes
Sleeping bag (in BaikalNature Ice Camp)
Banya (Russian steam bath) on day 5
Airport transfers
Not included
Anything not listed as included
Personal expenses and tips
Visa fees and travel insurance
Airline tickets
Optional Extras
Single supplement
Transfer, if it's not from Irkutsk Airport ($23 USD per car of 3 passengers)
Extra night in ice camp on Lake Baikal before the tour
Frequently Asked Questions about Grand Crossing of Lake Baikal Tour
BaikalNature is a leading Russian adventure tour operator, founded over 12 years ago. BaikalNature is focused on guiding foreign guests to explore the most exciting natural spaces in all of Russia. With a focus and deep love of Lake Baikal, they also love taking guests off the beaten path in exploring the beautiful natural areas of Russia.
Learn More
Is this tour for me?
We rate this tour as a 4 / 5. This tour involves 5-7 hours of challenging physical activity on the days of the ice crossing. The weather can make this crossing more difficult.
Ask a Question
Got any questions regarding the tour? Interested in promotions for groups or want to customize this tour to fit your needs? We are here to help you!
Ask a question